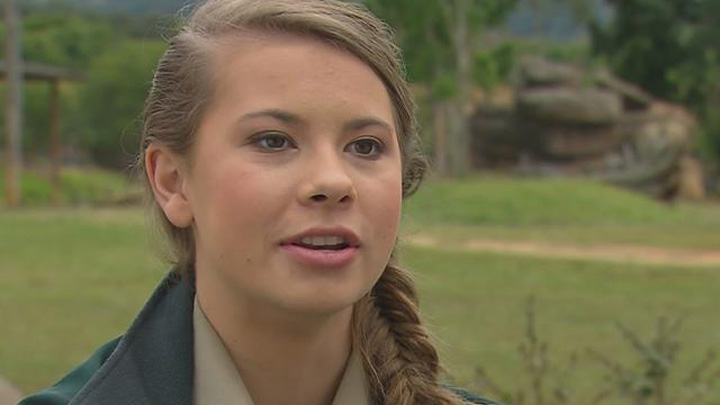 Earlier this week we reported that Bob Irwin, the patriarch of the Irwin family, had revealed he was no longer in contact with his grandchildren Bindi and Robert. Now, 17-year-old Bindi has given her side of the story.
The father of late Crocodile Hunter Steve Irwin told The Herald Sun on Saturday he was shut out of his grandchildren's life.
"I don't like to talk about family matters but no we are not in contact," he said. "It's sad but it's just the way things are".
"Life's a b**** sometimes".
In an exclusive interview with the Daily Mail at last night's AACTA awards, Bindi responded to the reports of an estrangement with her grandfather. In her usual mature manner, the DWTS winner said, "Everyone deals with grief differently".
"When my dad passed away he chose to distance himself from everything that dad loved the most.
"At the moment we're really just respecting his wishes because he hasn't had anything to do with us for a long time and he decided his own path. That's important so good for him".
Devastatingly for the teenager, she revealed, "There was one year where we sent birthday presents to him and he opened them up and he sent them back".
"With things like that you realise that people need to deal with grief how they need to deal with grief and as long as it doesn't hurt yourself or hurt those around you then that's the way to go.'
In his own Australian Story in May, Bob Irwin admitted the death of his son was a catalyst for some isolation.
"Once we lost Steve those were difficult times and a lot of it all I wanted to forget, I suppose," he said.
"I basically buried myself in physical work, I didn't want anything to do with people. I had things to get sorted out in my own head and that took a long time to get those sorted out".
This issue is clearly something many of our readers felt strongly about, and we received over 570 comments. Margaret said, "I hope Bindi and Robert gives their grandfather a wonderful xmas present in the way of a special visit with him. So many grandparents out there with no communication with grandchildren. Very sad", while Patricia shared a personal story: "I am so sad for Bob. As I have very little contact with my grandchildren since my daughter passed away 6 years ago. My son in law told me after he remarried that I am not part of the family anymore".
What do you think Bindi and little Bob should do? Or is it their mother's decision to make, or even Bob's? How can this family make amends?
Comments