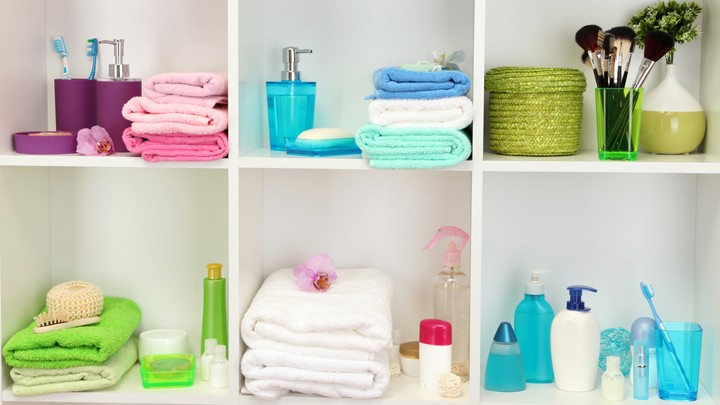 Our bathrooms are one of the cleanest rooms in the house, but that doesn't mean they're tidy. Time in there is usually devoted to scrubbing the toilet and the shower, but have you stopped recently to take inventory of the items in your bathroom? Chances are it's overstocked, not organised, and perhaps is home to some items that don't need to be in there.
So why not get organised? We have some smart ideas to help you do it today.
1. Use colourful, labelled buckets to put everything away neatly
There's a container for each person, plus medications stored high, away from little fingers.
2. Conceal the toilet paper
Don't want stray rolls around your neat bathroom? Simply buy a decorative hamper and pop them in there.
3. Divide and conquer
Use drawer organisers to give you more space without clutter, and plastic storage bins for under sink storage in small bathrooms.
4. Use existing space to create more
There's two create solutions in this photo! Firstly, this savvy organiser has put a shoe organiser over the back of the bathroom door for extra storage, and they have also used spare towel racks as storage for their toilet paper and other items. This is great for people who live alone in a smaller space.
5. Mason jar storage
Mason jars are so handy in the bathroom. You can use them as a glass for your toothbrushes, to hold cotton buds or balls, or even as this person has done, and nailed them into a piece of wood along a wall!

6. Slide out fruit/veg drawers
You don't just have to use these in the pantry, a steel drawer can be useful for storing toilet paper or other items in a confined space.
7. Magnetic strip
Not only can a small magnetic strip old all of your bobby pins and hair clips, it can also hold your tweezers and other metal items!
8. Stackable storage bins
These can really give you space, especially if you have a limited amount to work with. You can also swap them around, take them out and put them anywhere. They're great for storing bulk products or multiples.
9. Make a cabinet out of an old drawer
For the more adventurous, you can use an older drawer and make it into a classy cabinet for your bathroom! How great is that?
10. Use an old ladder to organise
What a stylish and functional idea! This ladder can store as well as add a touch of class to a bathroom. You can either make your own or purchase from a second hand store.
11. Shower caddy
It's a strange but very useful idea. Simply buy two shower caddies and slide under a very small cabinet for multi-height storage.
Do you have any other storage ideas to add?
Comments