Australia's new tennis brat banned from Davis Cup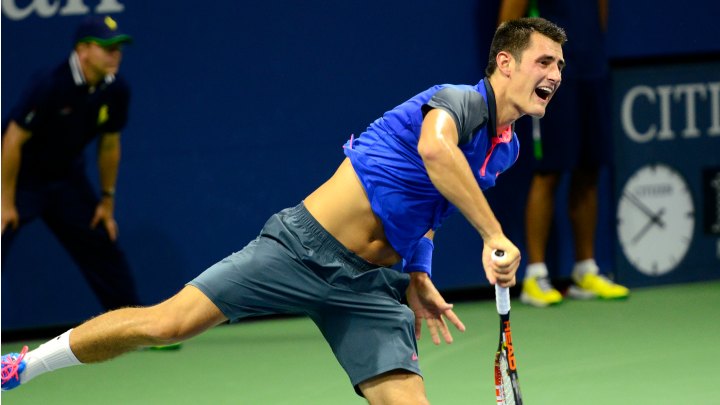 Would tennis be tennis without tantrums? The latest player to emerge as a promising brat of the sport is Bernard Tomic, who has been stood down from this month's Davis Cup quarter-final for his attack on Tennis Australia officials in Wimbledon.
The young player's disrespectful post-match comments after his third-round loss to Novak Djokovic ruled him out of contention, officials say.
"His behaviour was unacceptable," said Tennis Australia president Steve Healy. "Playing for our country is an absolute privilege, and with that privilege comes an obligation to behave appropriately. He didn't".
Tomic embarked on a 10-minute rant about Tennis Australia attacking Pay Rafter, TA's director of player performance, and saying he had been abandoned by the organisation last year while he had hip surgery.
"The allegations are misinformed and untrue and he publicly derided some outstanding people," said Mr Healy.
Ad. Article continues below.
"We are trying to build a strong culture underpinned by a philosophy of opportunity, not entitlement. This behaviour is just not on".
It is hoped the punishment of missing out on the Davis Cup match against Kazakhstan will cool the 22-year-old down.
But will it?
Tennis, like no other sport, creates players who need to vent on and off the court.
In his autobiography, You Cannot Be Serious, John McEnroe (perhaps the biggest tennis brat there ever was) said his anger was condoned by tennis officials because it was good for the sport – a kind of sideshow that kept things interesting.
Ad. Article continues below.
"They had a show to put on and my presence put behinds in the seats," he wrote. "If I went home they lost money. The tournament directors knew it, and the linesmen knew it. I knew it. The system let me get away with more and more".
The Williams sisters are famous for creating a bit of drama, and Australia's other talented young player, Nick Kyrgios, has been described by The Guardian as "Wimbledon's new superbrat" and an SMH columnist called him "a bit of a tool".
The 20-year-old has been ranting on-court, berating himself and others, and being sullen in press conferences.
But that's just tennis, right?
Do you think a bit of  "personality" is okay in tennis, or should the tennis brat be a thing of the past?