Australia shivers as Antarctic Vortex sweeps across nation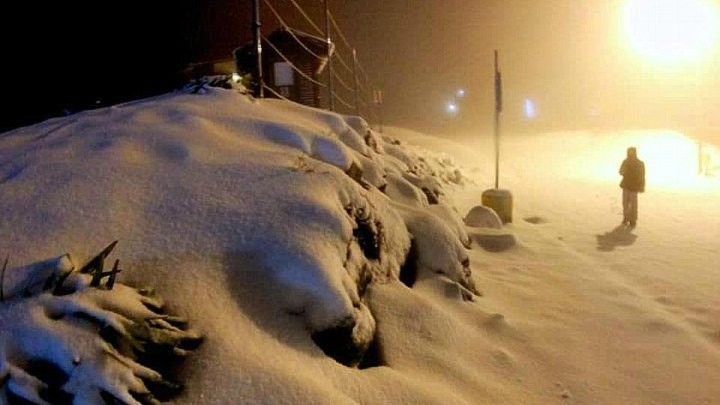 Today might be a day for staying in bed! The cold blast from the south is being felt across most of Australia today with towns as far north as Glen Innes being warned there could be snow.
Stay warm – but stay safe! The cold snap is here so take care when cooking or using heaters this weekend. #NSWRFS pic.twitter.com/6ROinBas1Z

— NSW RFS (@NSWRFS) July 10, 2015
Temperatures are expected to drop between three to seven degrees below average and there have been lightening storms in Sydney, wild winds in south-east Queensland plus heavy rain in eastern Victoria and southeastern NSW.
Mt Lofty woke to SNOW this morning, as a severe cold snap hit South Australia. Tweet us your videos/photos. #9News pic.twitter.com/DeTENip6M3

— Nine News Adelaide (@9NewsAdel) July 11, 2015
Ad. Article continues below.
Even Cairns could experience some frost over night, according to reports from Fairfax.
Most Of Australia Is Going To Get Bloody Cold This Weekend http://t.co/I0RuoYkvwN via @Dean_Nye pic.twitter.com/v7t0vfGlw3

— BuzzFeed Australia (@BuzzFeedOz) July 9, 2015
The cause of the frosty winds and icy temperatures is a strong Antarctic cold front, which is expected to last until Friday.
The cold snap is great news for our ski resorts, with 35cm of snow expected across the NSW and Victorian alps, falling as low as 600 metres.
Ad. Article continues below.
#sydneyweather Heavy rain / storm in #sydney right now ! Correct decision to stay home ! pic.twitter.com/1JtVmgOPYS

— George Bakhos (@GeorgeBakhos) July 11, 2015
The Blue Mountains west of Sydney could also see 1-2cm of snow this weekend, while parts of southern Queensland could even see sleet thanks to a seven degree drop in temperatures across Saturday and Sunday.
Emergency departments are asking people to take extra precautions as we wait this one out. This includes staying in as much as possible, wrapping up warm and heating your home.
WEATHER UPDATE: Cold, raining and storming in Sydney and other parts of the country. Keep warm. More soon. pic.twitter.com/MwOM5NH5TX

— THE Journalist (@THE_Journo01) July 11, 2015
Ad. Article continues below.
They also recommend avoiding unnecessary travel on wet or icy roads, and being extra vigilant with heaters and fires, following eleven incidences overnight.
What's the weather like where you are? tell us what you woke up to this morning!