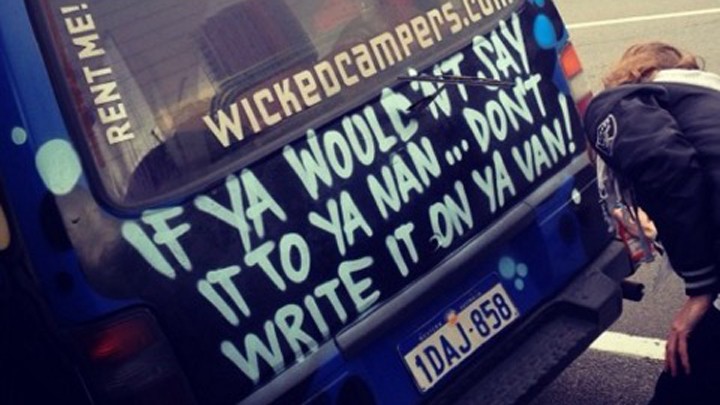 They're a backpacker's dream and a road user's nightmare – the Wicked Camper. You have probably seen these converted vans around. They are recognisable from their bright paintings and more often than not, the offensive slogan on the back.
Over in New Zealand, these vans are causing headaches for councils. The Whangarei District Council is threatening to tell drivers of Wicked Campers to cover up the offensive words, while the Advertising Standards Authority (ASA) has made numerous rulings against Wicked Campers, and has expressed disappointment at its refusal to respect the principles of self-regulation, reports the NZ Herald.
So how offensive are we talking? "Fat chicks are harder to kidnap" and "My boss told me I was a w***er, I was so surprised I almost let go of his c***". The former prompted a Whangarei resident to complain to local MP Shane Reti.
Dr Reti complained to the council, and said "We have another tool that we can bring to this fight, to enforce on this company that they have to adhere to New Zealand standards".
"I understand 'edgy' – it may not be my preference, but I understand it – but this is clearly offensive", he said.
A campaign in 2014 garnered 127,000 signatures, however it was not listened to by the founder of Wicked Campers. He hardly even reacted.
The mother of an 11-year-old girl petitioned for the dirty slogans to be taken off the vans after her little girl saw one that said 'In every princess, there's a little slut who wants to try it just once'
on the back of a Wicked Camper van.
Previously, the company had said that anyone offended should just paint over messages they didn't like, but it would prosecute any who did so.
Even Paula Bennett, the leopard-skin wearing, NZ Associate Minister of Tourism thinks the slogans are awful.
"Most of [the slogans] I find offensive as a woman, as a mother and as a grandmother. They are deeply offensive and I don't easily offend."
All across Wellington this month, officials have been studying legislation and looking for ways to fine Wicked Campers and their drivers.
Bennett said, "I'm determined to do something about it".
Sadly it seems like everything they've tried so far has been in vain.
Duncan Ridd, who manages three campgrounds in Queenstown, is refusing Wicked Campers with offensive slogans unless they cover them up in the family parks.
"If you wouldn't say it to your grandmother why would you let it in your park?" asked Ridd.
Good question.
Tell us: Do you think Wicked Campers should be fined? Should Australia and NZ join forces to tackle the issue? Or are they just funny slogans?
Comments