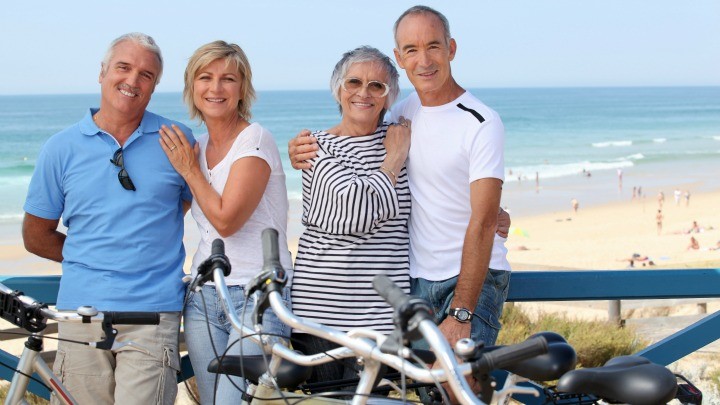 When my husband Gary* passed away, I was heartbroken and thought I'd never find love again. Four years later though, I met Bob who was charming, kind and warm. Introducing Bob to my family was no easy feat though…
Gary was the adoring father of my three children. Even though Leslie, Christopher and Michelle were all grown up when Gary passed away, his loss took a toll on them.
My husband suffered from bowel cancer in his final years, and it was hard for the children to watch their dad getting older and weaker. My daughters in particular were "daddy's little girls", even in their 30s.
After Gary passed away, my grief seemed endless. We had been married for 40-odd years, and I couldn't imagine life without my husband. He was always cheerful and dependable, the light of my life.
Time went on though, and I eventually downsized from the family home Gary and I built together. I moved into a retirement village (just a social space, not a nursing facility), and that's where I met Bob.
Bob was funny and worldly. He had travelled widely, although never married himself. I was thrilled to hear about his journeys abroad, and his boldness helped me come out of my shell.
In time, Bob and I were considered an "item" around the retirement village. I didn't tell my children though. In fact, they were left in the dark until one of my neighbours "let the cat out of the bag" during a family visit.
After hearing that I had a "new man" – Leslie, Christopher and Michelle wanted to meet Bob right away. We set up a family lunch at the local RSL for the next weekend, and boy was I nervous!
I was worried that my children would resent Bob for "taking over" Gary's place in my life, although obviously that could never be the case. Gary and I shared a lifetime together which can never be replaced.
At lunch, Christopher and Bob seemed to bond over their shared love of travel. Soon the pair were laughing together like old friends, and Christopher's wife approved of my new match too.
Leslie and Michelle had a harder time adjusting though. Of course they were kind and polite towards Bob, but I could tell the experience was "uncomfortable" for them.
Afterwards, the girls privately confessed to me that watching me with a new man was very strange. Their discomfort had nothing to do with Bob personally, it was just a matter of being "set in their ways" and always picturing me with Gary.
Twelve months on now, and Leslie and Michelle have slowly embraced Bob. Michelle is getting married shortly, so I think she now has a new perspective on how hard integrating different families can be.
Bob is great with Leslie's kids, and he often entertains them with stories of foreign people and places. I think time will help this adjustment become even smoother.
Far as Bob and I go, we are both grateful to have a "special someone" in our lives. He makes me smile, and I give him that warmth and love he never discovered as a younger man.
Gary's memory will not be forgotten, but I do believe he'd be happy that I have rediscovered joy. Life goes on, things change but lost loved ones will always stay in your memory and heart.
*Names changed to protect privacy
Have you started a new chapter in life? Has your family had to accept newcomers? Can you relate to this woman's loss and newfound happiness?
Comments