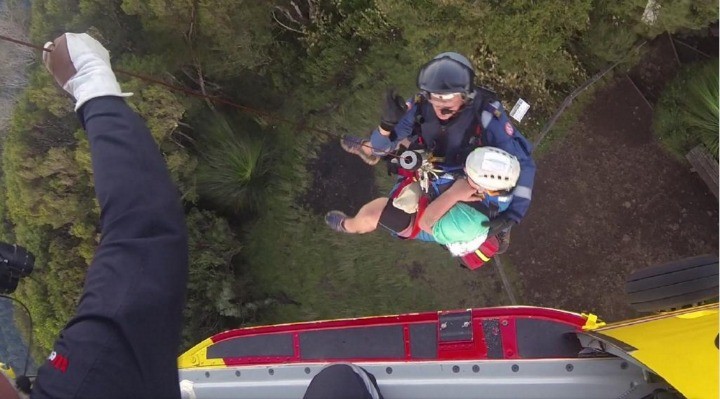 When news hit of a 115kg hiker needing to be rescued from the top of Mount Warning on the Queensland-New South Wales border, the reactions were ones of fury and disgust.
Reports cited that the hiker was 'unfit' and he needed to be airlifted from the summit after running out of energy.
Weather conditions weren't initially ideal for a rescue, with low cloud covering the mountain, but when the skies cleared a rescue helicopter lifted him to safety, and rescuers were unhappy about the situation.
#3Novices : Rescuers furious at 'unfit' hiker https://t.co/ZqYIkSwygf A 115kg hiker had to be airlifted off Mount Warning last night after…

— 3Novices Australia (@3novicesSydney) March 29, 2016
However, what we've now discovered is that the man at the centre of the rescue has actually served twice with the Australian Army in Afghanistan and his inability to return to the bottom of the mountain had nothing to do with his physical fitness.
Aaron 'Dogga' told the Daily Mail Australia that he was not unfit to climb Mount Warning, but in fact had a post traumatic stress-related attack and became paralysed, unable to return to the bottom of the mountain on his own.
"Once I hit the top that's when my PTSD really took over and it took all my strength not to take the easy way out and leave it all behind me," Dogga said.
Fellow PTSD sufferer, Cathy Gordon, came out in support of Dogga and shed some light on why he might have been unable to explain his condition to his rescuers.
"When one is in a panic or has been overcome by a panic attack, one of the symptoms is not being able to communication orally…" Gordon said.
That the original story was turned on its head so quickly has prompted the question: Are we too quick to judge?
It's often easier to make an assumption about a person or a situation, but making face-value judgements and putting labels on a person can reduce a person's personality and, to quote Gordon, "make him [them] feel less of a human being".
Do you think people were too quick to judge this Aaron in this case? Have you been judged hastily, how did it make you feel?
Comments