Amazing! Over 60s are using social media according to groundbreaking new research!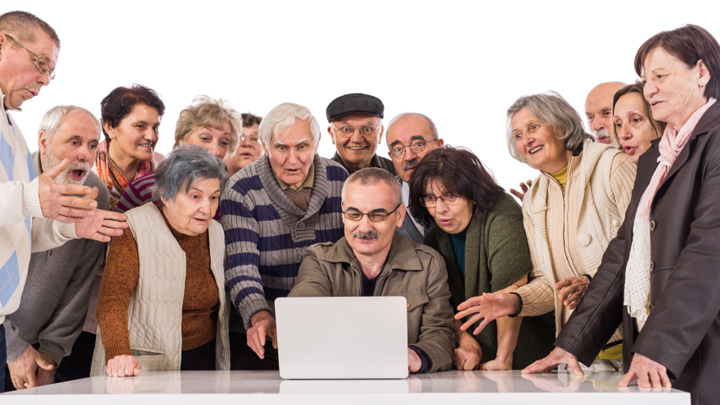 As we sit here, desperately trying to log in to our Faceplace box, we wonder, is anyone listening? We don't know if over 60s are on social media! I mean, we don't have over 130,000 likes or anything…
Try and tell that to researchers who've meticulously gathered data that has conclusively found that shock, horror, baby boomers are on social media – in droves, actually.
One in seven over 55s are using Facebook and Twitter to communicate, and, as the Daily Mail so charmingly put it, the new data shows a sharp rise in silver social surfers in the last three years.
Between 2012 and 2015, the amount of people on social media aged 55 to 64 has doubled.
The Office for National Statistics found that daily computer use is soaring in the older generation – in 2006, just one in 10 over 65s used a computer every day compared to almost half now.
Ad. Article continues below.
Other recent research (yep, there's more!) found 60 per cent of our peers said they couldn't live without the internet and a further 40 per cent found it useful in managing their daily life.
As usual, we'll put this in the 'duh, we knew that' pile (boomers having sex and using the internet) and keep doing what we're doing! Starts at 60 knows you're online and that over 60s are awesome at using technology and social media.
Tell us, have you had the wool pulled over your eyes this whole time? How long have you been using computers and social media?