Aldi stores are getting a well-deserved makeover
Since Aldi's entry to the Australian supermarket game around 8 years ago, it's been a breath of fresh air in what seemed like a never-ending cycle of Coles and Woolies wars. It felt like there were only two major competitors but when Aldi came along with its no-frills approach, it had us by its beck and call.
We all know the drill when we go into Aldi: there's only one type of product in each line, and you're usually not getting brands. The store is laid out very simply with no 'specials' so to speak, other than the middle aisle knick knacks and ski gear. You get served by someone sitting down who scans your items at a quick pace so you have to throw them in the trolley, sans plastic bag, at lightning speed.
And now, in almost a little surprise for consumers, Aldi is changing the face that we once knew, and jazzing up some of its stores.
Aldi are now creating a new-look, more upmarket store with fresh produce, brand names and in-store bakeries – namely so they can appeal to the higher-income earners, who of course wouldn't be seen dead in an Aldi store (joking).
So far there have been four new look stores trialled across Australia, one each in QLD, ACT, NSW and Victoria.
Ad. Article continues below.
"ALDI is always on the lookout for new and innovative products for our customers," an ALDI spokesperson told Daily Mail Australia.
"The trial upgrades will give local shoppers access to an expanded product range, particularly in our fresh produce and chiller lines".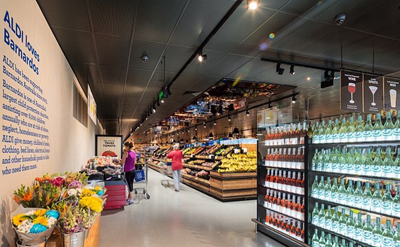 Despite the 'improved ambience' and funky layouts, Aldi swears they won't change their prices. "New layouts will improve store navigation and access to fresh produce bay areas, while also focusing on how products are displayed and checkout wait times", said the Aldi spokesperson.
The Australian reports that already Aldi has seen a boost in sales to their new-look stores but one has to wonder if this will be a good idea in the long run or lower to middle-class shoppers will start to compartmentalise them with the 'chic' new Woolies and Coles concept stores and avoid them.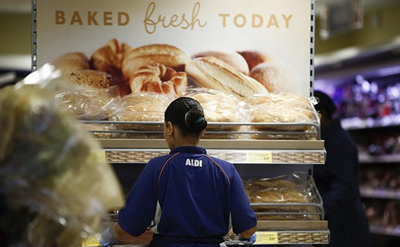 Ad. Article continues below.
What do you think? Will you shop at a fancy Aldi or do you prefer their bare bones approach they're known for?
Image source: Daily Mail