Alan Jones versus Campbell Newman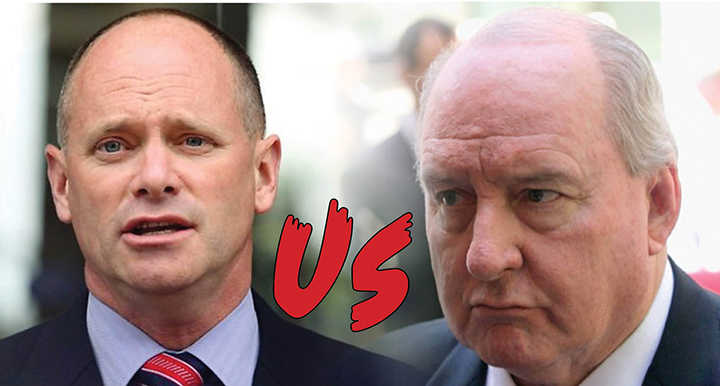 The Queensland Premier and Deputy Premier have decided the best possible election tactic, the week before the Queensland election is to launch a suit for aggravated damages against Alan Jones and his network who have made a series of controversial comments during the state election campaign.
Both Campbell Newman and Jeff Seeney have made individual claims that the comments made by Jones in broadcasts have caused each to be "greatly injured in his credit and reputation".  But we have to ask… Is it election tactics?  Or are the claims again Jones warranted?  Give us your thoughts today. 
According to reports in the ABC, the pair are suing over three broadcasts made on the 19th, 20th and 21st January in which Mr Jones alleged Mr Newman had lied to him about plans for the New Hope Coal expansion at Acland, in the Darling Downs.
The Liberal politicians claim that they were defamed by Jones when he claimed the LNP received a "bribe" of $700,000 from the owners of the mine in the form of donations to the party, and this induced Mr Newman and Mr Seeney to approve the expansion plan.
Newman is also seeking damages over Jones's remarks on January 19 that Mr Newman had "prostituted himself" because of the donation and lied in a press release issued in February 2012 in which the then-opposition leader said the LNP would not approve the expansion if elected.
Ad. Article continues below.
It is an interesting debate and one that is not going to lie down quietly in the media now it has been called to major action.  We know Alan Jones is never one to back down, and it appears Newman is firing his shot over the bow in signal he isn't either.
They are apparently seeking aggravated damages because of "the sensational language, tone and prominence of the matters complained of" and because Jones made the remarks in his broadcasts "knowing them to be false or with reckless indifference to their truth or falsity and lacking an honest belief in what he published".
The LNP have confirmed they will fund the defamation action and 4BC declined to comment to the ABC today.
This seems to be just the beginning, and perhaps just the fight Alan Jones was looking for when he came to Queensland to disrupt the politics of the day in the pre-election period.
Share your thoughts on the public fight between Newman and Alan Jones today…