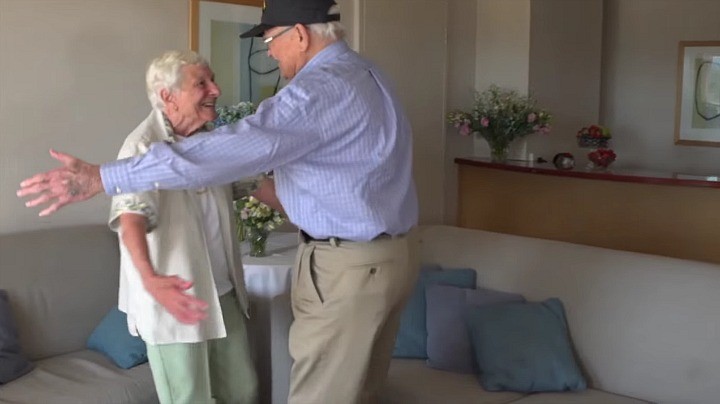 There's nothing like a good love story – and this one is a total tear-jerker!
American World War II veteran Norwood Thomas, 93, and Joyce Durrant Morris, 89, met in London during the height of the war and fell in love almost immediately.
The couple enjoyed a whirlwind romance for a few months before Norwood was sent to Normandy with his fellow soldiers.
At the time, Norwood was only 21 and Joyce was 17, but they were infatuated with each other and swore they'd be reunited again, reports the Virginian Pilot.
When the war ended, Norwood received his orders to return home with everything happening so fast they barely had a chance to say goodbye.
They kept in contact writing letters to each other until Norwood finally worked up the courage to ask Joyce to move to America to be his wife.
That's when fate intervened. Somehow, Joyce misunderstood Norwood's request and thought he had found someone else, so she stopped writing and the two lost contact for over 70 years.
They each went on to marry other people. Joyce moved to Australia with her husband, but divorced after 30 years. Norwood was with his wife until she died in 2001.
Still, with Norwood always in the back of her mind, Joyce asked her son to look for Norwood on the internet hoping she could contact him again.
The couple finally made contact again on Skype and this week, Norwood travelled to Adelaide to see his long-lost love again.
Norwood said he was "a little nervous" to see Joyce again, but was looking forward to the reunion after so long apart.
"I am going to give her a squeeze," he said.
"I am just sitting and taking it as life comes, line it up for me and I will be there. I appreciate all the help we have had."
The pair are now enjoying two weeks together in Adelaide before Norwood returns to America. They say they are hoping to make up for years of lost time.
Take a look at their reunion below and tell us: do you love this love story?
Have you ever reunited with a partner after years apart? What message of support would you send to Norwood and Joyce?
Comments