A woman who is changing lives of over 60s and children all at once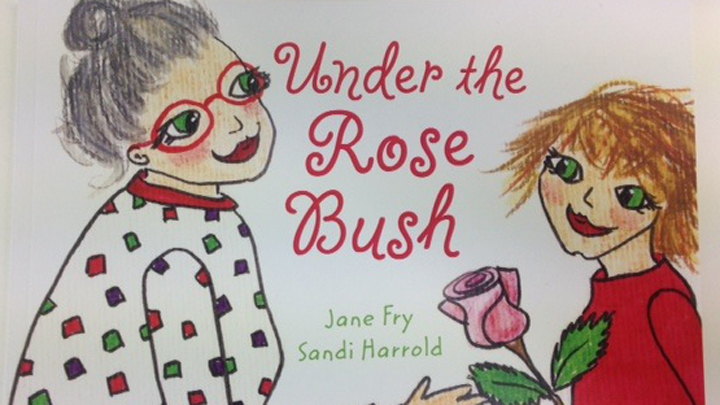 Every now and then, Starts at 60 comes across someone who is doing beautiful things for older generations – and sometimes even the younger generations too. One of the people we recently spoke to is Jane Fry.
Jane has used her own personal experience to help others, and to help a cause that is such a pressing issue in society today. Jane has written a book called "Under the Rose Bush" and it follows a young girl as her grandma goes from being a healthy, bright and vibrant woman to someone suffering from Alzheimer's.
The book is aimed at children, to teach them and help them to better understand why their relationship may change one day. But I must admit reading it brought a tear to my eye as I reminisced on my own experience with loved ones battling Alzheimer's.
We were lucky to interview Jane, and to find out more about why she is passionate about this cause and how she brought this wonderful idea to fruition.
We asked her why she wrote this book and what her personal connection to Alzheimer's was. Her answer was incredibly close to home, "It was a personal journey that inspired me to write this book though not immediately after, as it took a while to get over it all. My mother got Alzheimer's at about 83 and this was when my children were still young. My youngest child (a son) was about 10 and the girls a bit older."
Ad. Article continues below.
Jane battled just like every person who goes through the process of loved ones suffering from Alzheimer's but she told us that she was learning through the experience just as much as her children were. "I had never really had anything to do with it before my mother became ill. It was a raw and terrifying experience. It is like watching your mother waste away each year. Each year it was like watching her lose an arm, then a leg and so forth, even though she was physically there it was not my mother. I guess that's why when she died it was not so sad as losing someone who was suddenly ill and died."
It is something that I know from personal experience, can almost put you at ease. Knowing that your loved one is finally at rest and is not suffering inside a lifeless shell any longer. You know it is best for them, and this is all you want.
The fact that Jane shared her own personal story and has been kind enough to use it to teach other people and children about the disease in a kind, loving way, is incredible and she has hope that it will help other families to cope with it in the future.
She told us, "I guess the hope I have for Alzheimer's sufferers is that a cure is found, but I know that's a long way off. Since we have to face it when it comes the time, I therefore hope the carers don't suffer and can get support to understand the process that their family member is going through, particularly later on when the sufferer may not be aware, but the pain for the close family is insurmountable. I guess I learnt that it is pointless trying to reason with the sufferer. I used to say, 'No I didn't' or 'you already told me that' etc. as I just wanted to be right, but later on down the track I learnt that was not the way to handle my mother and I reached a more calm state, and I think she did too. I have many funny stories when I look back on my mother and her comments, some embarrassing moments, and some sad times, but I am now able to look back at my mother and really value the essence of my mother before Alzheimer's.
Ad. Article continues below.
"One of the nurses once explained to me, that Alzheimer's in the brain is like a faulty battery that sometimes makes connections and other times doesn't. You can be a stranger to your mother or the loved daughter it just depends on the moment. One day after weeks of her not knowing me, or my name, I visited her in the nursing home and she turned around and said, "Tell me Jane do you still like teaching?"
It was the first time I hadn't been able to answer her. I was flawed!"
Under the Rose Bush is one of the most beautiful, touching and meaningful children's books available. It teaches them something valuable, and can help them through some incredibly tough times.
Under the Rose Bush by Jane Fry and Sandi Harold is available for $17.50 including postage by clicking here.
Jane Fry and Sandi Harold have kindly shared four copies of Under the Rose Bush with the Starts at 60 community… To go into the draw to win a copy tell us in 25 words or less, why do you love being a grandparent, uncle or aunt?