A walking exploration around County Wexford [Rogue Nomads]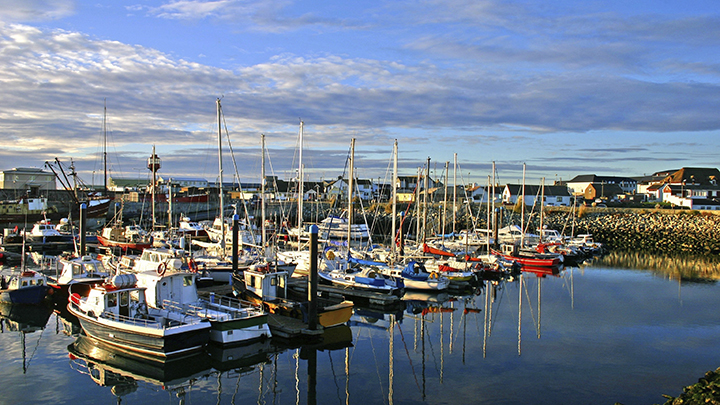 This is part 28 of Dee's grey nomad adventure around Europe. To read her previous instalment, click here
On to Enniscorthy, which is in County Wexford, in the South Eastern corner of the Rep of Ireland. It's not frequented by tourists so much, but we had been booked for a two week house/dog sit, and we wanted to explore that area. The house was big and old, with even older outbuildings, large grounds and a rather large garden with fruit trees, and a huge vegetable patch at the back – all overgrown but still producing like crazy! Kale, lettuce, potatoes, tomatoes, capsicums, garlic, marrows, pumpkins, and a variety of herbs.
The dog was an ancient spaniel, poor dear, and totally blind and deaf, and to add to that he was arthritic and his legs kept collapsing. The whole time we were there we felt so sad for him, and spent as much time just touching and stroking him, which he loved.
We had plenty of time to explore, so we spent a few days just doing very little! The first place we visited was the Irish Heritage centre near Wexford. This involved plenty of walking and trying to negotiate ourselves around a large number of school children who were also being taken around. There are full scale reconstructions here of ancient forts, tombs, a monatery, mill, cooking place, viking boatyard and a round tower (original) with woodland trails. People can also pan for gold, try out archery, and try out spear throwing, so we had a good long day there.
It was a beautiful sunny day and we had lunch at the restaurant there, watching all the children being totally bored by the whole thing. To them, it was just a day of escape from the confines of the school grounds. Maybe it takes a few decades of living before this sort of thing is of interest.
Ad. Article continues below.
On another day we drove to Kilmore Quay, an old fishing village which is well known for its white houses and thatched cottages. We were lucky to be able to see some thatching in process, as this is now a rare art, and expensive!   The harbour was a delight. We drove around some of the area around the back and discovered that this is also an area where quite a few gypsies live! They seem to love their horses around here too!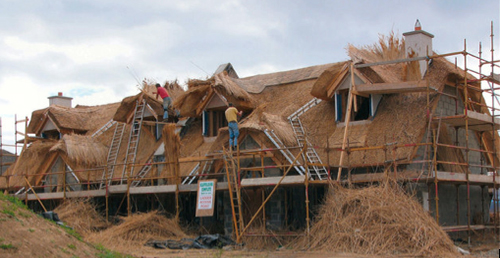 On to Our Lady's Island, an old Augustinian priory. Not easy to find, as it's a drive along narrow country roads. I love my legends, and the legend here is that if you walk around the island three times, you are cured of all ailments. The circuit is one mile. There were no tourists around, apparently it becomes crowded at the pilgrimage time, which ended on 8th September. Pilgrims have been coming here since 1897. There's very little of the remains to be seen, and there's a very, very old graveyard at the back, overlooking the estuary, well worth a look as there's a number of fishermen from the 18th century buried there.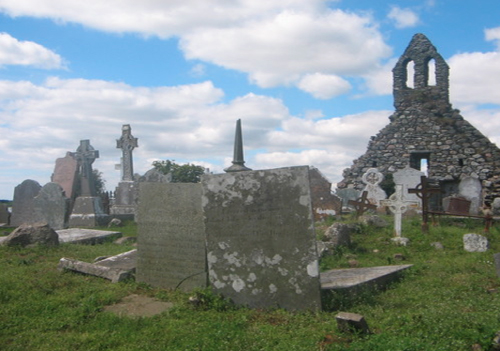 This locality was once the centre of druid worship, and the Irish name for Our Lady's Island is given as Cluain-na-mBan – 'the meadow of the women'. So it is generally thought that this area was inhabited by female druids.
Ad. Article continues below.
20 minutes drive from the house is reported to be the best beach in Ireland named Curracloe Beach. On a lovely sunny, warm day we took our togs and headed to the beach! It was a very long, sandy beach, and we walked and walked. I even paddled, so I can say I've been in the Irish Sea!
We are so spoilt in Australia, to be honest we have hundreds of beaches like this, so we became massively homesick. On the positive side, Curracloe Beach doesn't have jelly fish, doesn't have sand flies, and doesn't have sharks. It also doesn't have warm water! Its claim to fame is that Saving Private Ryan was filmed there. I can imagine it gets very busy in summer time, but that day we had the beach virtually to ourselves.
Have you been to this area in Ireland? If not, have you been to somewhere similar? Tell us below!