A stitch in time? It is never too late to learn a new craft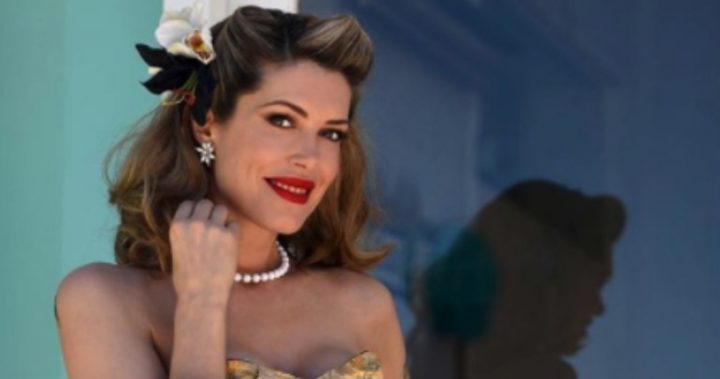 As if being an author, journalist, TV documentary presenter, human rights advocate and anti-cyberbullying campaigner wasn't enough.
Now former model, Tara Moss, has shown she has quite a few skills on the sewing machine too.
The Canadian – Australian posted a glamorous photo on Instagram wearing a dress she made herself after learning to sew only last year.
She even admitted that before then she had never even sewn on a button.
Ad. Article continues below.
For Tara Moss life hasn't all been about learning her new life skill.
The author of nine fiction books released her second non-fiction piece last year titled Speaking Out: A 21st Century Handbook for Women and Girls, teaching others new life skills of their own. 
Tara said she wrote the book partly because of hundreds of questions she had been ask about things like confidence, public speaking and handling trolls on social media.
It's good to see that she can turn some old world glamour, and old world skills, into a modern day success with extra glamour to boot.
Ad. Article continues below.
Tara Moss is certainly not alone in having no prior relationship with a needle and thread.
The once highly regarded skills of a seamstress seem to be well and truly forgotten by many.
It's hard to believe how dramatic the change has been, when you look back to the 50's, 60's, even through to the  80's, sewing machines were all the rage and you would be hard pressed to find someone not wearing something hand made.
But the change is evident.
Locally owned fabric stores, with women browsing over Burda and Butterick pattern books, have now all but disappeared.
Ad. Article continues below.
 It quickly became cheaper to buy off the rack, with mass produced garments taking over our wardrobes.
A bit like a stitch in time, it seems sewing is a trend that is making a comeback.
Television shows like Project Runway have certainly helped with that. But there are more reasons than simply fans of reality tv joining a trend.
There has been a general DIY boom all around. Cooking and craft, including knitting and crochet, has been increasing in popularity for the last few years.
Basic sewing skills can save you lots of dollars. Sewing on a button, hemming pants, making a few adjustments here and there can all go a long way towards saving money rather than replacement or handing it over to the professionals.
Ad. Article continues below.
With mass produced fashion there comes a desire to want to stand out from the crowd. Making your own clothing ensures you wont see someone dressed exactly the same.
With cosplay increasing in popularity too, costume making is becoming an art in itself, with demands for authentic looking outfits of favourite characters.
Even if you won't dare wear something you have made yourself, you can still put your hand at making a few soft furnishings around the home for your own added special touches.
You don't need the latest and greatest machines to come up with something special either.
There are plenty of budget priced sewing machines around, or you might even score a bargain at garage sales or find one offered for sale online. Have a dig around in your own cupboards first.
Ad. Article continues below.
You might even still have one buried at the back of a cupboard.
If you spot an old treadle machine, grab it. Even if it no longer works they can be turned into a very funky coffee table.  
If you don't have any sewing skills they are easy to acquire too. No need to recall what your home economics teachers were telling you.
There are instructional videos on you-tube, for beginners through to advanced, and online blogs that will teach you anything you could possibly ever want to know.
Patterns are even readily available online to download, but take a trip to your local op-shops and you are sure to find a whole pile of funky retro theme patterns (that weren't retro when we first bought them).
Ad. Article continues below.
While you are at the op-shop, keep an eye out for material pieces too, that can be used with the patterns you find.
Then make sure you get out and about and show off your skills to your friends. 
After all the fun of making your own creation what could be better than being complimented on your outfit and then being able to say 'I made it myself'.
Ad. Article continues below.
What do you think of Tara's dress. Do you still make your own clothing? We would love to hear some of your sewing stories.