A grandmother's wish: Please vote for my talented granddaughter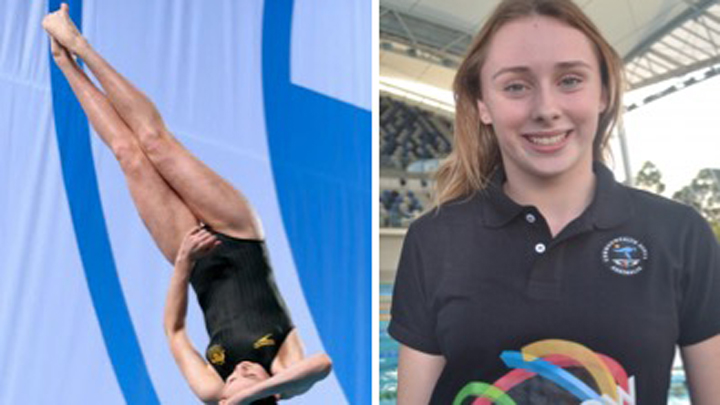 My name is Judy Smith and I am a 70-year-old retiree living at Coolum, on the Sunshine Coast, with my husband Kevin, who is 80. We live in a small unit and lead a very quiet life these days. Kevin has terminal kidney cancer so our days are taken up with weekly doctors' visits and overnight stays for Kevin at Nambour Hospital every few weeks to remove more cancer.
A few years earlier we were far more active and were fully involved in our grandchildren's lives. In August 2012, our daughter's marriage had broken down and she became a single mum of six children, all 12 years and under. Paula had no choice but to start work again and was lucky enough to be offered a full time teaching positon. This was a big change as she had always been a stay-at-home mum.
Paula called us in tears one day asking if Kevin and I could possibly help in any way as she was really struggling. This call was the start of our weekly visits to Brisbane. Every Monday morning through to Thursday afternoons Kevin and I would drive 2 hours to Brisbane to look after our grandchildren. It was a big lifestyle change but our daughter needed us.
We quickly established a routine. Paula worked, the bigger children went to school, and Kevin and I looked after Grace, Paula's three year old. We also did the 'Dive Run'. Paula's eldest daughter, Georgia, is an elite springboard diver who trains 28 hours a week at the Sleeman Sports Complex in Brisbane. Paula would drive Georgia to training at 5.20 am each morning and I would do the pickup and drive her to school at 8.15 am. I would then go back to Georgia's school at 2pm, collect her and driving her back to the pool for her afternoon training session. Paula did the final pickup at 6pm after she finished work.
Ad. Article continues below.
Kevin and I helped for nearly 18 months, finishing up in January 2014 because of ill health. By this stage, Grace, my youngest grandchild was about to start prep and Paula had managed to find an au pair to assist with Georgia and the other children.
So, I am writing to the Starts at 60 community as my granddaughter Georgia Sheehan needs my help again. I have never done anything like this before but Georgia is a great cause! And I can only ask.
Georgia has made the finals of the Colonial First State Sports Boost. Sports Boost is an online competition that aims to assist young athletes in achieving their goal by giving them a financial boost. There are only four finalists in the country and Georgia is the youngest and only female athlete represented. The competition voting runs until Sunday 21st of June and Georgia is currently coming second.
My beautiful Georgia had a very successful 2014 and we are extremely proud of her. She was the youngest athlete on the 2014 Commonwealth Games Team and she just missed out on a bronze medal in her 1m Springboard event by 0.05 of a point. This result was a little disappointing for her, but she went on later in the year to win three medals at the Junior World's in Russia, one of which was gold. In April of this year, Georgia was selected to be on the Australian Open National Diving Squad, acknowledging that she is now one of Australia's top divers.
Ad. Article continues below.
Georgia is my inspiration and she brings us so much joy. She is such a positive and happy grandchild who just loves life and has BIG DREAMS. She is on the Road to Rio Shadow Squad and is doing everything she can to try and make next year's 2016 Australian Olympic Team.
I would be extremely grateful if the Starts at 60 community could rally behind Georgia. She needs your support. If Georgia wins Sports Boost, she will receive $10,000 for herself (for future training expenses) and $15,000 for her sporting body, Diving Australia. As you would understand, this is a lot of money and would be very helpful in assisting Georgia to achieve her sporting goals. Diving, unlike more high profile sports, receives little funding and most of Georgia's expenses are paid by her family.
So PLEASE VOTE for Georgia, and also SHARE the link (https://sportsboost-app.herokuapp.com/votes/new) with your family and friends encouraging them to vote too.
We have one week to make it to the top!
Thank you so very much.
A loving grandmother, Judy Smith