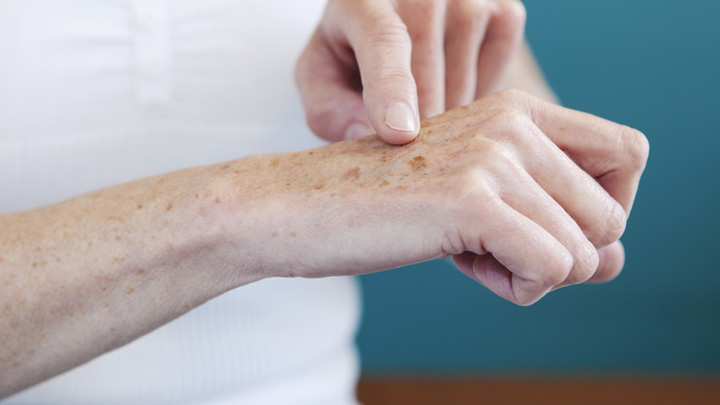 As we get older, it's natural for our skin to have some discolouration, though some will see more than others.
Dark spots are hyper-pigmentation of melanin in the skin, and can be caused by:
Sun exposure
Hormonal shifts
Menopause
Stress
Improper skin care
Liver problem
Lack of some vitamins like Vitamin C or Vitamin B12
Smoking
Cancer
Dermatitis
Diabetes
Having dark spots is not a serious medical condition, however they can make you feel self-conscious.
Once you know the cause of your dark spots, then you can treat them with these homemade remedies. Some resort to cosmetic treatment however if you're looking for an effective at-home method, here are 9 of the best:
Green tea
This can protect against sunburn in the first place, but will help also help promote wound healing and skin regeneration because it is an anti-inflammatory. Simple brew a pot of green tea and let it cool. Soak a clean cloth in the tea, and use it as a compress for sunburned areas.
Rose water
The rejuvenating features of rose water are very effective in soothing the area. Just apply cotton balls soaked in rose water on closed eyes for 15 minutes or so.
Olive oil
Olive oil has a plethora of uses with one being a great skin nourisher. It is also high in vitamin E, which also gets rid of sun spots. Simply apply to the area once a day and rub in like you would moisturiser.
Orange and apple cider vinegar
The power of the citrus in the orange helps to lighten dark spots. Mix one teaspoon of orange juice with two teaspoons of apple cider vinegar and then use a clean cotton ball to put this mixture on your age spots before you go to bed.
Vitamin E oil
Vitamin E oil is full of antioxidants and healing properties, not to mention it is an anti-inflammatory. Better yet, it can help fade dark spots on your skin. Open or pierce a liquid capsule of Vitamin E and apply directly to your age spots. Let it soak in and leave it on for a couple of hours.
Fresh lemon juice
Lemon juice is known for its bleaching abilities and it can do the same on skin. You can use fresh lemon juice by itself to bleach age spots by rubbing it on at night and then washing it off in the morning.
Dandelion
Dandelions are known as weeds but the sap has the ability to even skin tone. Rub the sap of a dandelion root on your age spots two to three times a day.
Potato and honey
Take one potato and grate it into a bowl, then add enough honey to make a paste. Apply this to your age spots and leave on for about 15 minutes, then rinse it off with cool water.
Yoghurt
Yoghurt has mild bleaching abilities and is safe to use on skin if you just apply directly.
Tell us, do you have dark spots on your skin?
Comments