9 amazing and unusual uses for denture cleaning tablets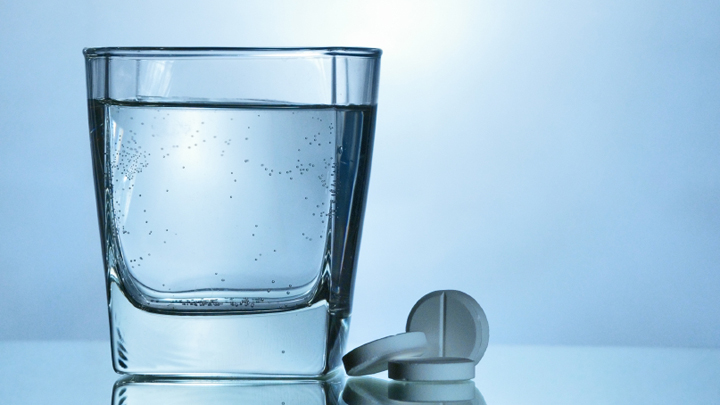 Most people would think that denture tablets are a one-use product, but in actual fact, they're very useful – even if you don't have false teeth!
Best of all, if you don't have any denture tablets, they're very cheap to purchase.
Here's 9 of our favourite uses. Do you have any other tips?
1. Make your diamond rings sparkle
Ad. Article continues below.
Put a denture tablet into a glass of water, and drop in your ring or other diamond jewellery. Let soak for 10 minutes and rinse.
2. Shine glasses
Do you have hard water stains on your glasses? Fill with water and drop in a tablet. Once the fizzing has stopped, you'll see the mineral deposits disappear.
3. Clean your coffee machine or kettle
Drop two denture tablets in the glass pot or kettle and fill it with water. Run the machine and discard. It'll be good as new!
Ad. Article continues below.
4. Remove yellow stains from clothing
Yellow sweat stains on white clothes can be unsightly. Mix two tablets with water and wait for the fizzing to finish. Pour over the stain, let sit for 10 minutes, then wash as usual.
5. Clean the toilet
All you need to do to get a sparkling bowl is pop two tablet into the bowl and let dissolve. Flush after 20 minutes – it's that easy.
6. Clean enamel cookware
Ad. Article continues below.
Fill the pot or pan with warm water and drop in a tablet or two, depending on its size. Once the fizzing has stopped, your cookware will be clean.
7. Unclog a drain
Crush up some denture tablets and run water until the drain unclogs. If it's still blocked, follow with a cup of white vinegar and boiling water.
8. Clean stained coffee cups
Ad. Article continues below.
Put a tablet in your stained cup with a little water and wait til dissolved. Leave overnight then rinse.
9. Whiten fingernails
Denture tablets works well for whitening yellowed or discoloured fingernails. Simply put 2 tablets into a bowl of water and when the bubbles stop, soak your fingernails for about 10 minutes and dry.
Share your thoughts below.