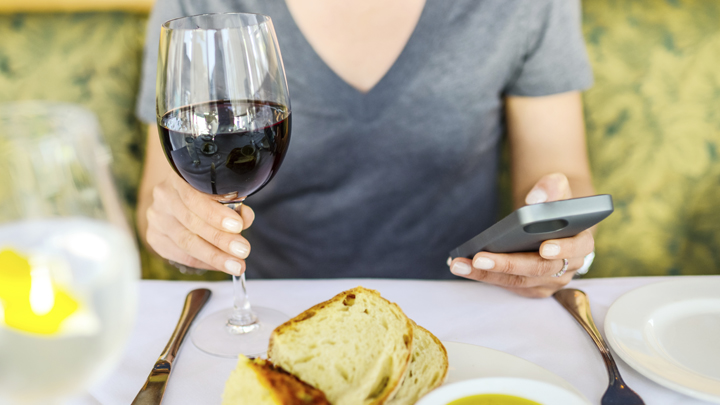 It's great to have a little drink after a hard day's work (or even after a tiring day on the beach!) but did you know that your phone can make that drink all that bit sweeter? There are plenty of wine-related apps out there, but we have done the hard work for you and found the best 8 you can download today!
1. Visit Vineyards
Free on iPhone
Have you ever been in another state but forgotten to look up the vineyards before you left? If you're a serious vino, probably not, but this app makes it so easy to find vineyards in your area that you might find yourself doing it at home too! There are almost 5000 listings in 60-plus regions, the app also has details of local food producers, regional restaurants, farmers' markets and accommodation.
Ad. Article continues below.
2. Wine Notes
Free on iPhone and Android
Ever tasted a wonderful wine but completely forgotten the name of it when you visited to bottle shop? Fear not, there is an app for that! Wine Notes helps you keep track of the wines you loved (and hated). If you can't remember the exact name, you can enter in what details you remember, such as producer, varietal, vintage, rating, region and colour, then record the flavours you detect. You can also share your reviews with your friends on Facebook!
Ad. Article continues below.
3. Wine Events
Free on iPhone and Android
If you're an experienced wine appreciator, then it might be time to take the steps to drink with like-minded vinos. It lists events in Australia, as well as overseas so you can find a tasting buddy no matter where you are.
4. Wine-searcher
Ad. Article continues below.
Free on iPhone and Android
If you know the name of the wine you just have to have, but want to get the best price, Wine-searcher will help you. It can scan participating cellars around the world to compare prices. Easy!
5. Wine Dictionary
Free on iPhone and Android
Ad. Article continues below.
If you find yourself with experienced winos but don't know what they're saying, the Wine Dictionary has you covered with every wine term you can think of.
6. Vivino
Free on iPhone and Android
This is the world's number one wine app…so obviously it is a must-have! We've all walked into a bottle shop and seen a lovely wine label but been sceptical of its taste. Now all you have to do is take a photo and get to know a bottle in seconds – the app's database has millions of wines on tap.
Ad. Article continues below.
7. Cor.kz
$1.99 on iPhone and $2.19 on Android
If you're a wine geek, then you can store information about all your wines in this convenient app. Even if you don't have the bottle anymore, you can list that too! Cor.kz is the only app that taps into the main global database that many serious wine collectors use.
Ad. Article continues below.
8. Crushed
Free on iPhone
Facebook is a great social media site but it isn't exactly…..wine-centric. If you love to share your tipple with your friends, Crushed could be your newest obsession. If you 'like' your friend's post, on Crushed it says that you have said 'cheers' to them instead! You can talk all this wine in a socially acceptable environment.
What is your favourite wine? What wine or other alcohol apps do you use? Are you a drinker with your phone in hand? Tell us below!