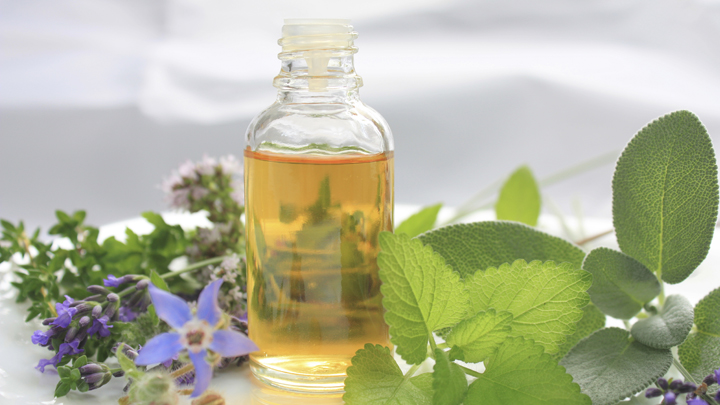 Making your home a positive place to be is sometimes as simple as making it smell good. We love to smell beautiful and be surrounded by nice smells – even walking into a fresh home can improve your mood! No wonder we all spend so much money on fragrances for our environment, but did you know you can make some great smelling ones at home for a fraction of the price? These simple DIY air freshening projects are not only cheap, but they'll leave your house smelling great.
Scented wood blocks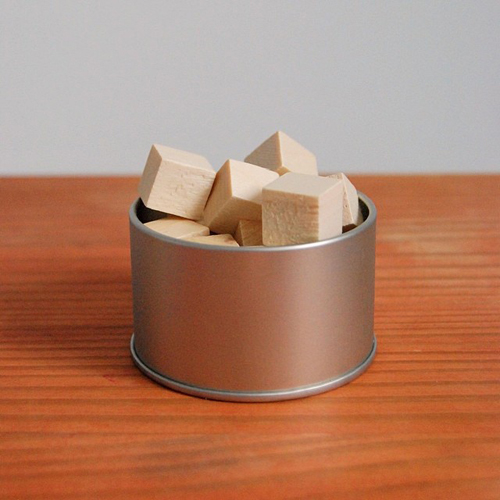 Source: @NORTHSTORYCA via Instagram
Ad. Article continues below.
All you need is:
Wood blocks
Scented oil or perfume
Small paint brushes
Simply paint the oil on to the wood blocks and then put into a container with a few drops of the perfume or oil and shake. Let it sit overnight and done! Display in a decorative bowl.
Orange peel candles
Ad. Article continues below.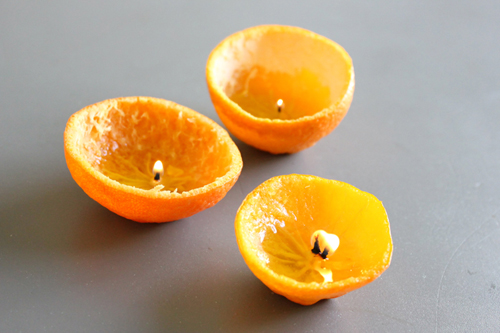 Source: deliacreates
Oranges aren't just for eating! For a delicious smelling (and tasting!) candle, all you need is:
Oranges (how ever many you like)
Knife
Oil (canola, vegetable or olive)
Candle lighter
Cut the orange in half and run the knife around the edges, loosening the fruit from the peel. Grab a fork and scrape the inside of the orange out without removing the inside stem (in centre of orange), Fill 3/4 of the orange halve with oil and let sit for 45 minutes. Try to light the orange (you'll need a candle lighter so it can hold the flame for longer) by heating up the stem for 2-3 minutes until black and dry to the touch. It should relight easily after this!
Ad. Article continues below.
Lemon-rosemary simmer pot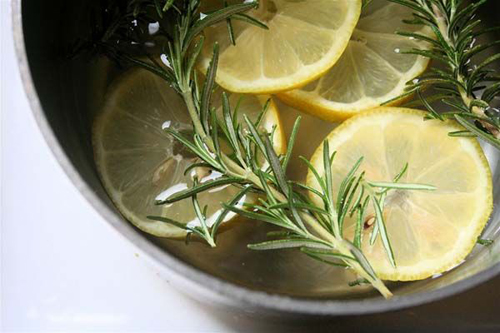 Source: Pinterest
All you need is:
Ad. Article continues below.
A small stockpot
Water
Rosemary
1 lemon
Vanilla extract
Fill the pot until it is about 2/3 full with water. Add 1 lemon (sliced) and a few sprigs of rosemary. Then, add the 1/2 teaspoon of vanilla. Let this mixture simmer all day and it'll fill your rooms with an amazing scent. Be sure to change after a couple of days as this is best used fresh.
Gel air freshener
Ad. Article continues below.
Source: Pretty Frugal Living
This is a great option if you don't like open flames. All you need is:
Heat-proof jars
4 packets of unflavoured gelatine
Food colouring
Salt
Essential oils
Add a few drops of whatever colouring (2 drops) and oil (30 drops) you like to the jars. Boil 1 cup of water on the stove and pour in your gelatine packets and whisk continuously. Once dissolved, add 1 cup of cold water and 1 tbsp of salt. Stir it all in and pour into your jars and mix it with the colouring and oil. Let it sit overnight until the gel is set!
Ad. Article continues below.
DIY reed diffuser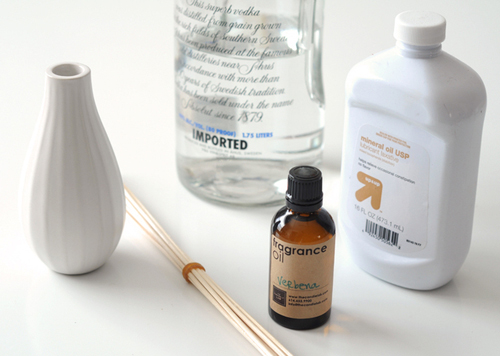 Source: curbly
Reed oil diffusers are another awesome idea if you don't like flames or have littlies over but still want a nice scent in your home. All you need is:
Tall jar
Baby oil
Essential oil
Bamboo skewers
Ad. Article continues below.
Fill the jar with as much essential oil as you like and then the rest with baby oil until about half full. Place skewers in the jars and you're done! It'll take a few hours for the scent to work.
Bi-carb soda freshener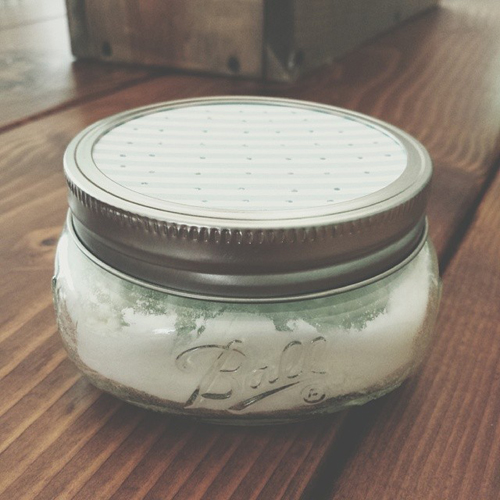 Source: @MYHEALTHYHOME via Instagram
Ad. Article continues below.
All you need is:
A shallow jar
Bi-carb soda
Essential oil
Place the bi-carb soda in the jar so it is around 3/4 full. Add 5 or 6 drops of essential oil and leave near the door or in the bathroom. The bi-carb will suck up the bad smells (it's great in the fridge too!)
Room spray
Ad. Article continues below.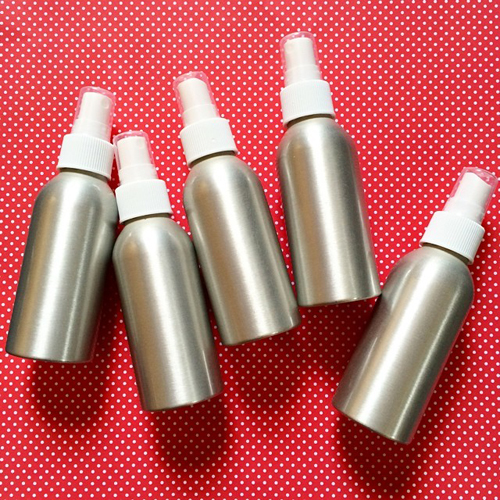 Source: @GLAMORGANICGODDESS via Instagram
For a little spritz of freshness, you can also make your own room spray.
All you need is:
Essential oil
Clean spray bottle (small)
Water
Vodka
Ad. Article continues below.
Add 10-20 drops of oil (or a combination) to a clean spray bottle filled with 3 parts water and 1 part vodka – voila!
Natural home scent recipes..
Fall Wonderland: 1 sliced orange, 5 cinnamon sticks, 2 tablespoons of whole cloves
Orange Amaretto: 1 sliced orange, 1 tablespoon almond extract
Sweet Mint: 2 sliced limes,  1 teaspoon vanilla extract, 1 teaspoon peppermint extract
Gingerbread: 5 x 0.5cm slices of ginger, 1 tablespoon almond extract, 3 cinnamon sticks
Orange Icecream: 1 tablespoon vanilla, 1 sliced orange
Cordon Bleu: 1 lemon, 1 tablespoon of peppermint extract, 4 sprigs of rosemary
Italian Backyard: 1 lemon, 1 tsp black peppercorns, handful of basil
Forest: Cedar twigs, by themselves. I love cedar.
Regal Cream: Bergamot tea (Earl Grey), 1 tsp vanilla extract
Blueberry Tea: Bergamot tea, 1 sliced orange, 1 tsp almond extract
Coconut Bay: 1 tablespoon coconut extract, 1 sliced lime
What do you use to scent your home? What is your favourite smell? Tell us below!