6 things you didn't know you could make with your rice cooker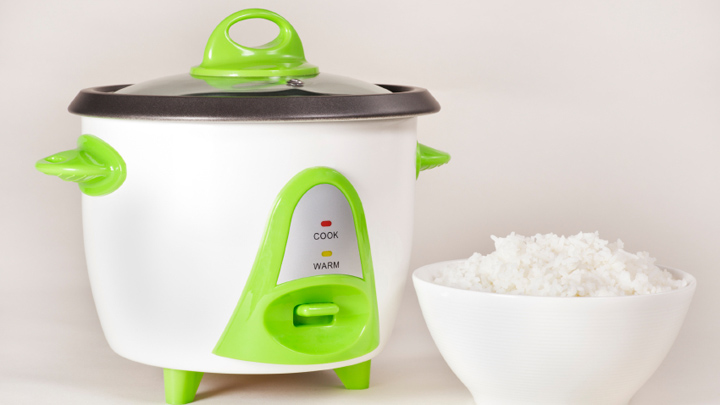 Let's be honest: rice cookers are a godsend! Just pop in the rice and water and off you go. But if you thought this was the only use for your rice cooker, you'll be sorely mistaken.
In fact, the humble rice cooker is in fact one of the most versatile appliances you have and can replace a number of other ones that you have. Who'd have guessed?
1. Make breakfast
Because a slow cooker reduces the possibility of burning your food (it heats up to a certain point and then decreases the heat), it is ideal for cooking breakfast! You can put oats in it just as you would in the microwave, but the 'warm' setting will stop the oats from curdling.
Ad. Article continues below.
2. Make risotto
The best part of making a risotto in a rice cooker is that you don't need to stir it. Simply added 1 part rico and 4 parts liquid, then press 'cook'!
3. Make soups or stews
Put enough liquid in your rice cooker and it will create long-simmered dishes without boiling over. Put in the same ingredients as you would on the stove and voila.
Ad. Article continues below.
4. Make bread
Yes, you heard that right: you can make bread in your rice cooker. All you need is:
1.5 cups flour
5g yeast
1.5 tbsp sugar
1 tsp salt
21g butter
30ml milk
180 ml water
Simply add these into your rice cooker and hit 'cook'. It is a very plain bread but is good for eating with soups or pasta dishes.
Ad. Article continues below.
5. Make vanilla cake
Even cakes can be made in this 10-in-1 appliance. All you need is:
1 packet vanilla cake mix OR add the ingredients individually
1 can sliced peaches
3 tbsp butter
1.5 tbsp brown sugar
whipped cream
Mix cake ingredients according to package instructions then add the cake mix to rice cooker and press 'cook'. Cake will bake for approximately 45 minutes.
While it cooks, heat a pan to medium and add peaches. Cook until they start to brown on the edges then add the butter and brown sugar. Stir butter and brown sugar into peaches and continue to cook for another few minutes. Turn off heat and set aside.
Once cake is ready, allow to cool slightly then slice into wedges and serve with peaches and cream.
6. Make an omelette
Omelettes can be hard to cook at the best of times, so why not whip out your rice cooker and try it this way? You'll need:
4 separated eggs
cheese of your choice
fillings of your choice
Whip the egg whites until fluffy. Whisk egg yolks until blended and then mix with whites. Pour the eggs into the rice cooker and close the lid before pressing 'cook'. Wait til cooked and add cheese and fillings, and fold.
Tell us, what have you cooked in your rice cooker besides rice?