6 clever and easy DIY garden projects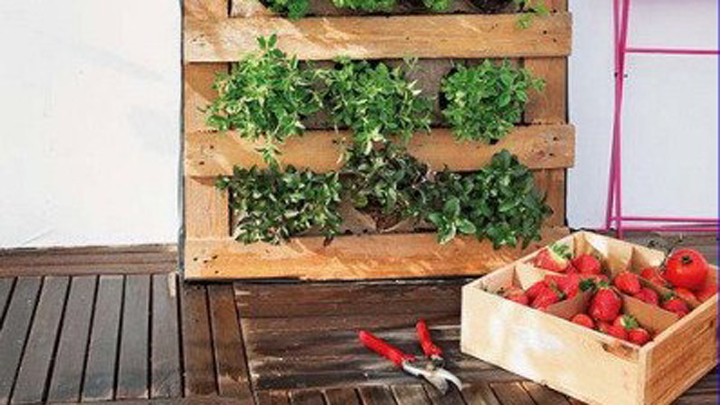 There's plenty of room for growth in your garden! Check out these 6 clever ways to make your garden your own. Even if you don't have space for a garden but want to try a little gardening project, these ideas will be perfect for you. Plus, you probably have most of these tools lying around the house just waiting to be put to use.
You'll have a beautiful and creative backyard to enjoy before you know it. Take a look at the 6 garden projects below.
1. Transform an old tire into a garden stool
Items needed
Ad. Article continues below.
1 old tire
Wooden board
Cushion
Jigsaw
Acrylic paint
White gloves
Sandpaper
Rope
Brush, pencil and tape measure
Steps
Measure the diameter of the tire
Draw the circle on the wooden board. Use a rope to create a compass shape to trace – move the outside of the radius along the entire board to create the circle
Cut the board with the jigsaw and sand sides until smooth. Paint it on both sides. Once dry it will be the cover of the tire!
Now paint the tire. Apply primer to seal the surface and to prevent it from cracking. Then choose your preferred colour to paint the outside.
Place cushion over wood board.
Via DIY Enthusiasts
Ad. Article continues below.
2. Create colourful and handmade garden stones
Items needed
Round non-stick cake pan or whatever shape you like
Vaseline
Contact paper
Old plates or saucers
Glass gems
Concrete
Marine varnish
Chicken wire or other type of wire mesh
Safety glasses
Rubber gloves
Hammer
Bucket
Towel
Water
Steps
Ad. Article continues below.
Put safety glasses on, place plates in a cloth bag and smash with hammer. Repeat until you have all the pieces you need. It's good to have a variety of sizes
Place cake pan on contact paper and trace around it. Then cut around the paper circle to place inside pan sticky side up.
Add mosaic pieces to the contact paper with whatever design you like! Make sure each piece is firmly place down on contact paper. Also, ensure there is enough space between the pieces so that the cement can fill the spaces in between.
You can life the contact paper and view your design too.
Mix your concrete (follow instructions on bag).
Cut a square piece of chicken wire or mesh to fit inside stepping stone – this will help support it.
Line inside of cake pan with Vaseline for easy removal.
Spoon concrete into cake pan and evenly cover – with your gloves.
Place mesh wire onto the wet concrete and then spread another layer of concrete over wire.
Let sit for 2 days. Then turn it over and tap the back of pan, it should easily release. And finally slowly remove the contact paper.
3. Vertical pallet garden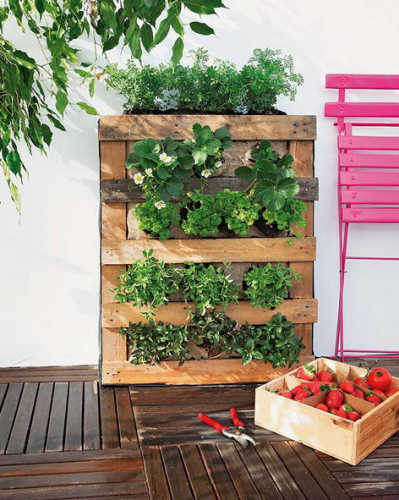 Ad. Article continues below.
Items needed
1 wooden pallet
Burlap
Sturdy garden film
Scissors
Furniture stapler
Universal soil
Plant seeds or young seedlings
Steps
Attach the burlap to the inside of the pallet
Wrap the back of the pallet with garden film and secure it with a furniture stapler. Staple 3 sides (except the top) by burning the corners.
Fill the entire volume with soil.
Then make small cuts with scissors in the burlap and place the seeds. Make sure the keep the ballet in a horizontal position until the germination is guaranteed.
Flip vertical when you see the plants have settled down. It's great for herbs and low-growing flowers. Plus you can move the pallet anywhere you'd like!
Via DIY Enthusiasts
Ad. Article continues below.
4. Use unusual instruments to plant your garden
Items
Potting mix
Whatever old instruments you choose
Selection of plants
Ad. Article continues below.
5. Tipsy pots planter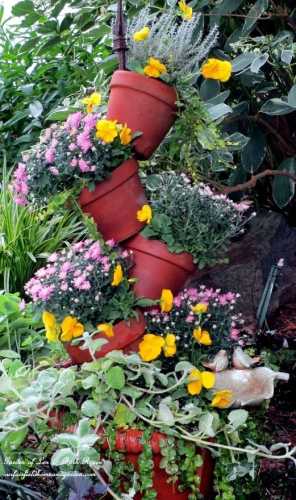 Items
Ad. Article continues below.
Four clay pots and one large clay pot for bottom
2 bricks
Finial (bought or homemade)
120cm piece of rebar
Moisture cooling potting mix so you don't have to water too often
Selection of plants
Steps
Insert rebar into pot and down through drain hole to ground for stability
Upend the bricks and sink into the soil on both sides of rebar. Place edge of the first pot on one.
Stack pots on rebar (tilt in opposite directions so it rests on pot below). Continue stacking.
Now you are ready to plant!
Va Our Fairfield Home and Garden
Ad. Article continues below.
6. Create a funky garden chandelier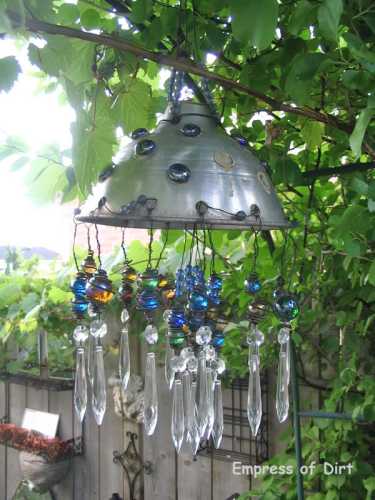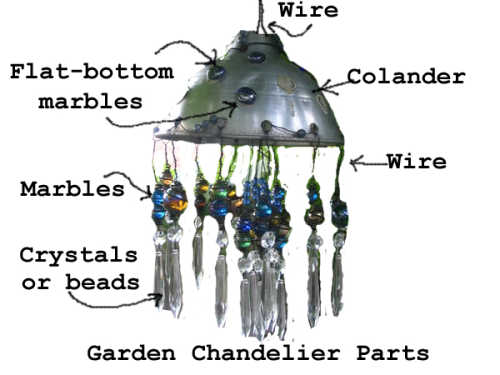 Items needed
Ad. Article continues below.
Wire
Colander
Marbles
Crystals or beads
Adhesive
Pliers to twist the wire
Scissors
Choking gun
Electric drill
Steps
Wrap wires around marbles. Make sure you have extra wire to attach them to the colander.
Attach glass gems/flat marbles to colander
Determine how much you want to suspend the colander – use a piece of wire.
Voila! You're garden bling is ready!
Via Empress of Dirt
Have you tried any DIY garden projects recently? What do you think of these ideas? Tell us below.