5 fabulous ways to repurpose your vintage handkerchiefs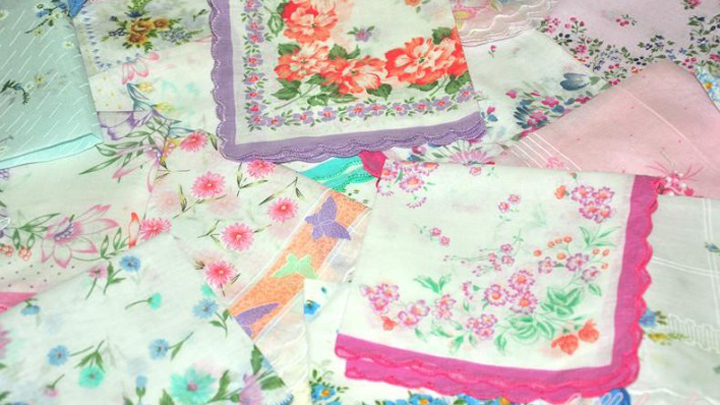 Handkerchiefs are handy and purposeful but have a heap of unused potential. There are lots of clever ways to re-purpose your handkerchiefs and flaunt their precious patterns and beautiful designs. If you have a drawer full of these lovely keepsakes, try your hand at some of these simple, creative and fun ways to re-use your handkerchiefs around the home.
1. Pockets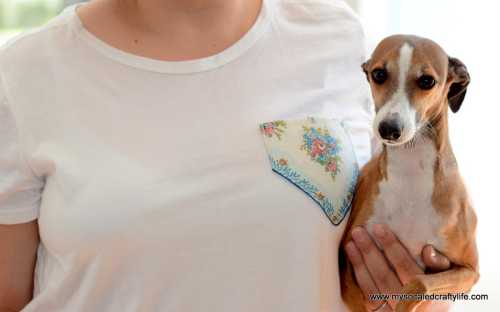 Source: My So-Called Crafty Life
Sewing your own pockets can add practical value and flair to an ordinary garment. Start by picking out one of your pretty hankies and cutting a new shape for it: a heart, a hexagon, even a fish shape. Just make sure it's a suitable size for your regular pocket treasures (a coin purse, key chain, lip stick, mobile phone, etc.) By either hand or machine, attach it to your garment leaving the top open to create a pocket. You might like to add some buttons, pearls or lace if you fancy.
2. Window dressing and valances
Ad. Article continues below.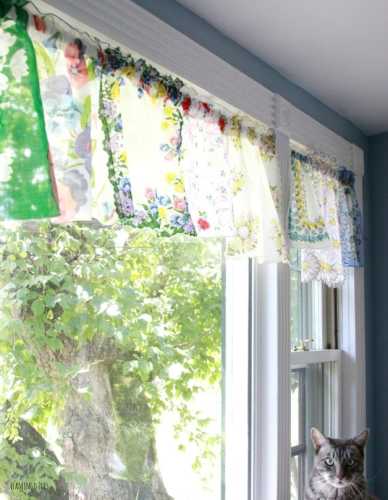 Source: Flamingo Toes
Breathe fresh air into your home with this simple spring idea. You can dress up your windows by threading their rod with your favourite floral designs. If your hanky collection is numbered in the dozens, look at lining a new valance for your bed. A simple sewing job over the ends of your current valance is a fast and crafty solution.
3. Bracelets
Ad. Article continues below.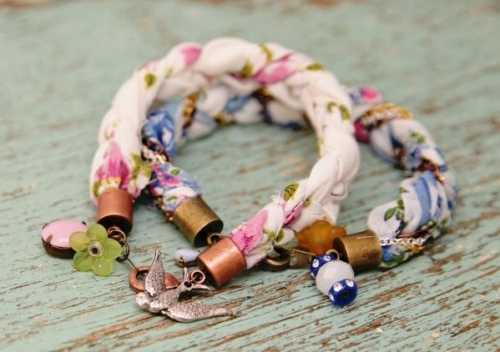 Source: My So-Called Crafty Life
This chic jewellery is a beautiful and homemade design. Using strips of handkerchief, you too can create a braided bracelet in minutes. If you have beads and bobs for craft jewellery around the home, you can glue the ends of the hanky braid into copper caps and add charms. Alternative fastening options in keeping with the chic look may include a large safety pin or a plastic bread twist.
Ad. Article continues below.
4. Table runner
Source: Little Bird Secrets
Join several mix-and-match hankies together to make your own stylish table runner. A little sewing or fastening is all that's needed, and as you can see it looks gorgeous.
5. Personal touch invitations
Ad. Article continues below.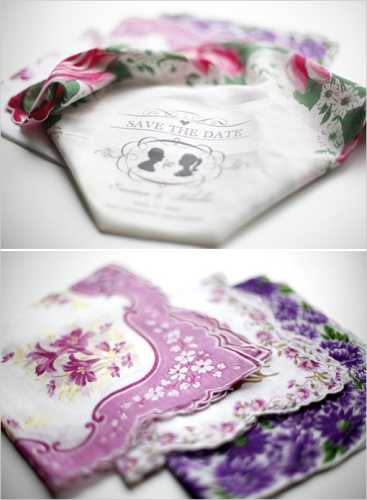 Source: Wedding Chicks
Decorative invitations a great use for old handkerchiefs. Your message printed on to vintage hankies infuse a personal touch and can serve as keepsakes of the special event as well. You can use an iron-on or press-on sticker, order a specially made stamp or even embroider the message yourself for owns special occasion's vintage invitation.
What do you with your own hankies? Will you try any of these neat household tips?