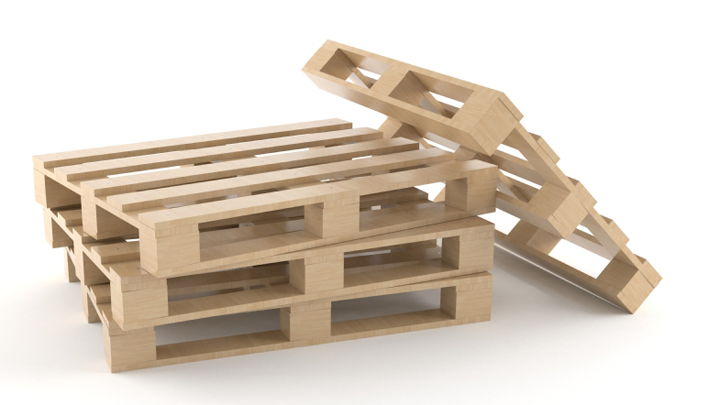 Have you ever seen those discarded wooden pallets lying around supermarket car parks or at the local dump? They're more than just rubbish! Next time you spot a pallet lying about, keep these creative uses in mind!
1. Bin divider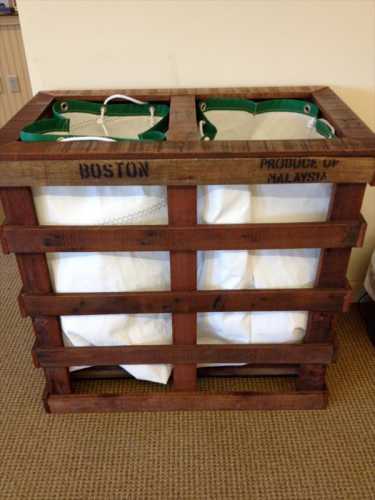 Items needed:
Wooden pallet
Rubbish bags, or fabric bags – depending on how you intend to use your new stand
Wood varnish
Ad. Article continues below.
Steps:
Coat your pallet in wood varnish and let dry
Insert bags into the pallet
Use!
This is an extremely versatile project. Use fabric bags to turn your pallet into laundry bag (one side for colours, the other for whites), plastic bags for rubbish (recycling and normal), or find your own use!
Source: 101 Pallets
Ad. Article continues below.
2. Outdoor couch
Items needed:
Wooden pallets – to create the size of the couch in the image above, try using 9 palettes (it's important to get good quality pallets without any rotting parts/damaged wood/loose nails/etc.)
Electrical saw (or hand saw if an electrical one is unavailable)
Couch cushions, or old foam mattresses
Your own choice of fabric (for reupholstering the cushions)
Sandpaper
Screws and electric drill
Steps:
Ad. Article continues below.
Line your pallets up and decide how large you'd like your couch to be. If the pallets are too big, use your saw to trim them to a better size. Go over any rough areas of wood with some sandpaper.
Lay out the pallets in the position you'd like the couch to be (whether in an 'L' shape like the image above, a straight line, or a square)
Using the drill and screws, attach the pallets together along their joining sides
Repeat this process with those pallets you wish to use for the back of the couch – make sure to use plenty of screws here. The back should be secured strongly enough that the weight of the pallet doesn't effect the design. (If you're worried about the back coming loose, position your couch against a wall.)
Line up your mattresses/couch cushions and cut them to the same size as your couch
Reupholster the newly sized cushions with your chosen fabric, then place on the pallets
Enjoy!
Source: Instructables
3. Bookshelf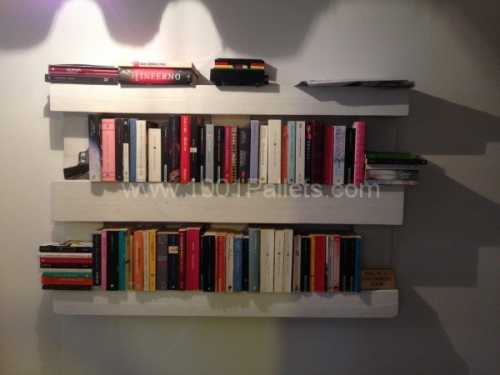 Ad. Article continues below.
Items needed:
Wooden pallet
Blank wall
Paint or wood varnish (optional)
Hand or electric saw (optional)
Screws and electric drill
Steps:
If you have a large pallet, cut to desired size
Paint or varnish
Secure to wall using the screws and electric drill and use!
Source: 1001 Pallets
Ad. Article continues below.
4. Shoe rack
Items needed:
Ad. Article continues below.
Steps:
Stand a pallet against a wall
Place your shoes in the slats and store!
5. Pet bed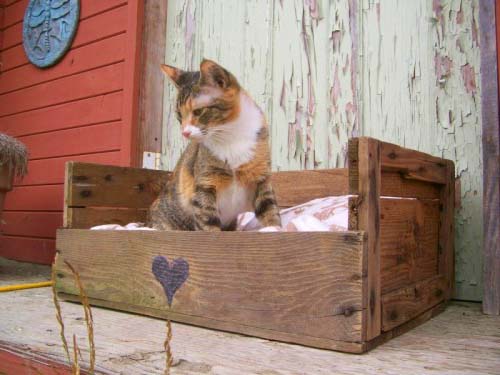 Ad. Article continues below.
Items needed:
Small wooden pallet
Cushion
Steps:
Either leave the pallet organic and plain, or etch a design onto the wooden face
Place a cushion into the pallet and present to your furry loved one!
Source: Interior Design Ideas
Have you found other creative uses for wooden pallets? Share your ideas with us below!