18 ways to use lavender more in your life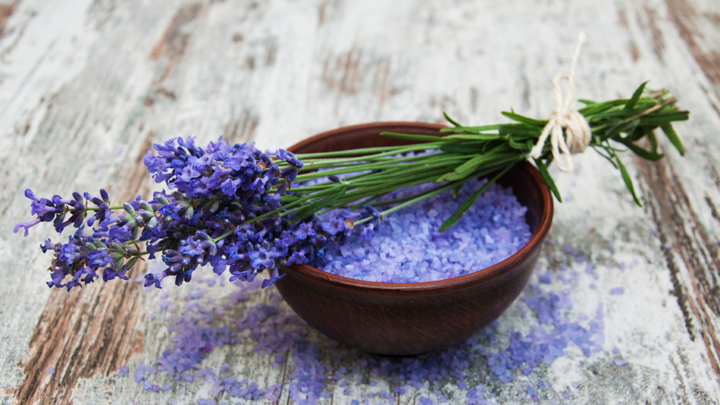 Lavender is one of the most recognisable scents but it has also some great benefits for our health.
It is kind of like the Swiss army knife of essential oils because it has so many applications. From fresh lavender bouquets to dried lavender petals to essence of lavender oil, there are so many ways to incorporate this delicate plant into our lives. Here are some of our favourites.
1. Soothe sore muscles
Run a bath of hot water, and add 20 drops of lavender essential oil and 1 cup of Epsom salts. You'll feel relaxed in no time.
2. Help fatigue
Ad. Article continues below.
If you're feeling tired but it's not bed time, add a few drops of lavender to a tissue or hanky and deeply inhale.
3. Cure a dizzy spell
Dizzy spells can occur for not reason at all and can make you feel ill. Add a few drops of lavender EO onto a hanky and inhale.
4. Get a better night's sleep
Make a little spray by adding 50 drops of lavender EO to an small sprayer bottle filled with distilled water and 1 tsp of rubbing alcohol. Spray onto your pillow.
Ad. Article continues below.
5. Fight a headache
Add a few drops of lavender EO to a wet face cloth and place in a sealed plastic baggie in the fridge. After an hour, lie down and place the cloth on your forehead.
6. Heal wounds and cuts
You can help healing and prevent scarring by adding 3 drops of lavender EO to a piece of gauze and placing it over your wound or cut.
Ad. Article continues below.
7. Honey lavender cream
Did you know that you can add lavender EO to all kinds of dishes. But this cream is great with sweets. Simply whip up 125g cream and add 2 drops of lavender EO, and 1 teaspoon of honey.
8. Calm down with a tea
Make a calming tea made with dried lavender flower heads and chamomile.
9. Make a room spray
Ad. Article continues below.
Want your room to smell of lavender quickly? Add 2 cups water, 2 drops each lavender, tea tree and peppermint essential oils to a spray bottle. It smells amazing!
10. Lavender-infused vinegar
This is an easy little recipe and is great on salads. Add a handful of lavender buds (dried or fresh) to 2 cups white wine or apple cider vinegar. Let sit for up to 6 weeks, shaking every few days. Strain before use.
11. Lavender coconut sugar scrub
Great as gift or to pamper yourself. Mix together a cup of white sugar, ½ cup of melted coconut oil, 10-15 drops lavender essential oil and 2 tbsp organic dried lavender buds. Store in a glass jar and used within 6 weeks.
Ad. Article continues below.
12. Carpet cleaner
Mix together 5-6 drops of lavender essential oil to one cup or bi-carb soda. Sprinkle on the carpet an hour before vacuuming – enjoy the fresh scent of lavender!
13. Relieve chest congestion
Next time you have a cold or the flu, add 4-6 drops of lavender oil to a bowl of hot water. Place a towel over your head, and inhale the vapour slowly and deeply. You should feel the congestion ease within about 15 minutes.
14. Ease night time foot and leg cramps
Ad. Article continues below.
Before bed, rub lavender oil onto the ball of your foot. If you wake up with a cramp, rub lavender oil on the affected area until the pain is gone.
15. Calm your grandchildren
Put some oil into a diffuser or oil burner and place it in a child's room to help them sleep. Or add oil to olive oil and rub on the bottom of their feet any time you want to calm them down.
16. Soothe an itchy scalp
Ad. Article continues below.
If your scalp is feeling itchy, mix lavender oil with water and massage into your head. You can also add a few drops to your conditioner when in the shower.
17. Repel moths
To repel moths in the closet, make a little sachet of cotton balls doused in lavender oil. A bunch of dried lavender leaves and flowers is also effective at keeping the moths away.
18. Get rid of grease and goo
Lavender oil can be used as a solvent that will help to remove grease, glue and paint from various surfaces.
Ad. Article continues below.
Tell us, do you love lavender?