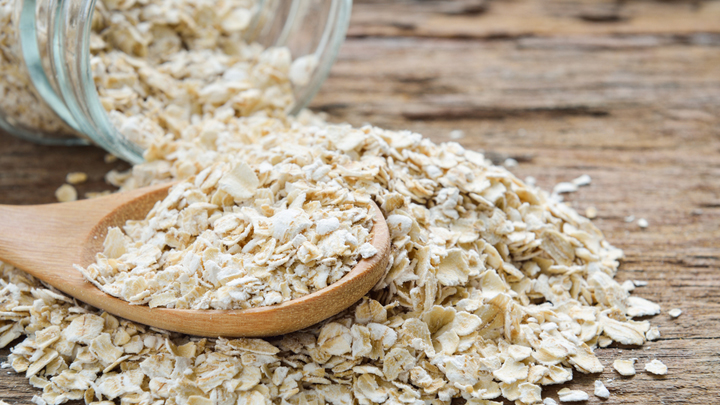 Your grandma and mum ate oats because they are inexpensive and grow anywhere, however now we eat them for their taste and convenience. But did you know there are plenty of benefits and other uses for this humble food?
This quick and healthy breakfast food staple is actually a whole grain powerhouse that packs plenty of nutritional value for our health. Whether it's plain rolled oats or steel-cut oats, adding them to your diet will make you feel great!
It's considered a powerfood for these reasons:
1. Low in calories
A cup of oats is only 130 calories. And because it stays in your stomach longer, it makes you feel full during the day, in turn helping you to lose weight and suppress your appetite.
2. Provides high levels of fibre, low levels of fat, and high levels of protein
It's on the short list for the highest protein levels of any grain! You don't have to look far for a simple constipation remedy – simply eat some oats with milk or water and you'll be feeling great soon.
3. Reduces risk of diabetes (type 2)
The high fibre and complex carbohydrates in oats slow down the conversion of this whole food to simple sugars. The high levels of magnesium nourish the body's proper use of glucose and insulin secretion.
4. It's gluten-friendly
For those who have gluten intolerance or sensitivity, oats are a great option. Despite being a grain, oats lack many of the prolamines (proteins) found in wheat but oats do contain avenin. Avenin is a prolamine that is considered toxic to the intestinal mucosa of avenin-sensitive individuals, so check with your doctor. Oats can also contain gluten from nearby wheat field contamination and processing facilities. Many studies have shown that many celiacs can consume wheat free oats with no problems.
5. Boosts energy
Oat is a carbohydrate and protein-rich source that provides calories and energy. Foods like oats tend to cause a slow rise in glycemic levels, which is ideal for increasing fat-burning during exercise.
6. Reduces colon cancer
A high-fibre diet can be beneficial when it comes to reducing the risk of colorectal cancer, as the soluble fibre and insoluble fibre can help speed up the passage of food and waste. A 2011 study published in the BMJ found total fibre intake, as well as fibre from whole grains and from cereals, was strongly associated with a reduction in colon cancer.
7. Fights dryness
Oats are effective in preventing dull, flaky dryness as they contain polysaccharides, which become thick and gloopy in water. To get rid of dry skin you can make a facial mask by mixing a mashed banana with a cup of ground oats and adding some lukewarm milk. Stir it properly to make it smooth and apply it on your face. Leave for 15 mins then rinse.
8. Moisturises skin
Oats act as a natural moisturiser by removing the dead skin cells. The oats create a fine film on your skin as well as penetrating deep into the skin to provide moisture.
9. Relieves itchiness
Oats have anti-inflammatory properties and are suitable for all skin types – in fact they are clinically effective in healing dry and itchy skin.
10. Treats dandruff
Oats can be combined with milk, honey or oil and applied on your hair before shampooing to get rid of dandruff.
11. Combats hair loss
Oats contain high amounts of zinc, iron, magnesium and potassium, which are all crucial to promoting hair growth. Simply add more to your diet.
12. Calms arthritis symptoms
Warm oats can help ease arthritis pain. Try mixing two cups of oats with a cup of hot water.Let it cool to a comfortable skin temperature, then apply to hands to ease arthritic pain.
What other uses for oats do you know of?
Comments