12 great alternative uses for epsom salts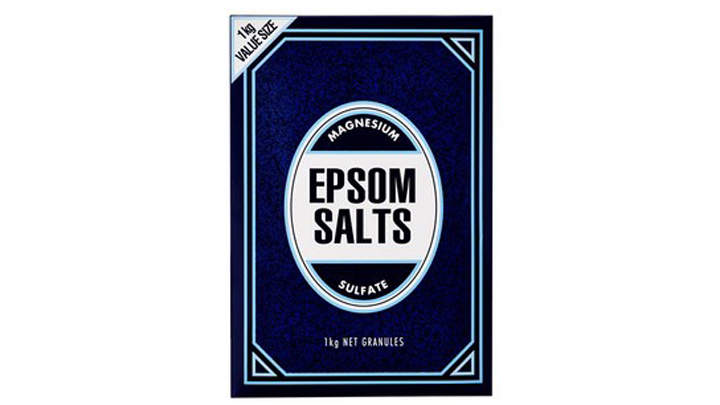 Most of us have a box lying around at home but did you know that there are more uses for epsom salts than just as a good foot soak?
Here's 12 other ways!
1. Relieve constipation
You may have heard your mum telling you about this saline laxative… but it actually really works. Dissolve two tablespoons of Epsom salts into a cup of warm water and drink. Note, this remedy should not be used more than once per day. If you're constipated for several days, it's best to see a doctor.
2. Remove splinters
Ad. Article continues below.
If you've gotten a splinter, if can be difficult and painful to get out. But it's easy to dislodge but soaking the affected body part in warm water and Epsom salts for a few minutes. The magnesium sulfate will reduce the inflammation around the wound and soften up the splinter, making it much easier to remove.
3. Soothe sprains and bruises
Epsom salts can be used to alleviate the soreness from sprains and bruises. Just add two cups of salts to your warm bath water and soak away the ache. Use some warmed up crystals to apply directly to your bruises and rinse away.
4. Get rid of slugs and bugs
Sprinkle some Epsom salt in doorways and other areas of your garden to get rid of slugs and bugs!
Ad. Article continues below.
5. Make grass greener
Epsom salt, which adds needed magnesium and iron to your soil, may be the answer to your green lawn. All you need to do is add two tablespoons to one litre to water. Spread on your lawn with a garden sprayer and make sure it soaks into the grass.
6. Clean tiles
Mix Epsom salt with equal parts liquid dishwashing liquid, then dab it onto the mouldy/dirty areas and start scrubbing. Epsom salts work with the detergent to scrub and dissolve the grime.
7. Remove burnt food from pots and pans
Ad. Article continues below.
For that stubborn grease and burnt food in your pans, grab the Epsom salts. Scrub the pan with about 1/4 tablespoon of Epsom salt and some warm water and rinse.
8. Homemade skin mask
The anti-inflammatory properties of Epsom salts make it a greta candidate for a skin mask. Mix one egg white, one teaspoon orange rind, one teaspoon aloe vera gel
, 1 teaspoon Epsom salt, 1 ripe chopped tomato, and two drops of thyme oil. Apply to your face for 15 minutes then rinse off.
9. Remove excess oil from hair
Don't wash your hair every day! All you need is Epsom salt to soaks up excess oil from your hair so you can wash it less. Add 9 tablespoons of Epsom salt to 1/2 cup of hair shampoo. Apply one tablespoon of the liquid to your hair when dry and rinse with cold water. Pour apple cider vinegar through the hair, leave on for 5-10 minutes, then rinse.
Ad. Article continues below.
10. Hair volumiser
Combine equal parts conditioner and Epsom salt and warm in a pan. Work through your hair and leave on for 20 minutes for plumped up hair that feels great. The treatment will get rid of excessive oils, which can leave hair looking flat and greasy.
11. Lip scrub
In winter, your lips can crack much more easily and feel sore – they can even bleed. To smooth them out, mix a few tablespoons of Epsom salt with a teaspoon of petroleum jelly. Wipe off!
12. Soothe a bee sting
Ad. Article continues below.
Battle minor swelling from bee stings by using an anti-inflammatory Epsom salt compress. Mix two tablespoons of Epsom salt with a cup of cold water and soak a face washer in the solution. Apply to affected area and leave on to soothe.
Share your thoughts and other tips below.