12 awesome organisation tips for clothes hoarders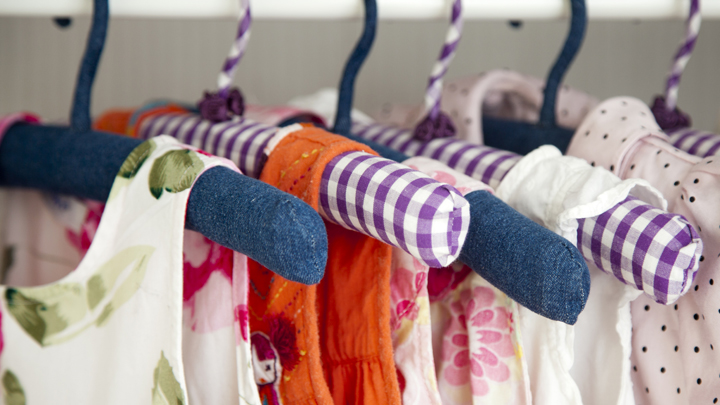 If you're like me, you'll have a wardrobe filled with clothes, and only wear a portion of them! You can't bear to part with most of your shirts, skirts, pants and jackets, but you don't wear them either…so what to do? Well, you could organise them properly for starters! Here's how to make your wardrobe better today….
1.

To begin cleaning out your wardrobe, take every single thing out of it.

 
2.

When choosing clothes to keep, ask yourself a few vital questions to immediately get rid of clothes you don't need:

Ad. Article continues below.
Does it fit?
Have I worn it in the last 12 months?
Would I wear it again?
If I saw it in a store now, would I buy it?
Do I love the way it looks on me?
Is it undamaged?
If you answer 'no' to any of these questions, consider donating, selling or throwing out.
3.

Hang the items you want to keep in your closet neatly so you can see everything you own at a glance.

 

Ad. Article continues below.
4.

Use the backwards hanger strategy when putting clothes back into your closet to get a better idea of the items you wear often.

Backwards hanger strategy is basically that you hang up all your items you are undecided on and have the hanger hook facing towards you when you open your closet door. If you use an item, hang normally. At the end of the month/year, check which clothes hangers haven't been turned around and ditch those clothes.

 
5.

To keep everything looking fresh and neat, get new hangers – it will instantly perk up your wardrobe.

 

Ad. Article continues below.
6.

Use garment organisers to separate your clothes into categories that work for you – seasons, occasions, type of item, etc.

 
7.

Fold heavy clothes, especially jumpers and jackets that may lose their shape on a coat hanger.

 
8.

When folding the clothes you want to keep, try to think of a way of organising them before placing them into drawers or up onto shelves.

Ad. Article continues below.

 
9.

Assess your reject pile and decide which items can be sold with these questions:
Does it fit?
Is it your style?
Is it lightly worn?
Is it expensive?
If you answered 'no' then you can attempt to sell it for a profit so you didn't entirely waste money buying it.
Ad. Article continues below.
10.

If there isn't anything wrong with the items that you do not want to keep, consider giving them away. Ask yourself these questions:
Can you sell it?
Is it torn or broken?
Is it discoloured?
Is it underwear?
If the answer's 'no', then it's time to go!
11.

When you look at an article of your old clothing and just think 'no', then maybe it is destined to be thrown out, especially if it's torn or broken or is old underwear.

Ad. Article continues below.

 
12.

 If you want to go one step further with organisation, consider drawer organisers that will turn your drawers from chaos into calm.

 

What are your clothes organisation tips? How many clothes do you have and what do you do with unwanted items? Tell us below.