Amazing 115-year-old rhododendron in full bloom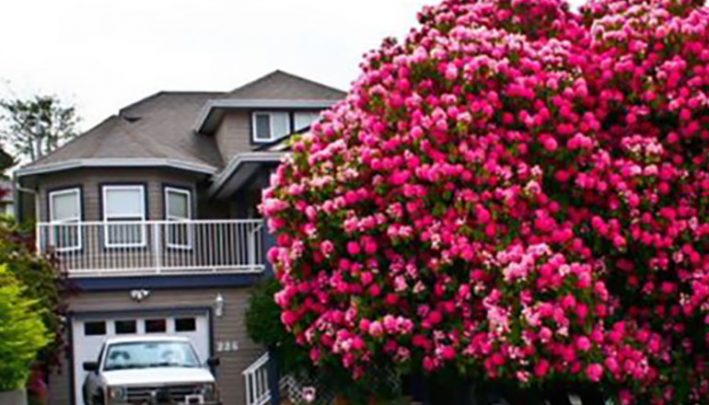 The striking photos of a massive 115 year old rhododendron are rippling across the internet today.  The tree in a small Canadian town of Ladysmith has been being watched by hopefuls for recent weeks as it entered blooming season, and now it's a full blown tourist attraction.  The tree stands 7.6M tall and 8M wide in the front yard of homeowners in the small town in British Colombia. 
At its peak it will carry about 4,000 spring blossoms.  It will bloom for several weeks.  
The rhododendron is often confused for a tree but is actually a shrub.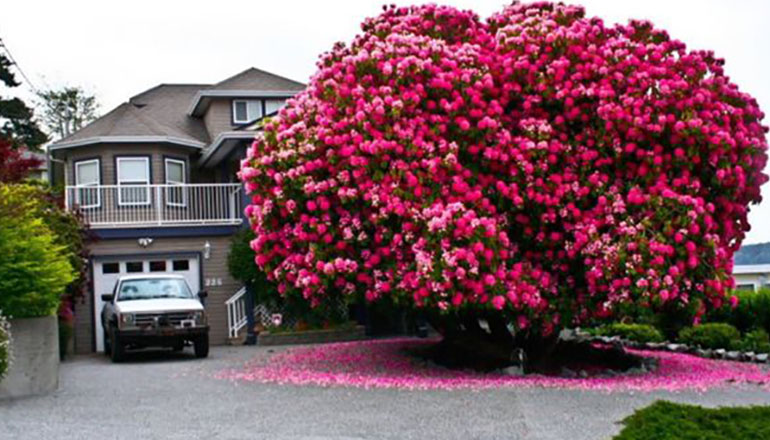 This year, local historian and former Councillor, Rob Johnson have pushed the town's Chamber of Commerce to promote the tree as a "marvel of nature".  
"It's the size of a small house and is a vibrant pink colour," said Mr Johnson to the media.   When it is not in bloom, Mr Johnson says it is "just a nice, big, green shrub".
He said he realised "we should capitalise on this" when he saw the rhododendron attracting comment online.
Ad. Article continues below.
The tree was planed in 1904 in the town, and is said to have been brought to the area on a sailing ship from Scotland. 
'Lady Cynthia' rhododendron bush puts Canada town on the map: Ladysmith, British Columbia, is proud of its giant rhododendron,… #Pakistan pic.twitter.com/Zcqm72SsmQ

— Raza Shaikh (@razashyd) May 19, 2017
And another picture taken a couple of weeks ago
RT @VancouverSun: Ladysmith's incredible century-old, world-class rhododendron is set to bloom. https://t.co/9g3S5aBdP0 #Ladysmith #BC pic.twitter.com/mboJALwgj3

— VancouverIsland.com (@VanIsleVacation) May 19, 2017