11 important items you always forget to pack when you travel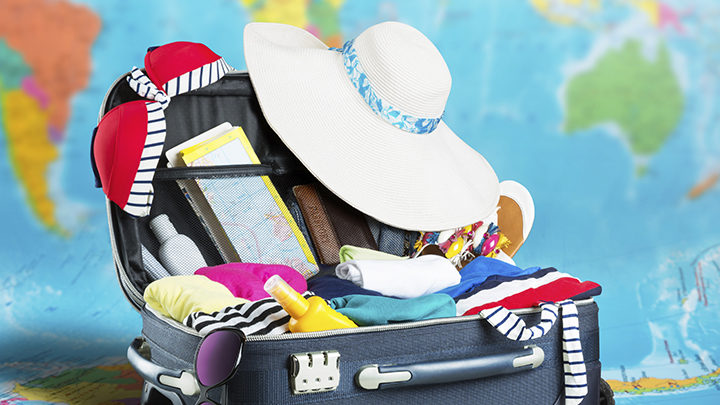 Packing can be a very daunting process. Even if you think you've packed it all, there are still a few common items we tend to forget. We've all been there. Hopefully after reading this, the next time you travel, you will remember everything you need!
Below are 11 of the most forgotten items that you should definitely know about so you are prepared for your next trip.
1. Power board
It's not something that seems very obvious but it's a life saver when you're travelling overseas. Power adapters/plugs can be expensive so it's more logical to invest in a power board to use for all of your devices. Everything can be charged at once so you'll be ready for your next adventure.
2. Laundry bag
Ad. Article continues below.
How many of you have wished you packed a laundry bag on your holiday but didn't think of it? If you're travelling for a significant period of time, you'll need to put your dirty clothes somewhere and keep your other clothes clean.
3. Reusable water bottle
Airports are very strict with bringing liquids onto the plane but you can still bring an empty reusable water bottle with you. Plus, bottled water in airports will cost you an arm and a leg. Reusable water bottles are more cost-effective, are a great way to stay hydrated and are environmentally friendly.
4. First aid kit
Have you ever noticed that accidents always seem to happen when you travel? It can be such a pain to track down a band aid for your blister or tissue for a runny nose in a foreign country, so invest in a small portable kit. Store it in your carry-on so you're always prepared! Make sure the kit doesn't contain any liquids over 100ml or sharp objects/scissors because you will not be allowed to bring it as your plane carry on.
Ad. Article continues below.
5. Copies of travel documents
You cannot over plan when it comes to travel documentation. Always print a copy, or even an extra copy of your documents. This will ensure that you have identification or credit information if your wallet or bags are stolen and/or incase of emergency. Plus, if your phone is stolen or runs out of battery, you will still be able to check what hotel your staying at or what time your flight is at.
6. Extra memory card
We all like to document our holidays so be sure to pack an extra memory card. It can be very expensive and inconvenient to replace your memory card or find one abroad. Plus, you'll have extra space on your camera to capture your once in a lifetime trip!
7. Camera charger
Ad. Article continues below.
You probably check your camera before leaving to make sure it's charged (that it still works) but what happens when the battery dies on your trip? There is nothing worse than realising you have forgotten the charger! To help you remember this, use a case that can fit your camera and charger.
8. Toothbrush and toothpaste
If you have an early morning flight, it may slip your mind to pack your toothbrush and toothpaste after using it. Then, you'll have to pay more at the airport or find a local store to buy one later when you're exhausted from travelling. It may be a good idea to use a new toothbrush and toothpaste for your travels so you can pack it in advance.
9. Hair brush
Similar to the toothbrush situation, it is easy to forget this item. Try to pack the brush that you like the day before and use a different one in the meantime.
Ad. Article continues below.
10. Snacks
Even if you are just travelling locally, snacks are always a good thing to have handy. You could raid the fridge in a hotel but you'll pay a hefty price for it. Have a few granola bars, nuts or other non-perishable items with you that won't go to waste.
11. Underwear
Obvious and essential, yet regularly forgotten! Make sure your underwear is the first thing you put in your suitcase – problem solved.
Have you ever forgotten any of these items? Where will you be travelling to next? Tell us below.