103 year old challenges Usain Bolt for a race!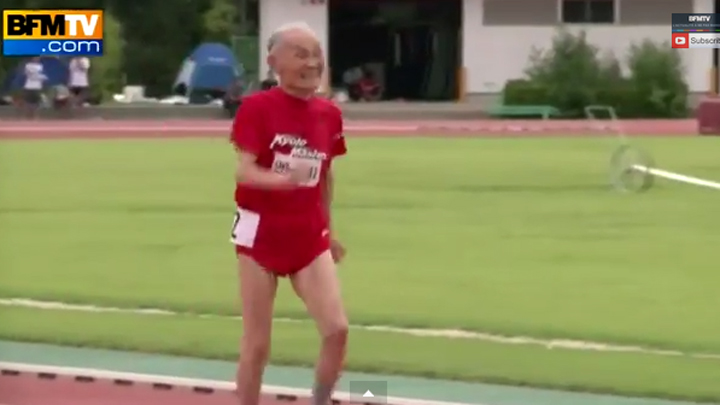 Hidekichi Miyazaki is a 103 year old from Japan. But, he isn't your average centenarian… He holds the world record for the fastest 100 metre sprint by a centenarian at 29.83 seconds.
He isn't far from his 104th Birthday, but Mr Miyazaki has put an unusual challenge out to the world. He wants to take on Usain Bolt in a race and to the current world champion his words are, "Let's rumble!"
He told AFP that "I'd love to race Bolt" after his recently competing in the Japan Masters Athletics competition in Kyoto.
And, with his commitment to healthy ageing, we really hope that Bolt will take him on.
According to Discovery News, Mr Miyazaki is highly disciplined in what he eats and how he looks after his body. He told them, "My body is small so I take care of what I eat." He also shared that, "When I eat, I chew each mouthful 30 times before swallowing. That makes my tummy happy and helps my running. And I eat my tangerine jam every day."
Ad. Article continues below.
Mr Miyazaki is only 1.53 metres tall and weighs only 42 kilograms!
He is an advocate for healthy ageing and embraces the wonderful, active lifestyle he is blessed with.
Japan has one of the longest life expectancies of any country and draws over 6000 over 60s to the Masters Athletics events held across the country.
Mr Miyazaki recently came second in a masters event to an 82 year old and according to Discovery News, his reaction was priceless… "I'm still young so it's a learning process," he jokes as he smiled and put on a straw hat. "I can run for another five years."
It is awesome to see people like Mr Miyazaki out there, doing awesome things for the stereotypes of ageing. And we wish him all the best… Hopefully Usain will come through and we'll have an exciting event to watch!
Stay tuned to find out if Bolt will take on the challenge… Do you think he should? Do you know older people doing awesome active things like Mr Miyazaki? Tell us about them in the comments below…