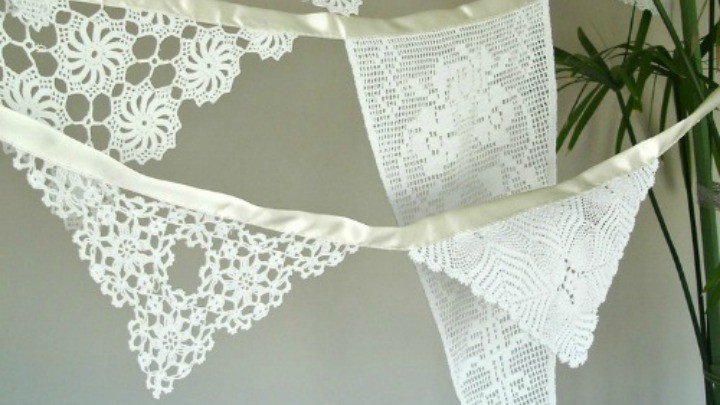 If you have some old lace you'd love to keep, why not revive it into some of these awesome creations? We have found 10… which do you love?
From jars, to bunting to pretty envelopes, there's something here for every taste.
1. Decorative jars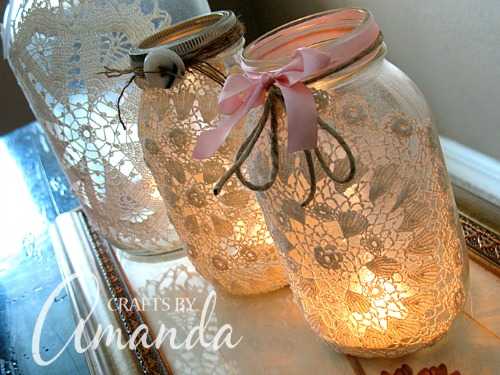 Via Crafts by Amanda
You will need: glass jars, adhesive spray and lace
Make sure that jars and clean and dry. Spray lace with adhesive spray.
Position the lace on the jar, making sure it is not bunched anywhere and then press in place.
If you wish you can tie a ribbon or string around the rim of the jar.
Place a candle inside the jar and you are done!
2. Lampshade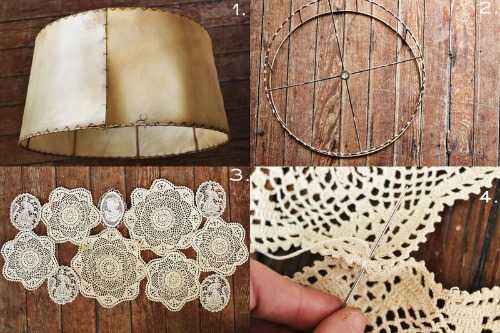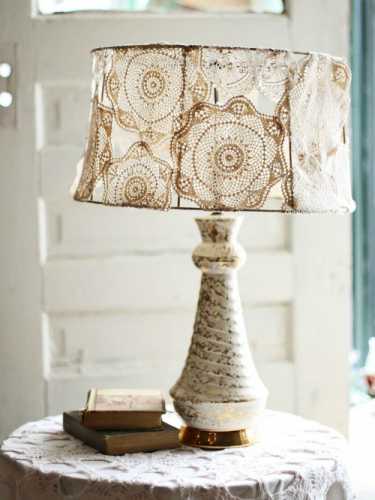 Via A Beautiful Mess
You will need: an old lampshade, lace, needle and thread
Remove all the fabric from around the lamp shade so that the skeleton is all that is left.
Measure the hight and width of the lampshade and stitch the lace according to these measurements.
Once complete, attach the lace to the lamp by stitching it to the frame.
3. Stationery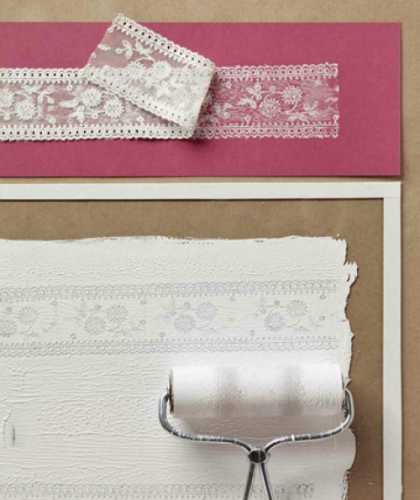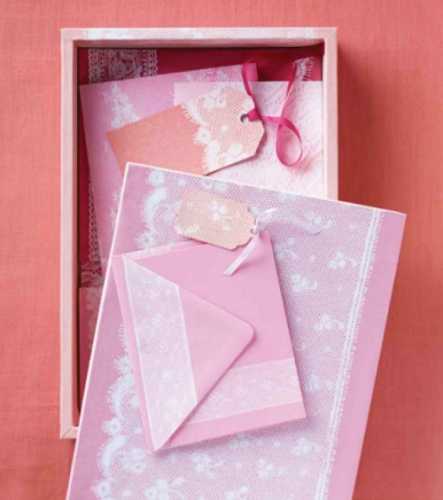 Via Martha Stewart 
You will need: a sheet of glass, a small ink or paint roller, water-based block-printing ink, lace, toothpick, paper towel and stationery.
Tape the edge of your glass to prevent cuts. Spread an even layer of the ink on the glass using your roller.
Place the lace facedown on the ink. Run the roller over the lace once or twice.
Lift the corner of the lace using a toothpick then peel the lace from the glass using your fingertips.
Place the lace onto the stationery that you wish to print on. Lay a piece of paper towel on top of the lace and (with a clean roller) roll once or twice over.
Using a toothpick again, peel off the lace. Let dry.
4. Wall decorations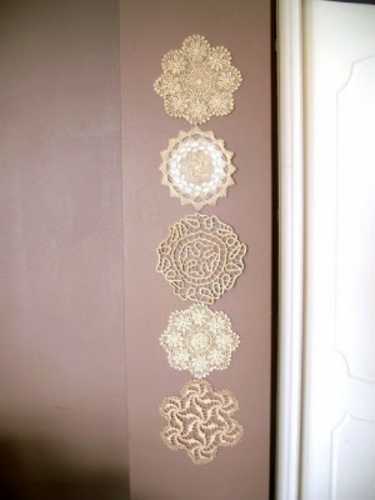 Boil equal parts of water and sugar.
After syrup has cooled, soak the lace in the mixture.
Place lace on baking paper and wait for it to dry.
Attach lace pieces together using wire or copper rings. Hang on wall.
5. Potpourri sachets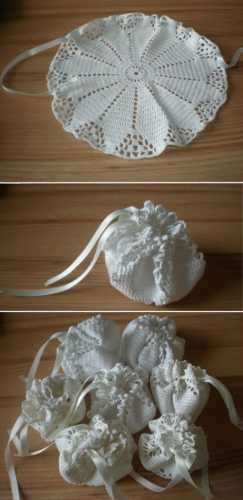 The above image essentially explains it all. Before tying the ribbon however, simply fill the lace with lavender or potpourri. These little parcels can be places in clothing draws to make your clothing smell nice.
6. Bunting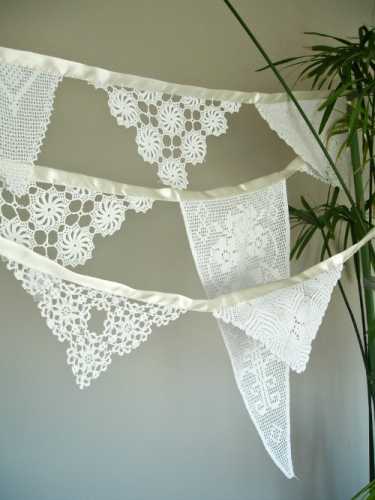 Via WHITEStardust
You will need: lace, a length of material or string to sew lace onto and sewing equipment.
Cut out triangles of lace.
Sew triangles onto material or string.
That's it!
7. Frosted glass

Via bluboho
You will need: lace, an iron, cornstarch, a brush, water and a window pane. (Please note that this can be done on an actual window or an old detached window as a decoration feature).
Cut and iron the lace you wish to place on your window.
Mix equal amounts of cold water and cornstarch (2 of each tablespoons is a good start).
Add a cup and a half of boiling water to mixture.
Paint a think layer of the mixture onto the window glass. Place lace onto the wet window and proceed to  paint another layer of the mixture on top of the lace.
Note: to remove lace from your window, use warm water.
8. Bookmark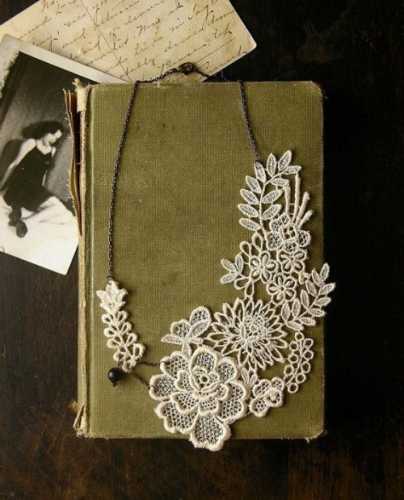 Via Whiteowl
You will need: lace, pins, ribbon or cord, scissors, needle and thread.
Cut out multiple shapes of lace that you like.
Pin the pieces of lace together in a shape that you like. Sew pieces together using needle and white thread.
On both sides attach the ribbon or cord by either knotting or sewing.
9. Dream catcher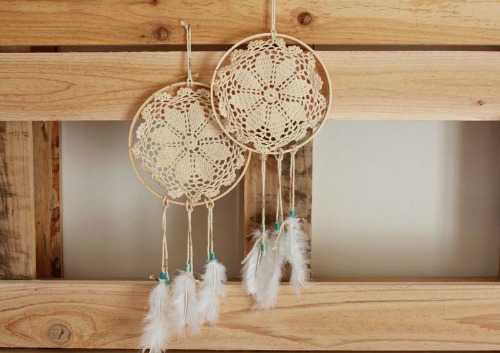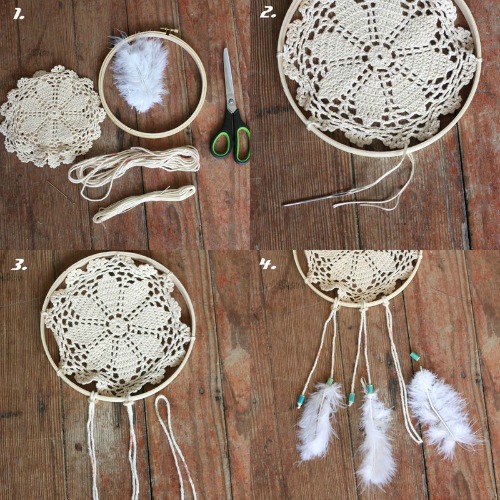 Via A Beautiful Mess 
You will need: small embroidery hoop, lace, yarn, embellishments (like feathers and beads), needle and thread.
Stitch lace inside the hoop.
Tie the yarn from the bottom of the hoop.
Add the embellishments you want.
10. Coat hanger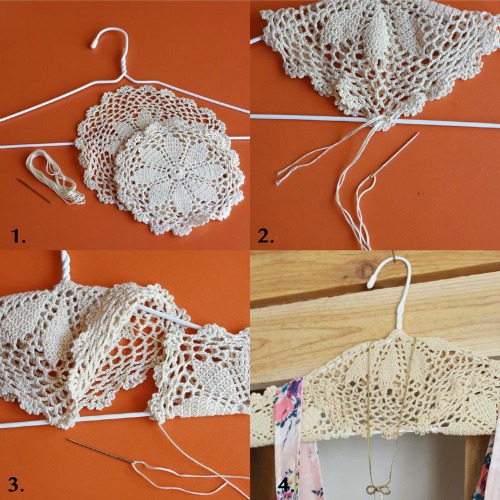 Via A Beautiful Mess
You will need: coat hanger, lace, needle and thread.
Prepare the lace you wish to use, you may need to cut some pieces.
Stretch the lace over the hanger and attach it using needle and thread.
Continue this process using different pieces of lace until the hanger is covered.
Do you have any ideas to share?
Comments