10 surprising things you can clean in your dishwasher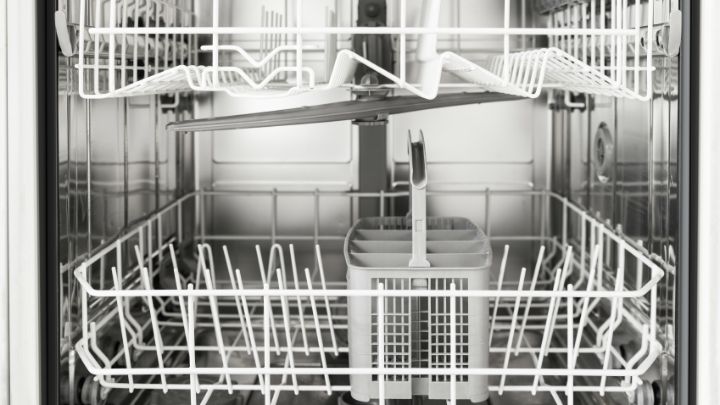 Dishwashers are a godsend when you lead a busy life, or even if you don't but just loathe washing up! It revolutionised dish cleaning but did you know this handy appliance can wash more than just your dirty plates? We were surprised to find out all the things it can wash so we wanted to share our favourites!
Shoes
It sounds mad but your shoes can come up great after a cycle in the dishwasher! Rubber boots, thongs and anything else you can wear in the rain is fine to go in for a good scrubbing. Make sure to remove inserts before, though~
Hairbrushes and combs
Remove hair from your plastic hair brush or comb and and place them in the cutlery holder and wash.
Ad. Article continues below.
Toys
If you have your grandkids over but their toys are grubby, pop them through a cycle in the dishwasher! Metal and plastic toys sparkle.
Scrubbing brushes
A quick sanitise in the dishwasher will get rid of hard to remove grease and build-up.
Light covers
Ad. Article continues below.
Place glass and plastic fixture covers in the dishwasher on the gentle cycle. Dead bugs, grime and dust will disappear!
Fake flowers
They can get quite dusty but if placed on the top rack of your dishwasher for a short cycle, they can be good as new.
Bin lids
Your bin lid is a great place to breed germs and mould so giving them a good wash from time to time will make smells go away!
Ad. Article continues below.
Garden tools
Plants are sensitive to fungal infections that spread, so it's a good idea to clean your tools. Rinse off the soil before you put them in the cutlery holder.
Potatoes
Yep, you heard right: potatoes! If you place a bag of potatoes (spread out) on the top rack for a rinse-only cycle (without detergent), you will get lovely clean potatoes. This is a great tip if you have a big family over for dinner and need mashed potatoes quickly.
Hats and visors
If you've found your hats or visors have lost their shape in the washing machine, why not try to dishwashing? Put hats on the top rack, head opening down, on a separate wash cycle from dishes because you can't use dishwasher detergent (many contain bleaching agents). Instead, fill the detergent cup with borax, found in the supermarket laundry aisle. Run a regular cycle without the heated dry option, then place hat over a glass or jar to dry. Reshape the brim while damp!
Will you try any of these tricks? Is there anything else you wash in your dishwasher (besides dishes, of course!).