10 food gifts to make this Christmas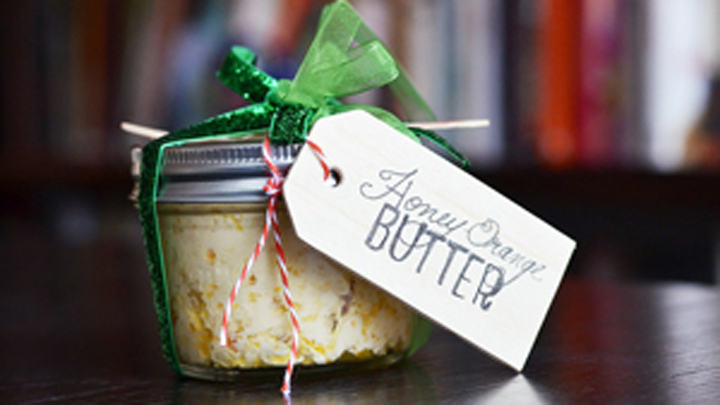 If you're looking for a heartfelt gift that's simple, affordable and easy to make, have you thought of food presents? Sometimes a neatly packaged set of ingredients is all it can take to put a smile on your special friend's face.
Here's 10 of our favourite gifts in a jar, what are yours?
1. Homemade extract ornaments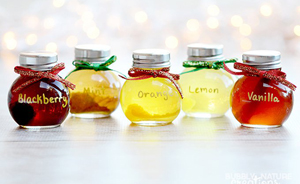 Ad. Article continues below.
Ingredients
For the Lemon Extract use 1 cup vodka to the peel (without the white pith) of 3 lemons (I use a vegetable peeler)
For the Orange Extract use 1 Cup of vodka and the peel of 2 oranges (without the white pith) (I use a vegetable peeler)
For the Blackberry Extract use 225g blackberries and 1 cup of vodka
For the Mint use around 10 mint leaves and 1 cup of vodka
Instructions
Grab a mason jar or similar glass jar that has a tight lid and mix the vodka and whatever flavor you want in it. Shake and store in a cool, dark and dry place for at least 3 weeks and shake everyday for the best results. Strain and use for all your cooking needs or use smaller bottles to make gifts.
2. Quick bread Christmas gift wrap idea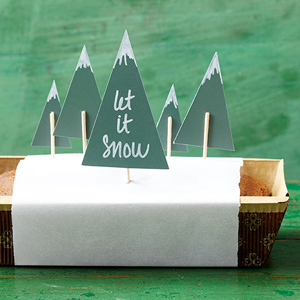 Instructions
Bake your favourite bread in a giftable loaf pan; let cool. Wrap parchment paper around the middle of pan.
Craft trees from construction paper, and draw on snow and a winter sentiment with white marker; glue trees to toothpicks.
Insert paper trees into bread through parchment paper.
3. Christmas cookie mix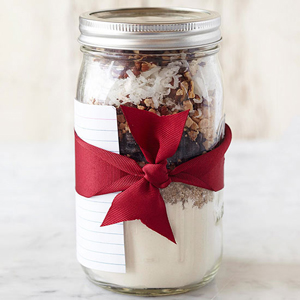 Instructions
Use embroidery floss and a running stitch to attach two decorative baking cups together, and place over the lid.
Layer a doily, a trimmed and flattened baking cup, and a white paper circle cut with pinking shears.
Starting at the center, use a needle or tiny hole punch and embroidery thread to secure all pieces together on each side. Tie a bow in back to finish.
Ad. Article continues below.
4. Peppermint hot chocolate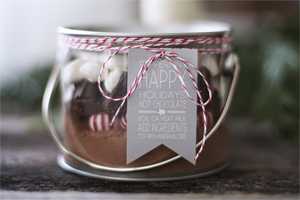 Items needed
Clear containers
Tags
Red and white twine
Ingredients
Hot chocolate mix
Peppermints
Chocolate chips
Mini marshmallows
In clear containers layer ingredients according to the picture.
Write on tags.
Tie tags on clear containers using the twine
5. Honey orange-flavoured butter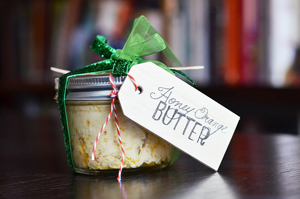 Ingredients
2 cups unsalted butter, cut into 50mm cubes and at room temperature
zest of 1 orange
3 teaspoons orange marmalade
3 teaspoons honey
Instructions
Combine all ingredients in a medium mixing bowl, and mix with a rubber spatula. Butter should be soft, and ingredients should incorporate easily.
Mix just until everything is evenly combined.
Use the rubber spatula to spoon the butter into the two gift jars, and cover. It will keep for up to two weeks in an airtight container in the refrigerator.
6. Christmas liqueur food gift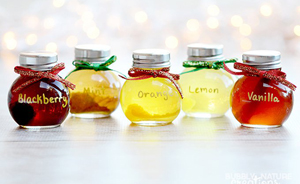 Instructions
Pour favourite liqueur into a screw-top jar, and tie a strip of corduroy fabric around the jar neck.
Hang a manila tag adorned with an old-school label around each jar with an expiration date on the back.
7. Chocolate-dipped apricots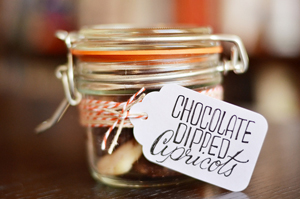 Instructions
Line 2 large baking sheets with parchment or paper and set aside.
Put chocolate, oil, butter, and heavy cream in a large microwavable bowl. Microwave on high in 30 second intervals, taking out the bowl and stirring with a rubber spatula between intervals, just until the chocolate is completely melted and the mixture is smooth.
Dip the apricots individually into the melted chocolate, using tweezers if desired, covering as much of the apricot's surface as possible. Place dipped apricots on the parchment lined baking sheets as you go, then refrigerate the apricots for at least 30 minutes on the baking sheets.
When chocolate has set, transfer apricots to gift jars (don't overcrowd the jars, as that will crush the apricots). They will keep for up to 2 weeks in an airtight container in the refrigerator.
8. Nuts and honey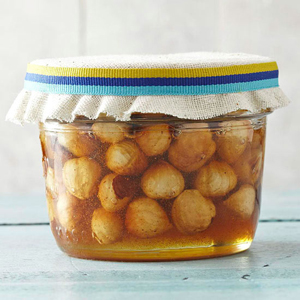 Instructions 
Combine 2 cups honey and 1/2 teaspoon cinnamon in a medium bowl.
Fill four half-pint jars with toasted, peeled hazelnuts. Pour the honey mixture over the nuts to about an inch below the rim.
Place lid on jar, then top with a circle of muslin and a ribbon. Store at room temperature up to 1 week.
9. Cup of tea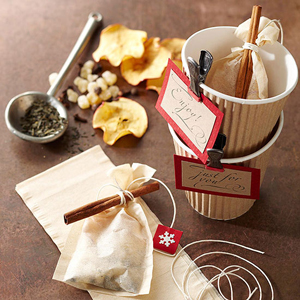 Instructions
Fill tea filters with pre-made tea mix, and tie to close using natural string. Embellish with a cinnamon stick.
Using store-bought metal clips, attach our printable tags to simple paper cups before placing tea bag inside.
10. Window bread bag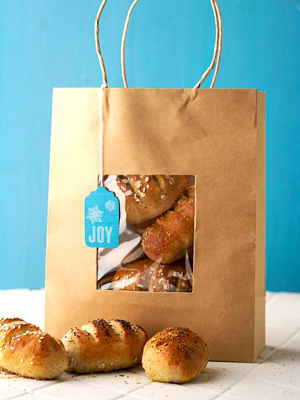 Instructions
Cut an opening on the front of the bag. Glue a piece of clear cellophane to the inside of the gift bag to cover the opening.
Tie a holiday tag to one of the handles of the bag.
Fill with scones or dinner rolls.