10 creative gifts in a jar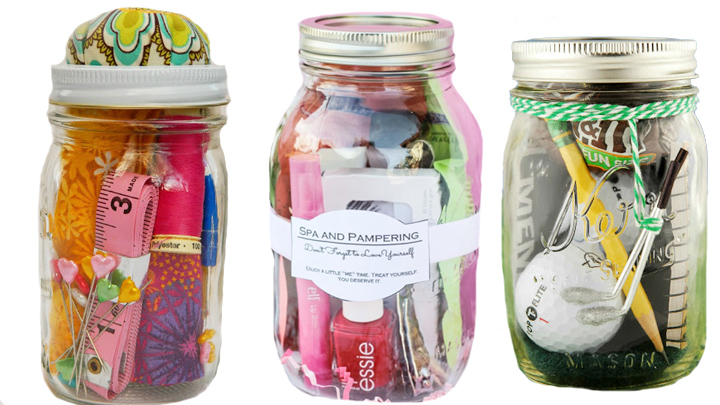 If you're stumped for something to buy for a friend or relative, but know generally what they like, then why not make a gift in a jar? There are plenty to choose from and they're a neat way to present a number of tiny presents. Here's some ideas for a jar for any type of person!
1. Summer in a jar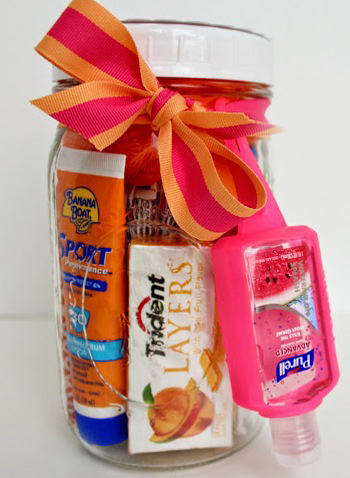 tissues
cocoa butter
sunscreen
bandaids
lip balm
tropical gum
tropical hand sanitiser
shower puff
Ad. Article continues below.
2. Baking lover
mini cookie cutters
measuring spoons
cupcake liners
mini silicone pinch bowls
mini whisk
mini cheese grater
Ad. Article continues below.
3. Handmade handsoap
bar soap (the more organic and natural, the better)
glycerine
Instructions
Boil 3.75L water in a large pot
While waiting for the water to boil, grate the bar of soap into a large bowl.
Add the soap shavings and 2 tablespoons of glycerine to the boiling water and stir until all the soap melts.
Remove from heat once all soap is melted and allow to cool overnight.
if the mixture is lumpy, just give it a good stirring. If you use soap with too much moisturiser (don't use Dove, it won't turn out) then add more water and stir vigorously to thin.
Ad. Article continues below.
4. Crafts in a jar
ink pad
chalk marker
clips
glitter tape
mini envelopes with cards
a tape runner
chalkboard gift tags
letter stamps
embellishments
Ad. Article continues below.
5. Drawing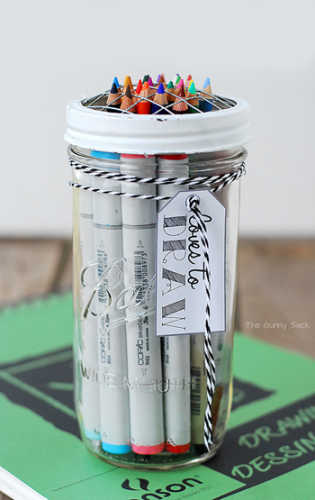 texta markers
coloured pencils
eraser
sharpener
shading pencils
charcoal
6. Cleans up well
Ad. Article continues below.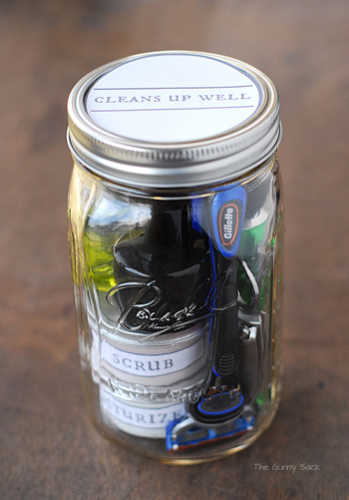 moisturiser
sugar scrub
Chap Stick
razor
small sized cologne
shave cream
face scrub
grooming set
7. Mini golf in a jar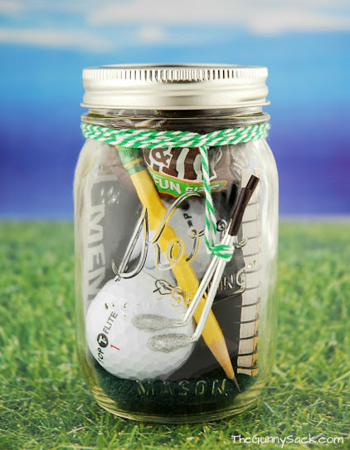 Ad. Article continues below.
notepad
pencil
golf balls
M&Ms
putters (made from cotton tips)
fake grass (made from green dish scrub)
8. Spa and pampering
Ad. Article continues below.
fake eyelashes
nail polish remover
nail polish
nail clippers
lipstick
face masks
nail file
hand cream
tweezers
9. Sewing kit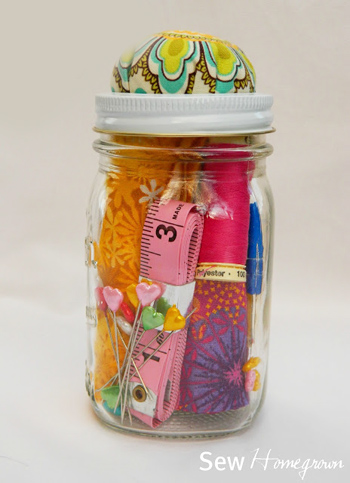 Ad. Article continues below.
measuring tape
tape
thread
pins
ribbon
fabric
10. Housewarming gift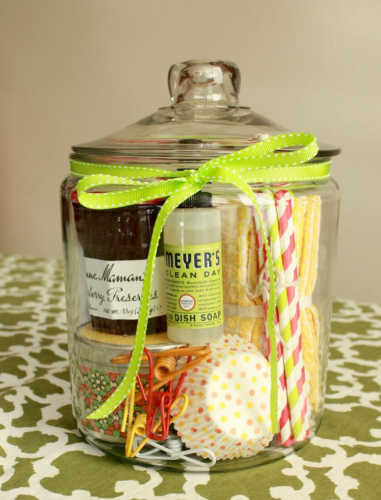 Jam

Cupcake liners
Dish towels
Paper straws
Scented candle
Dish soap
Bag clips
Anything else useful they might need
Which is your favourite jar? If someone could put everything you like in a jar, what would it consist of? Tell us below.