Relish: Vegetables or fruits preserved using either sugar, vinegar or a combination of the two. Essentially, while sugar and vinegar are important for preserving they are not a major ingredient by weight, so you would be making a relish rather than a pickle.
Chutney: Vegetables or fruits mixed with spices. The word and most recipes for chutneys come from India. The result is often a chunky spread full of bold flavour.
Sauce: Vegetables or fruits preserved with sugar or vinegar and cooked and strained until it's a smooth liquid.
Preserves: Broadly speaking any technique to prolong the life of products can be considered a preserve; so pickles, relishes, some sauces and most chutneys are preserves. Wine too is a preserve as it is just a way to preserve grapes, while beer is a way to preserve hops and grains.
Whatever your spread of choice, they're all delicious and if you're anything like us you'll smother them on anything from meats and cheeses to scones and crackers!
Products to try
Luckily for us, we can still relive the memories of our favourite homemade varieties, thanks to family-owned company Quincey Jones Jelly. Hailing from the Murray River in Echuca-Moama, Victoria, the Jones' sell their all-natural, homemade goods at Farmers Markets around Melbourne and (thankfully) Australia-wide online.
All it takes is a quick look through the website or the family's social media and you'll quickly see the love, care and dedication that goes into each jar. With 100 per cent natural and Australian produce and ingredients, the jams and preserves are lovingly prepared and hand cooked in small batches to create a true and authentic gluten-free, vegan, low-sugar and country-made product that you will truly relish (pun intended!) indulging in.
 

View this post on Instagram

 
Fig and Earl Grey Tea Jam
Awards: 1st Prize Bendigo Agricultural Show and Cohuna Agricultural Show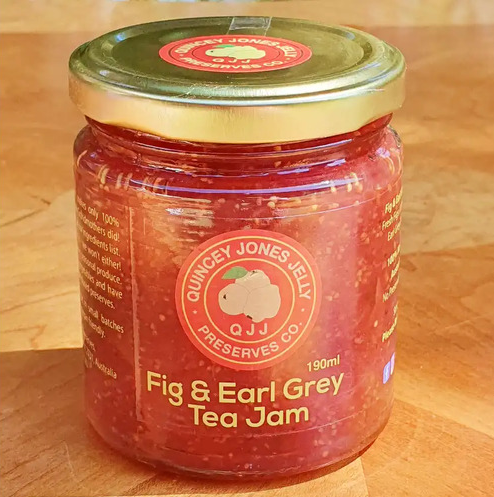 This jam combines two of our favourite things – fresh figs and tea – and when slathered on a cracker and topped with a piece of cheese it's absolute perfection. With a pinkish hue, fragrant aroma and surprisingly creamy texture, this subtly sweet jam is perfect enjoyed on toast, scones, muffins or even ice cream. Taking out first prize at both Bendigo Agricultural Show and Cohuna Agricultural Show, it's clear you don't have to take our word for how delicious it is!
BUY Fig and Earl Grey Tea Jam here
Strawberry & Pimms Jam
Awards: Blue Ribbon 1st Place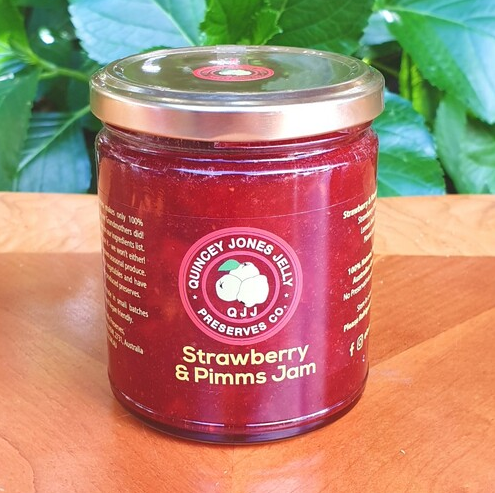 A traditional strawberry jam with a cheeky Pimms twist. With the alcohol boiled off, yet still infused throughout the deliciously sweet leftover product is perfect with anything you would normally use strawberry jam on but a particular favourite is with scones, cream and a cup of tea.
BUY Strawberry and Pimms Jam here
Quince Jelly
Awards: 1st Prize Echuca Moama and District Agricultural and Pastoral Society Show's
Many Aussies will have childhood memories of a house full of the sweet smell of cooking quinces. This award-winning quince jelly is a nod to the years past and is made from locally grown produce and crafted using a traditional recipe from 1910.
A fascination with quince fruit was where it all started for Quincey Jones Jelly, with the family loving the Australian heritage and alchemy that turns white fruit into magical ruby red during the cooking process. The recipe has been tried, tested and awarded and is lovely on toast or crumpets, with crackers and cheese or as a perfect accompaniment to pork roasts and ham sandwiches.
With a fabulous aroma and succulent flavour, you'll be transported back to your nana's kitchen with your first bite!
Zucchini Relish
Awards: Winner and Highly Commended 2018 Royal Melbourne Agricultural Show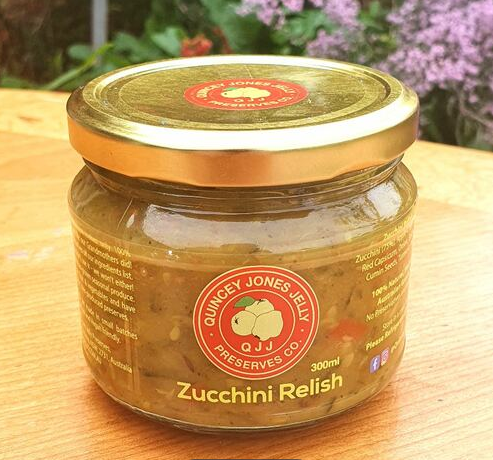 Delicious and good for you, this relish is packed full of beneficial spices like fresh turmeric, mustard seeds, cumin seeds, fennel seeds, mustard powder and white pepper. From eggs and burgers to salads, cheese boards, tapas plates, sandwiches and wraps, the uses for this relish are practically endless and is a staple in our fridge and a must in any good foodie home.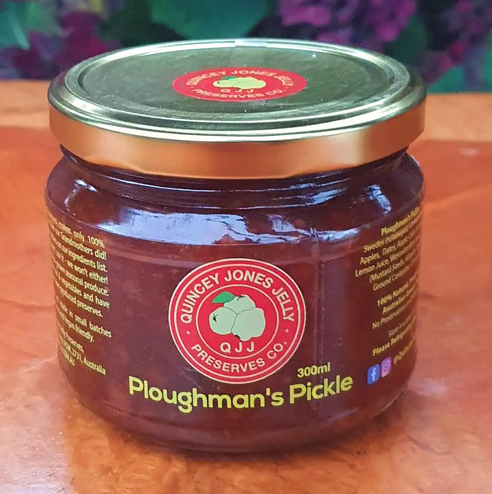 Sometimes there's nothing quite like the original, classic Ploughman's Pickle. Taking us back to our childhoods, this Ploughman's is modelled on the classic 'Branston' pickle – without the sodium levels – and is perfect added to cheddar cheese sandwiches or crackers. Combining swedes, carrots, cauliflower and onion, the product is smooth, rich and tangy with a hint of pepper to create a very tasty snack pairing with the ploughman lunch. The Jones' say the favourite pickle is always a hit!
"We come from wheat country along the Murray River and we couldn't tell you the number of times this recipe has been served with roars of appreciation to the hungry farm-working brigade," Jones says. "This pickle never fails to impress and satisfy. We think it would be best enjoyed with a strong vintage cheddar cheese, an open fire and maybe a glass of strong red wine. We will let you decide your favourite way though."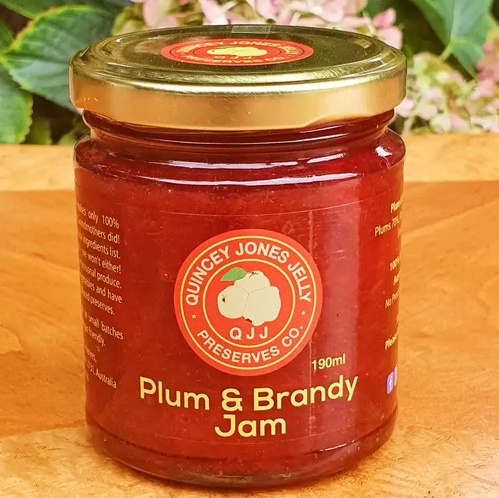 This classic Plum and Brandy Jam is made with a whopping 75 per cent fruit and includes a generous dram of Brandy for an incredible depth of flavour. This jam is a seasonal delicacy and the fruit is picked from local orchards nearby in the Goulburn Valley, Victoria. The alcohol component of the Brandy cooks off but the flavour lingers in a wonderful way. This delightful jam is great for breakfasts, fruit scones and a must-have in the pantry.