Luckily, the Starts at 60 Marketplace offers amazing kitchen products designed to improve your time in the kitchen, trust us you'll definitely want to add these tools to your kitchen arsenal.
Much smaller than your traditional sandwich maker, this microwave toastie maker from Awesome Products is a convenient little gadget that promises to make the perfect toastie grill-lines and so much more!
Whenever you're in the mood for the perfect ham and cheese toastie, this handy dandy tool allows you to transform your microwave into a conventional cooker ready to make golden crispy bread that oozes with cheesy filling within minutes!
The non-stick material makes the toastie maker easy to clean while its silicone grip uses cutting-edge heat technology to allow you to make perfect crispy golden sandwiches every time.
For those with arthritis in their wrists or those who often find themselves with joint pain, the act of chopping or slicing ingredients may be difficult. Thankfully, a tool like the Mighty Chef 200W Chopper takes all the hard work out of food prep.
This small but mighty chopper can chop, dice, purée, mix and prep all your ingredients in seconds!
Whether you're blitzing breadcrumbs for schnitzels, making a flavourful curry paste or prepping some fresh pesto for pasta, the Mighty Chef 200W Chopper is an indispensable kitchen gadget that takes care of these time-consuming food prep tasks.
So if you're not confident in your knife skills or aren't a fan of your eyes tearing up while you cut an onion, this mini chopper can definitely produce the results you're looking for.

This insanely satisfying cleanup gadget
There's no doubt about it, having a pet brings bundles of love. But if your bundle of love comes covered in lots of fur then you've most likely experienced the near-constant shedding. Although we have nothing but love for our furry friends, pet hair removal may not be your new favourite hobby. Fortunately, the Starts at 60 Marketplace offers one of the best pet hair removers on hand.
Dog hair is like glitter, it will cling to every surface of your home and it can become a nightmare to clean up. And while vacuuming can help, sometimes you need a gadget like the Fur Sonic Pet Hair Remover to help get the job done.
Using the Fur Sonic Pet Hair Remover couldn't be simpler. Simply grab the handle and roll the device back and forth in short stoke, doing so lifts your pet's fur off the surface and onto the roller's microfibre bristles.
Despite this gadget being called a "roller," its movement is better described as a vibration. The Fur Sonic Pet Hair Remover's unique design traps pet hair while you push while the opposite side traps it on the pull, overcoming the problem lint brushes face of only being usable in one direction.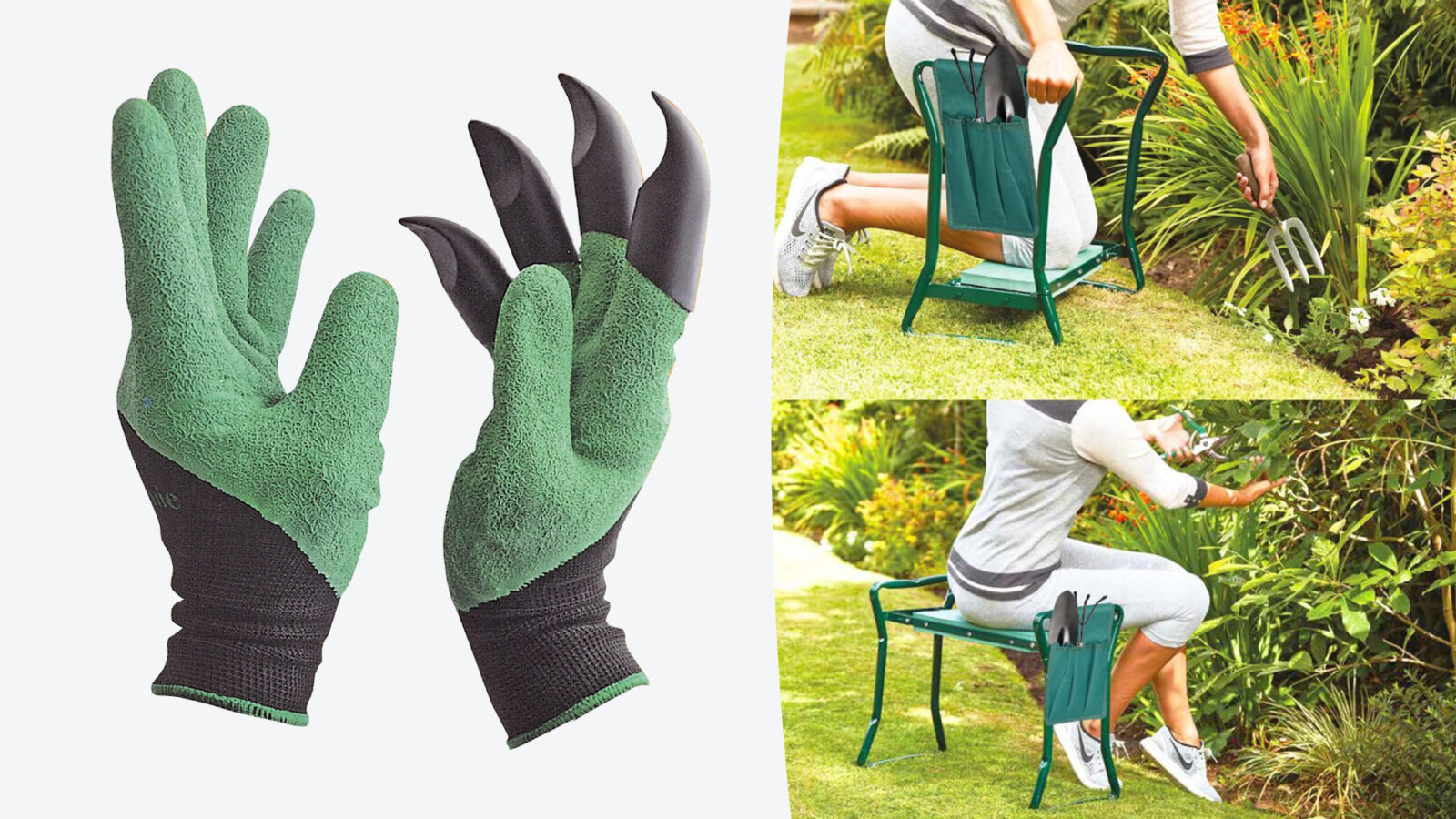 The solution for your worst gardening problems
There's a special kind of thrill when it comes to successfully growing your own garden. But there does come a time when gardening may become too labour intensive. If you're itching to get your outdoor garden in tip-top shape, these tools are guaranteed to help you get the job done effortlessly.
Reduce the stress on your knees and joints with this 2-in-1 Garden Kneeler & Seat. The lightweight durable garden kneeler and seat, allows you to easily work on your garden in a safe and comfortable way while being able to tend to your garden for longer periods at a time.
Featuring premium EVA foam padding, 3 pocket tool holsters and a steel frame, this tool will soon become one of your most-loved gardening essentials.
2-in-1 Garden Kneeler & Seat requires no assemble and has an easily foldable design to allow for easy storage.
Every home gardener needs a trusty pair of gardening gloves. There's nothing worse than owning a pair of gloves that limit your dexterity and which fail in preventing injuries when you start getting a little more aggressive with the soil.
The Garden Genie Gloves is the solution for handling your gardening chores. The Garden Genie Gloves are thoroughly designed gloves that offer flexible, durable, and effective features that give you the backup you need for difficult gardening tasks.
Made from part rubber and polyester, these puncture-resistant gloves also feature built-in claws to make digging, planting and raking a breeze.