Black Stella
Dress her up or down, but black is always a classic. It's just so forgiving and always looks smart. I used a big, chunky necklace to add a focal point extending the neckline's vertical dip. This gives the impression of height, which I always need, and the mid-heel height neutral shoes make my legs look longer.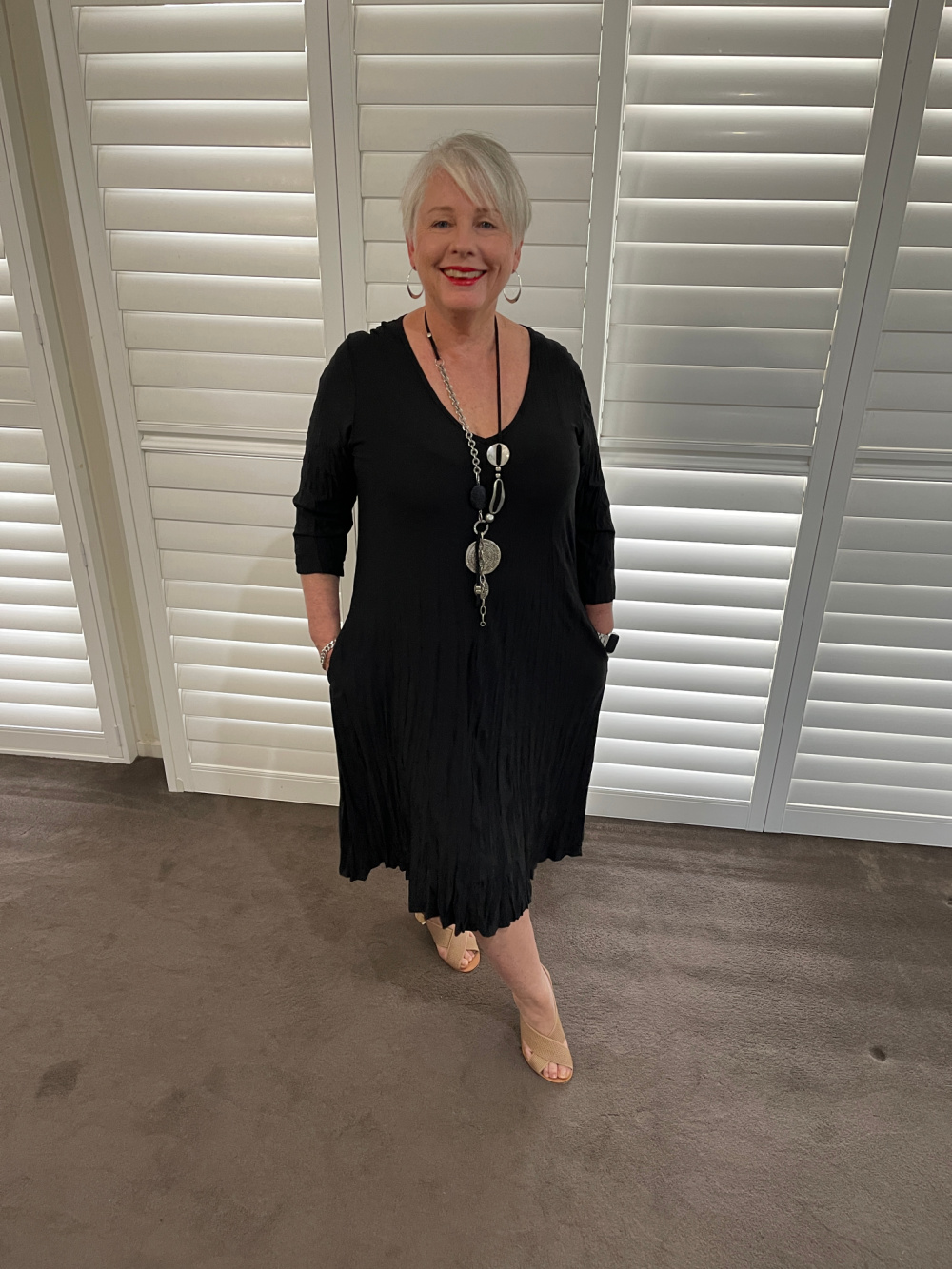 For something more casual, I added a belt under the bust, a funky necklace and white kicks. This easy, casual look would be great for everyday shopping.
The dress worked equally well when I popped my oversized, bright red wool jumper over the top. It made the dress look like a skirt. Adding black tights and low boots created a very workable mid-warmth outfit.
Shop the Black Stella dress here.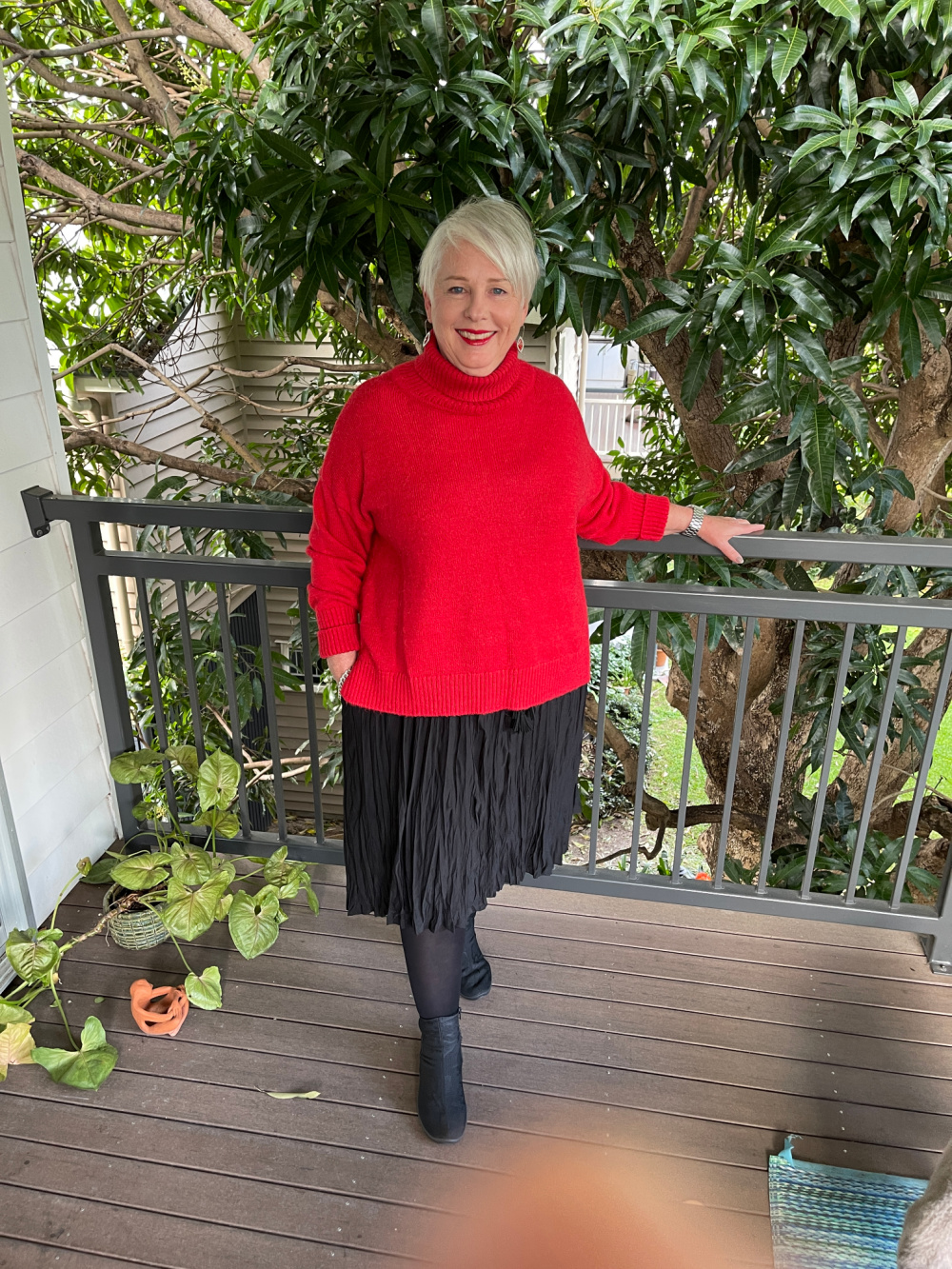 Turquoise Stella
I'm always attracted to aqua and turquoise shades, so it was easy to find items within my wardrobe to style with this dress. First, I added a simple neutral under the bust belt for extra definition and some nude shoes for an elongated look. Pop a denim jacket over the top (mine is years old from Target), and you are ready to go anywhere. You could easily add white sneakers for more casual occasions.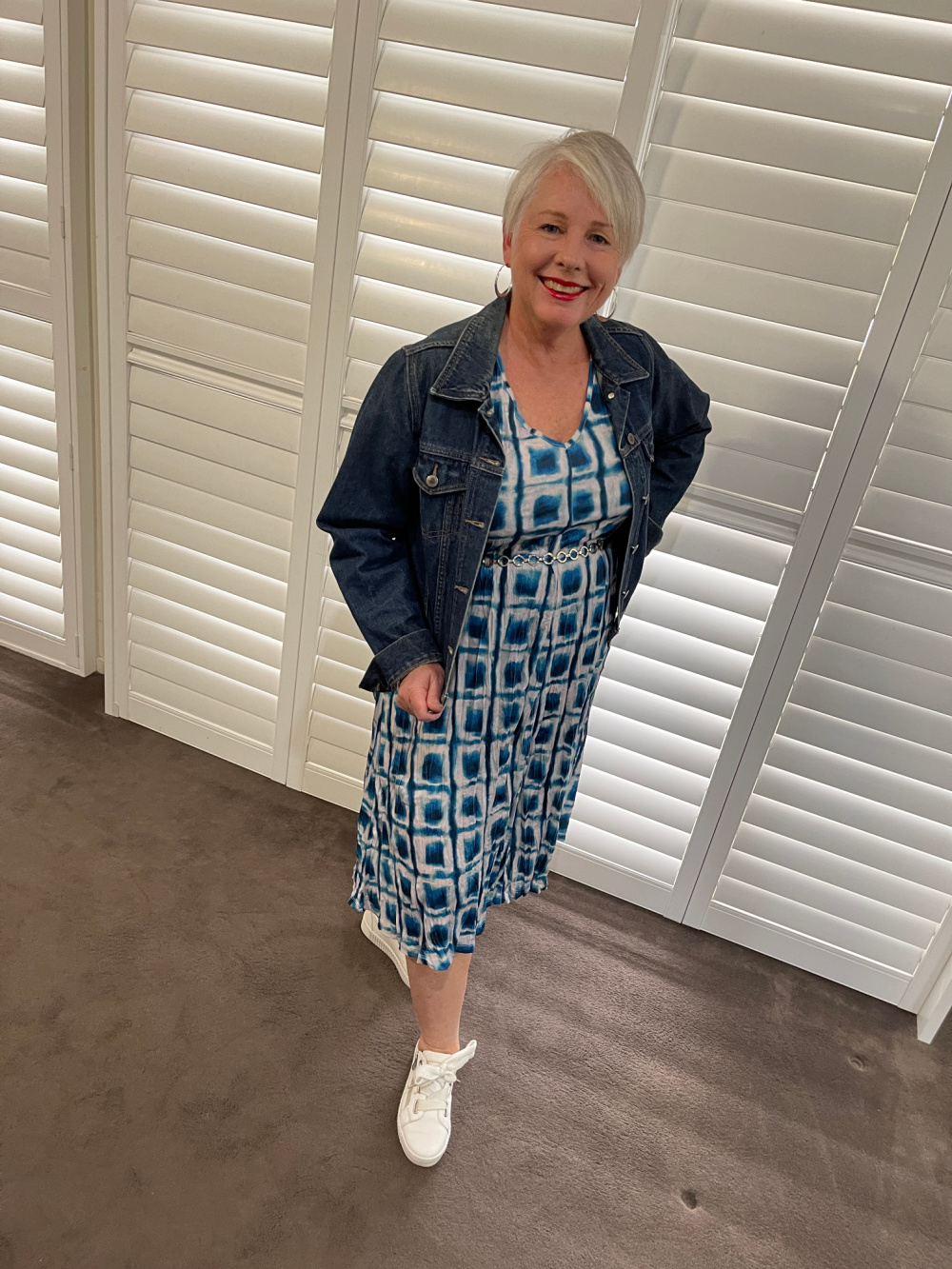 Royal Blue Stella
I thought a little more definition, with a belt that sits just under the bust, made all the difference with this print. Pop a black jacket on the top (mine has leather panels), and this looks like an outfit that would take me many places. I styled it with neutral boots and stockings for added warmth. Black accessories would also work well.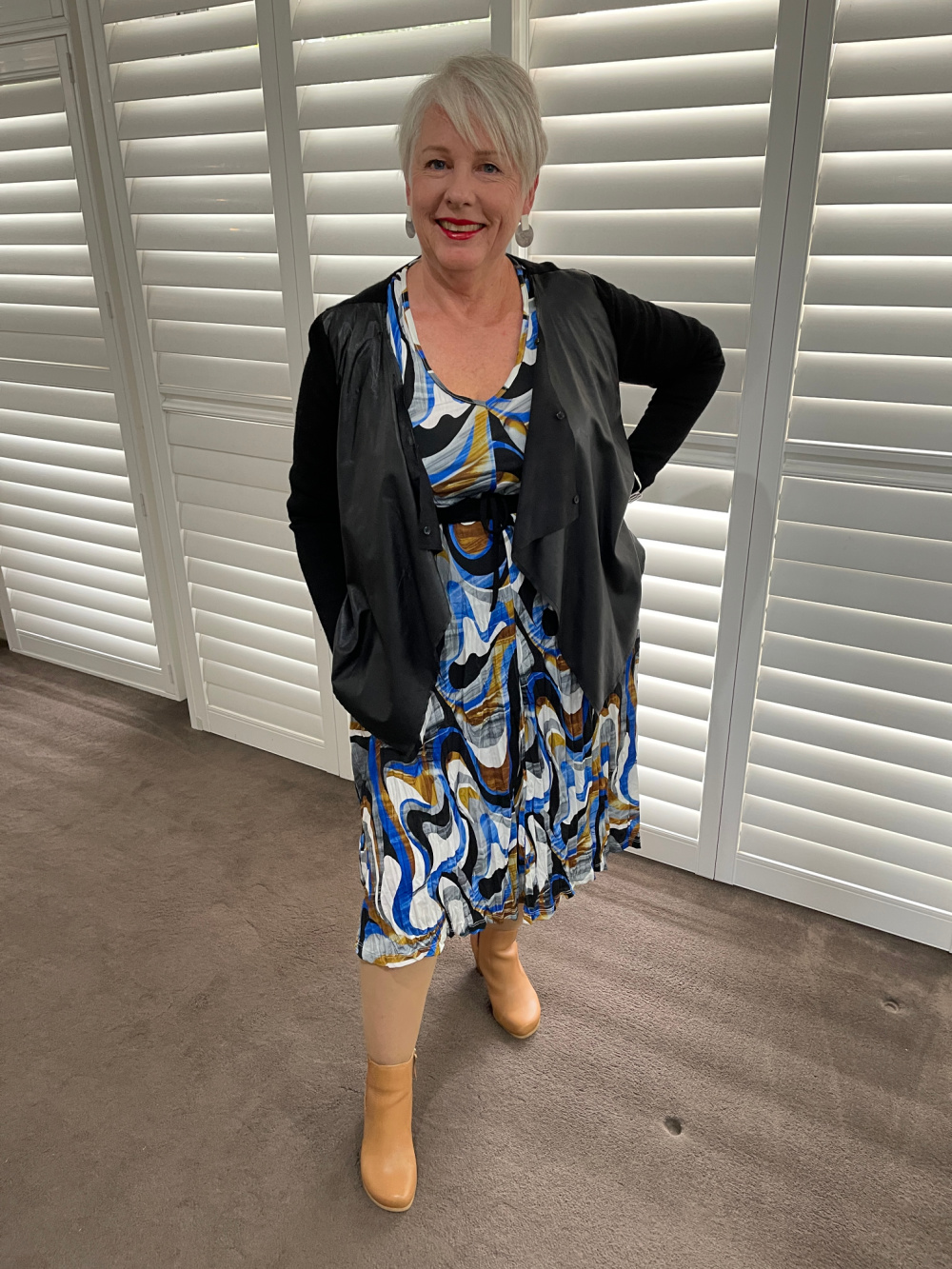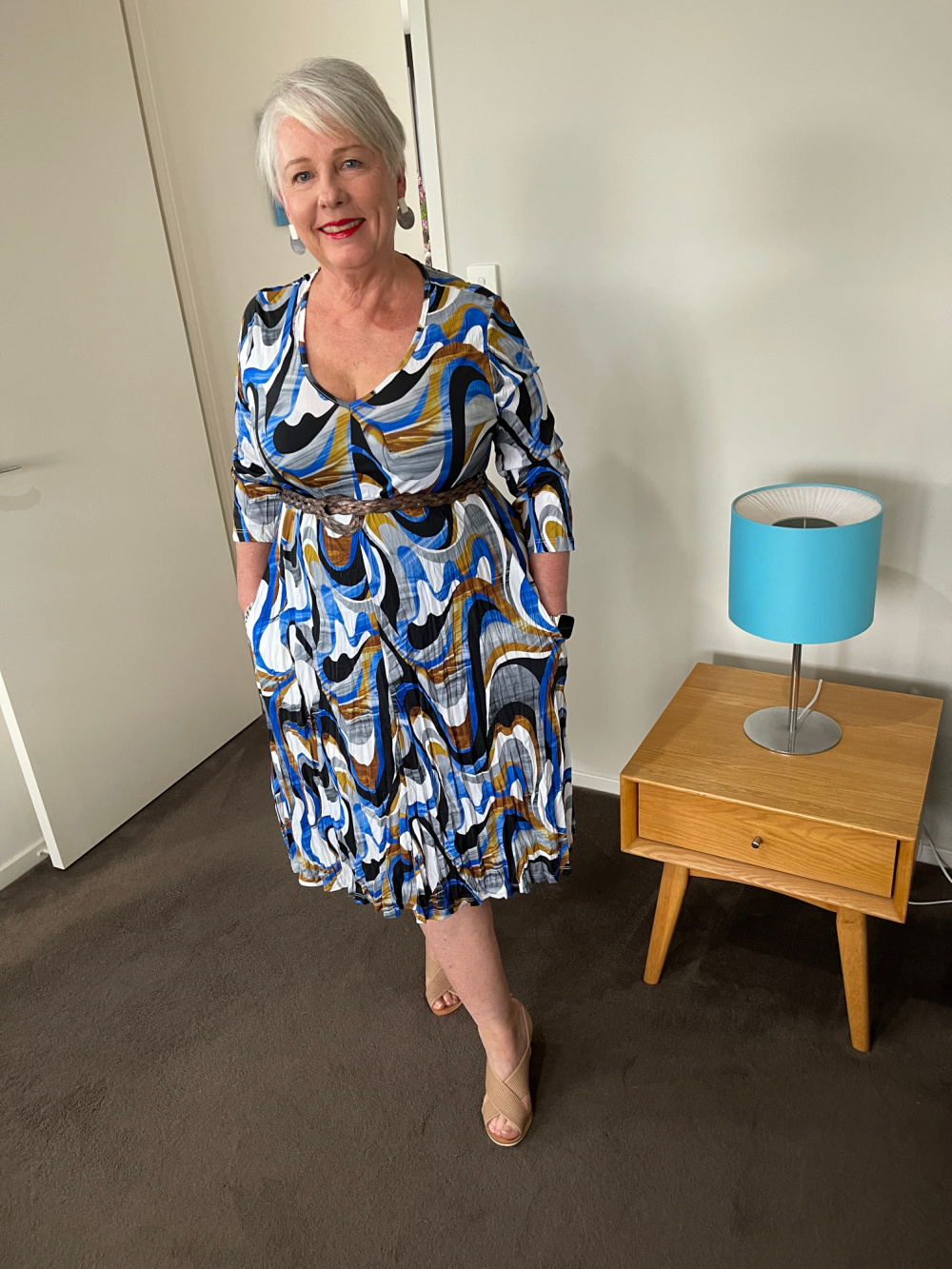 Shop the Royal Blue Stella here.
Not your colour? Find the dress in blush, navy, plum, eggplant, petrol and red.
What I like about Stella
The crinkle fabric is light, a combination of 90 per cent polyester and 10 per cent elastane. It feels nice on your skin.
She's a no-crush girl, and she is ready to spring into action straight from your suitcase! Crushing even makes her look better.
Pockets! Stella has great pockets on both sides.
She's not see-through, so you don't need a pesky petticoat or slip.
Dress her up or down depending on the occasion, and she is still a star.
She is easy to wash and drips dry. Just remember to tie her in knots to keep that crushed look constant. Just like the best travel clothes, this dress air dries within 24 hours inside.
Her A-line style is very forgiving, and the three-quarter length sleeves cover the top of your arms.
She packs easily and doesn't take much space.
The sizing is generous, and you should go for a smaller size if you are between sizes.
The length sits mid-calf on me, but I am only 162 centimetres tall.
Planning your travel wardrobe
Here are a few tips from my 20 years of travelling the world as a travel and food writer. Of course, nothing streamlines your packing more than late nights, early departures, and action-packed itineraries.
For me, dresses like Stella are a great travel option because you can just pop them on without worrying about tops and bottoms or whether it needs an iron first.
I used to travel with plenty of mix and match separates. Now my travel wardrobe includes a few key pieces and a selection of dresses because they are just so easy to pack and wear. Plus, they can be styled, so you can wear them virtually anywhere, from day to night.
It is a good idea to plan out each of your travel outfits from head to toe, including your underwear. You don't want to open your suitcase and discover you only have a black bra to wear under a white top. When the outfit is right, take a photo, so you don't have to remember which goes with what.
Change your look as you travel with a scarf, necklace or earrings that you purchase along the way. These are easy-to-pack souvenirs, and I always delight in the memory of where they were purchased when I wear them.
IMPORTANT INFO We write about products and services we think you might like and may receive payment if you click on the links in this article or go on to make a purchase.