Be bold all over with a statement swing dress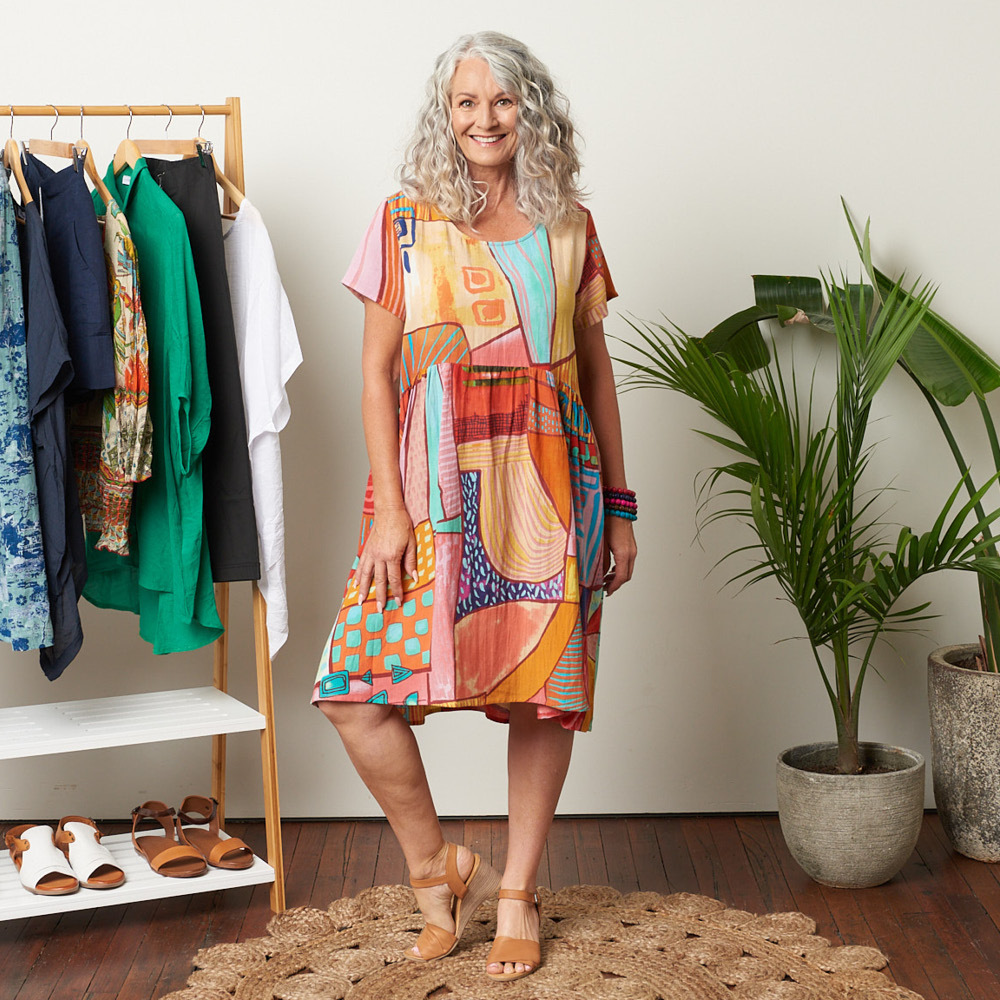 Summertime and the living is easy, as the tune goes. Shouldn't that also apply to getting dressed to go out? A gorgeous swirly dress like this vibrant midi-length Corsica design means you'll be all set in moments, with more time to spend on having fun with your friends or family. With a relaxed, easy-wear silhouette, the high-impact pattern does all the work for you.  Slip on an armful of bright sassy bangles and you're ready to walk straight out that door.
Update your favourite plain pants with a bright shirt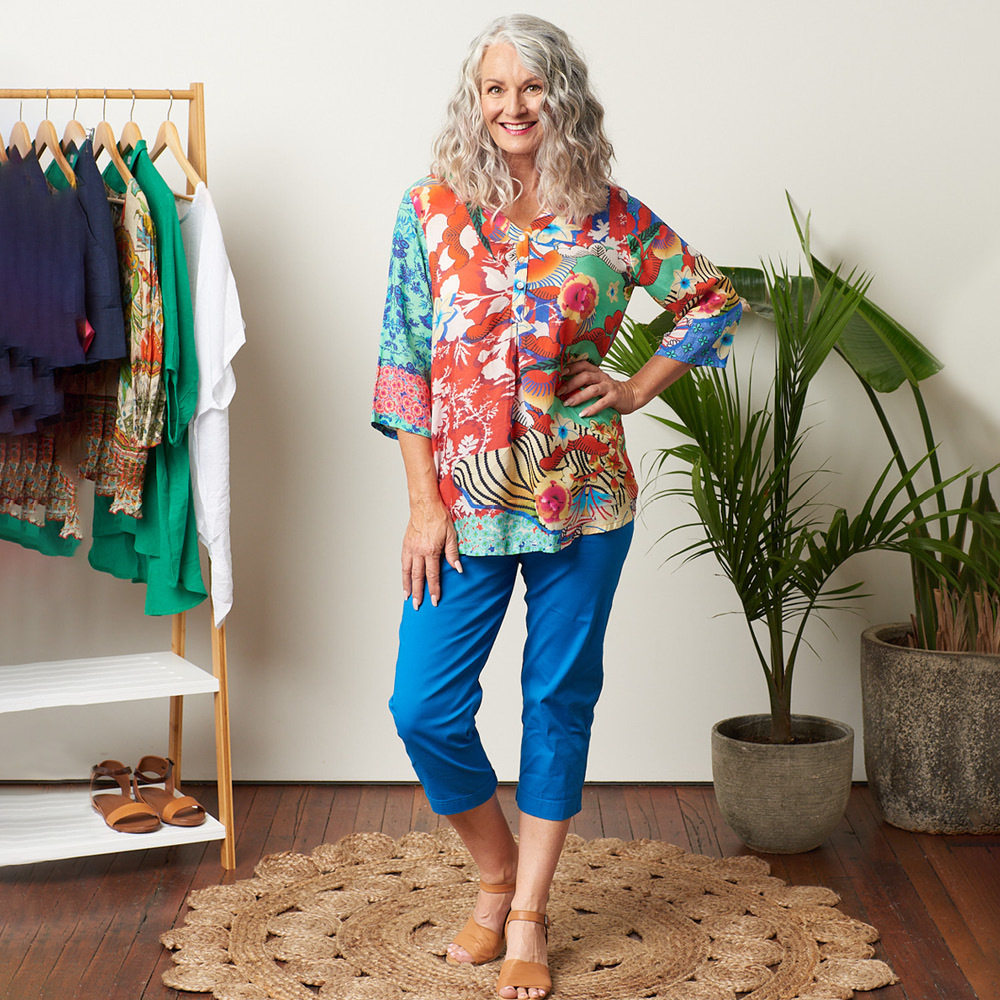 Relax and look forward to all those Christmas dates in your diary knowing you've found the perfect what to wear solution. This joyful and fashionable Charlene blouse is a work of art; bringing with it all the upbeat energy of a tropical garden. The longer tunic-style flatters just about everyone, while the classy vee neck and three-quarter length sleeves make it spot-on for slightly dressier occasions. The super lightweight fabric means you can rely on it all summer long. Pick out one of the key colours in the print – say jade green or royal blue to keep with the garden theme – or even jazz up your favourite pair of jeans for a more casual outing.
Tone down the pattern party with neutral bottoms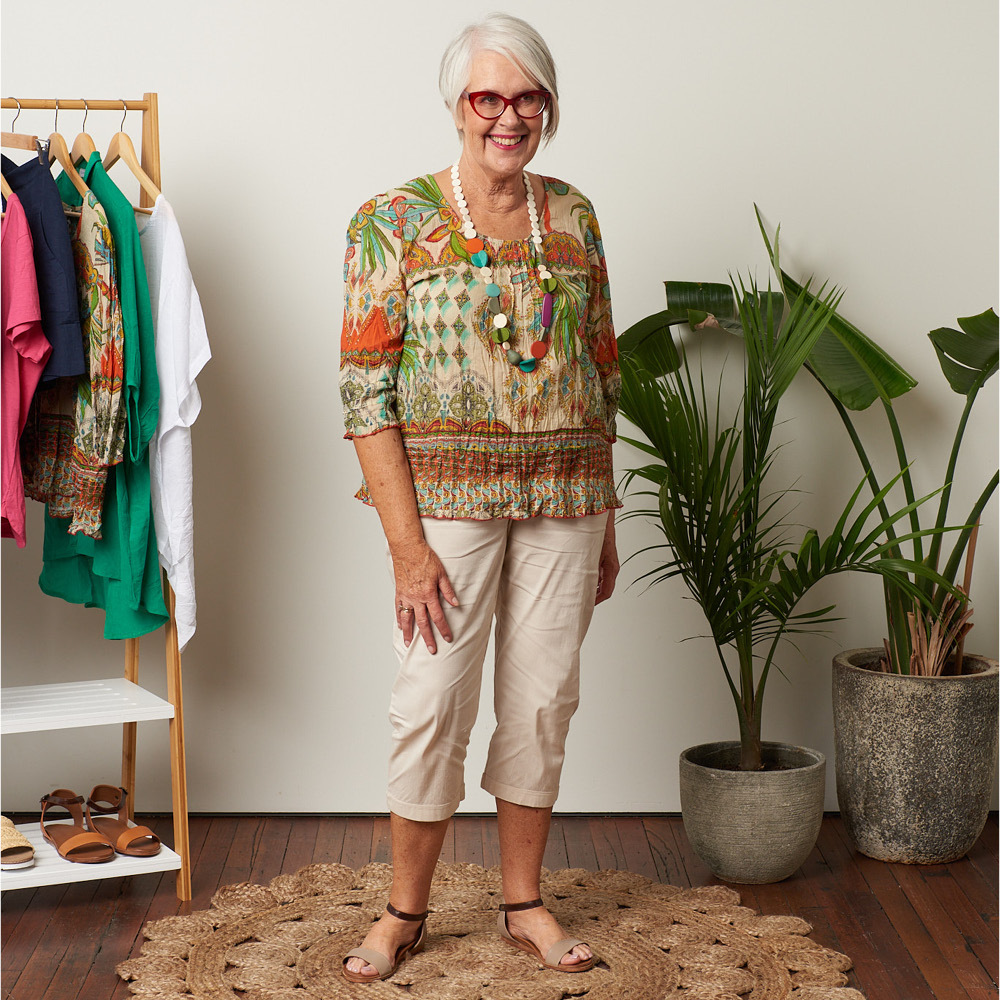 Introverts can have their fun with bold patterns too during party season. Tone down the "look at me" factor by teaming a festive and colourful Pamplone print like this lovely Josephine design with neutral-coloured bottoms. Want to add a little more festive dash? Pop on a colourful statement necklace and you're ready to rock and roll.
Patterned and festive, beautiful Christmas day dress can team with neutral accessories and for dressing down can also wear with sneakers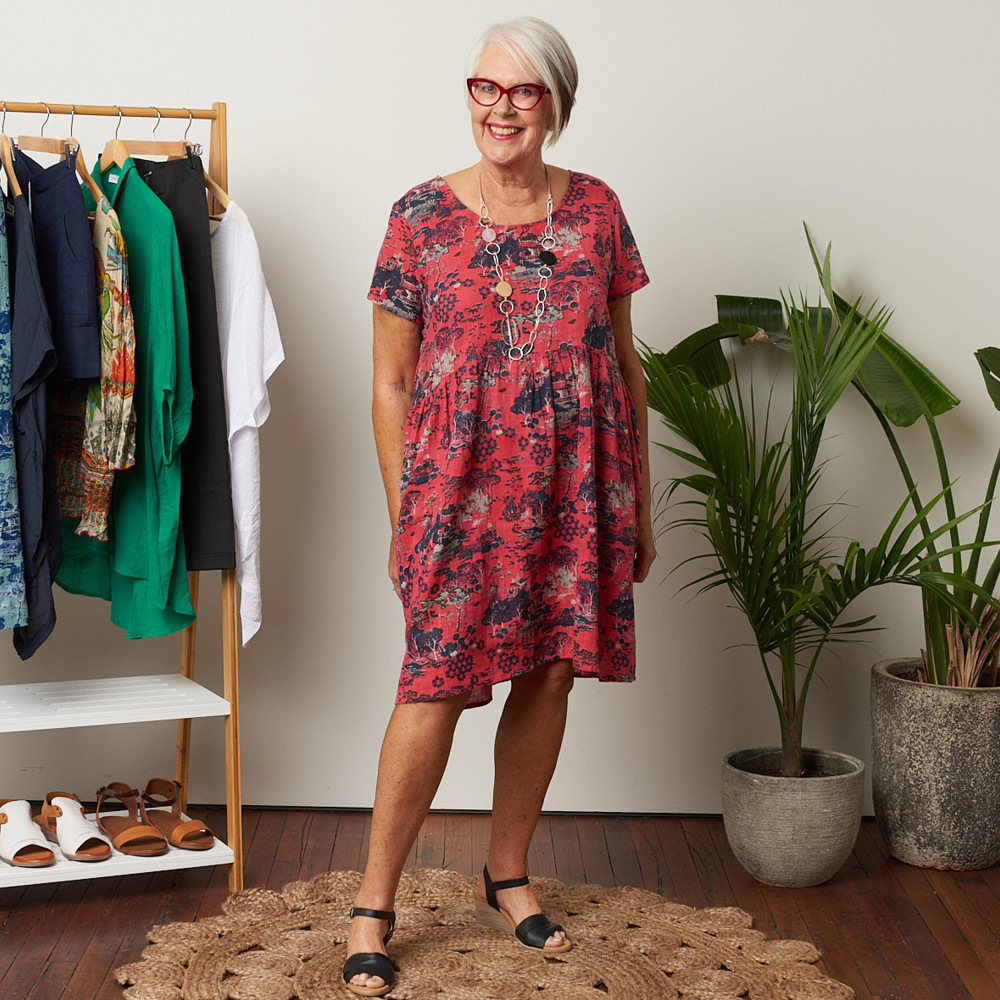 This red dress sits elegantly at the knee and is shaped to be cool and breezy.  Perfect with a wedged sandal for Christmas Day or any of the parties and celebrations leading up to it.  And for a daytime, modern look it will pair perfectly with a white sneaker too.  Dress it up with a long silver necklace to get a finished that everyone will envy.
Landscape patterns feel like you are in europe wearing this print can team with simple accessories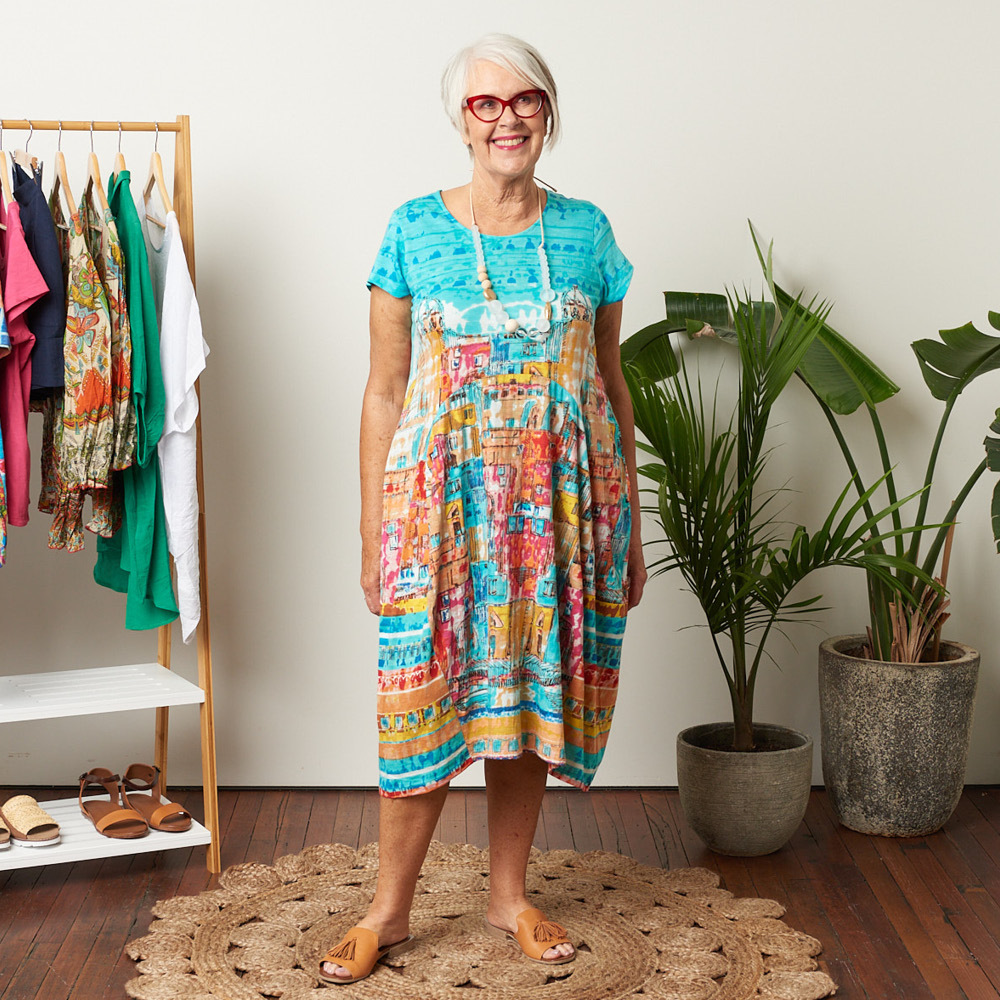 The Bubble Dress is a very popular shape and this print of 'Sub Mer' will make you feel like you are wearing the Mediterranean! And you can really style it up with some transparent and white beads.  It's lively, casual and pretty too.  And the shape is perfect for those with a few bits and bumps to hide.
Very bold t-shirt print, can be teamed with Capris in white, shorts or even baggy pants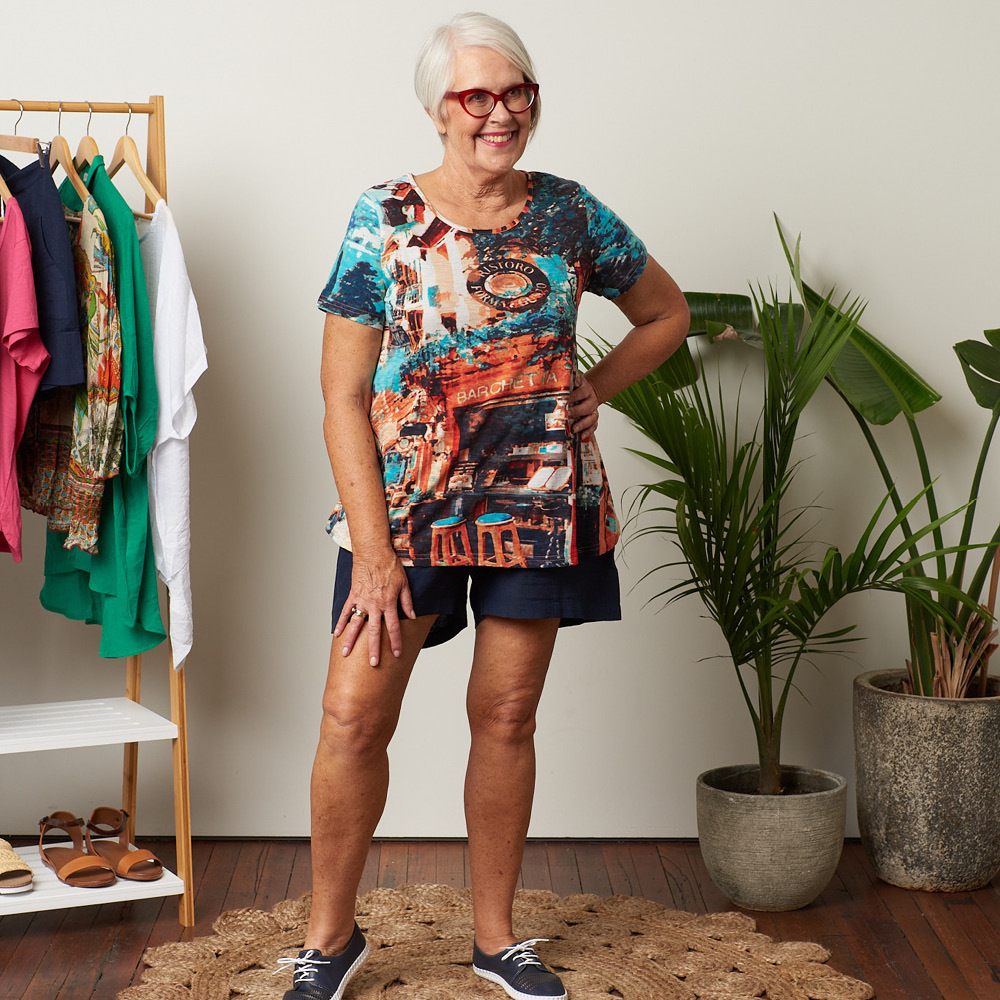 Jan is ready for a vibrantly fun summer with the short sleeved Gabriella top and breezy Helena Linen shorts. 
Summer dressing should be fun, right? Add some summer lovin' to your wardrobe with this bright and breezy Gabriella cotton top, inspired by beautiful Bellagio. Transport yourself to Lake Como with this dreamy design that sports a colourful mixture of reds, terracotta and turquoise hues. Pair it with white capris for an upbeat daytime vibe or navy for an evening out. Or get all fun and flirty by the seaside by teaming it with these cool Helena Linen shorts.
Bold and bright patterned dresses also work for special occasions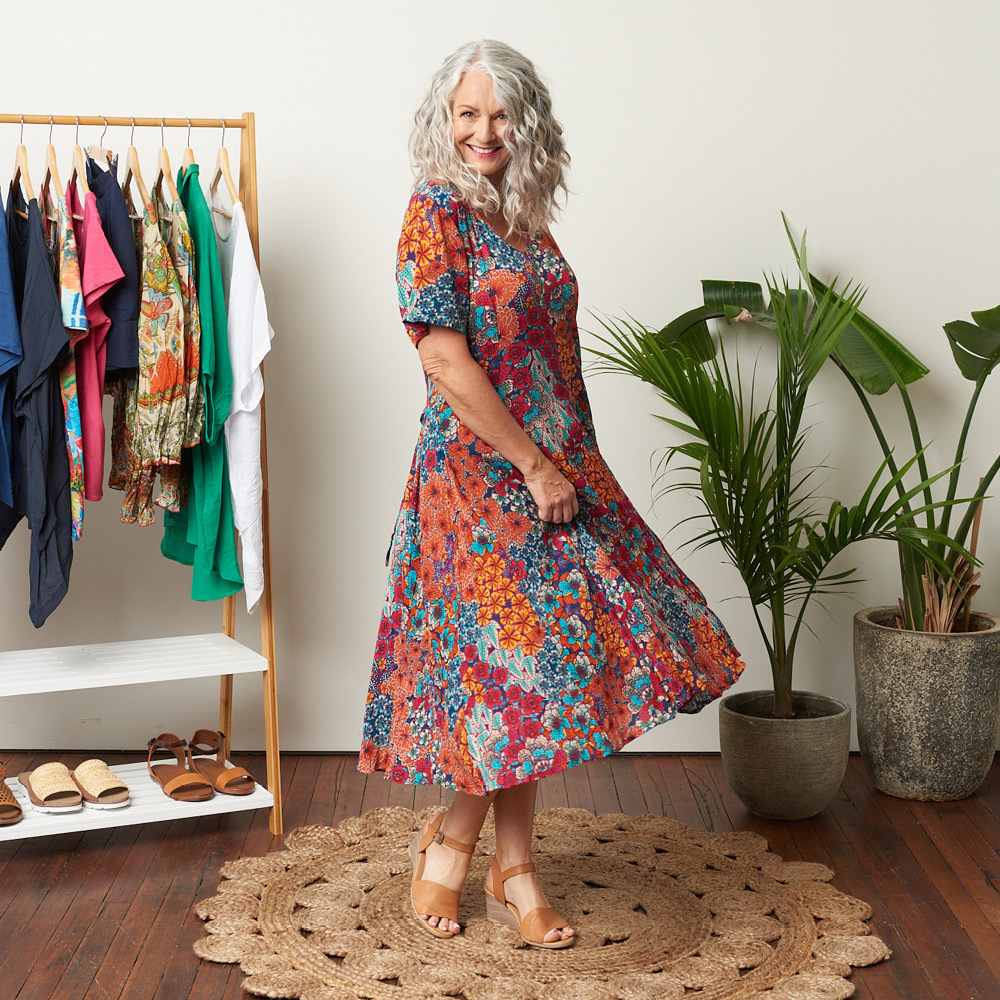 Bright patterns are great for adding playful cheer at this festive time of year, but don't rule them out for more dressy dates too. Our gorgeous Eloise Midi dress – one of our unstoppable bestsellers – is perfect for Christmas Day lunch (or Christmas Eve cocktails!). The longer length creates a sense of occasion while the vee neckline provides a little more cleavage for a more flirty and feminine look. The Eloise comes in two other prints but what could be more fitting for Christmas than this showstopper red?