It has several compartments in different shapes and sizes making it suitable to carry: blade hedge trimmers, tree loppers, hand-held garden spade, hand rake, garden gloves, sun glasses, mobile phone, garden twine, packet of seeds, insect spray bottle, drinking water bottle, screwdrivers, garden spike, secateurs, grass shears, floral snips and scissors, pliers and so much more. 
The deep compartments and weight capacity of 10kg allows you to carry small bags of soil, fertiliser, bark chips and anything else that might require manual lifting, saving you time, effort and trips to the chiropractor.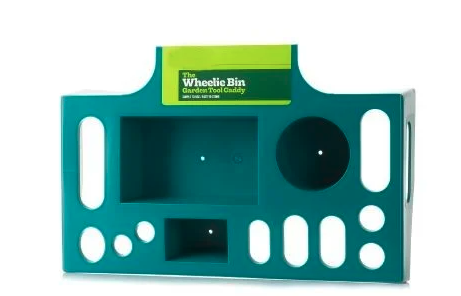 The caddy comes with a bracket attachment to hang in your shed or garage. This genius attachment enables you to hang your caddy, with all your tools and accessories fully loaded, straight back on the wall, ready for the next time you head out to your garden. Every keen gardener would be embarrassed to admit how many rusted tools they have found buried deep in the soil. Or coming back from a trip to the hardware store with a shovel, only to find three of the exact same shovel hidden between your shed shelves. The convenience of having all your tools in one place so you don't lose them, in a handy contraption, ready to hang back on your bin, makes this a must-have for every gardener.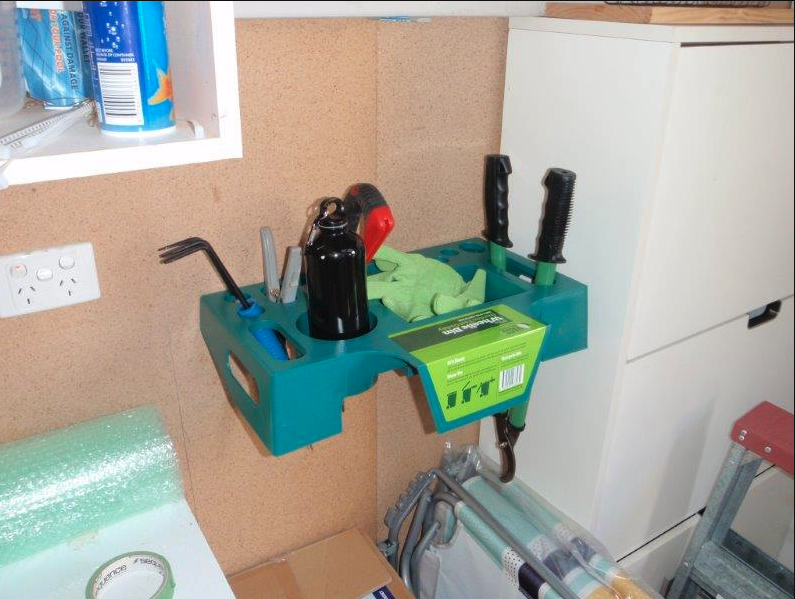 The Vass caddy is made from the same sturdy, lightweight material from which your bin is made, and comes with a 12 month warranty*. The material used is completely recyclable, making it an eco-friendly, sustainable choice. 
The Australian designed caddy simply slides over the lip of the bin, leaving unobstructed access to your bin for all your garden waste.