In the daytime, the selection of oversized Santas and his helpers, together with  Christmas trees, reindeers, and sleighs will delight everyone. In the evening it's  time to be brilliant and  light up with a wondrous display of shiny, sparkling Christmas lights, 
Let's face it, It's been a tough year, so why not choose Christmas to change gears and do something fabulous, fantastical and illuminating. This is the season of giving and there's a whole new collection of easy-to-assemble Christmas decorations that give you the opportunity to share the joy with young and old in your family and community.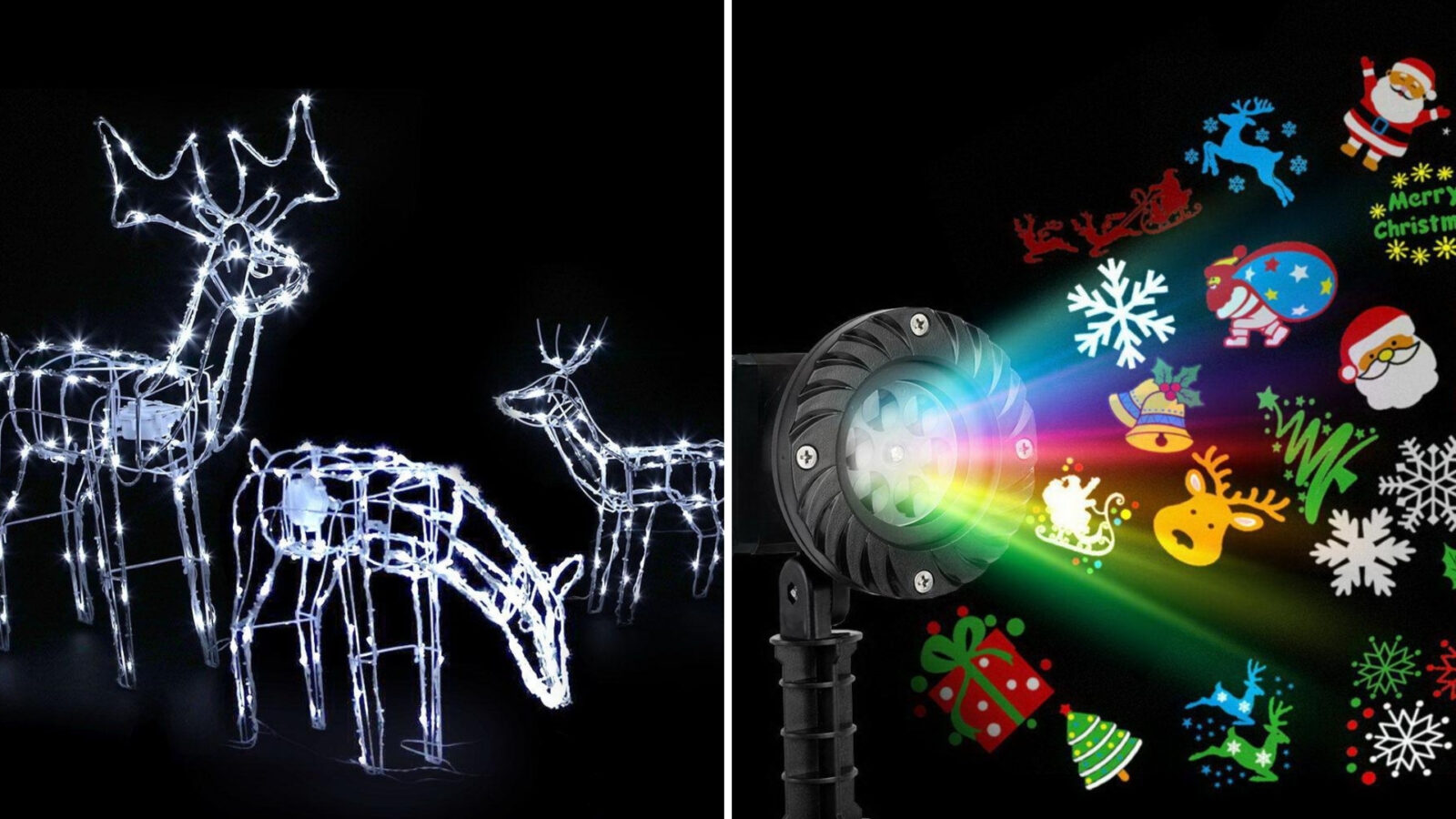 Rain, hail or shine you can shine the light on a doe-eyed reindeer. The waterproof reindeer light comes in a family of three reindeers: a buck, a doe and a baby and they all have their own movements – the  buck moves its head side to side, the doe moves its head up and down, while the baby remains still. It just couldn't be cuter!
Create the sparkle professionals produce by using ultra-bright LED bulbs and just to make it even more fantastic,  the projector illuminates in 12 different dazzling lighting modes. The set-up is easy with the projector anchored to the ground with the supplied ground spike and projecting the light against a house or building. 

It's our quintessential much loved Santa riding on his sleigh with reindeers bearing gifts. This joyful Christmas crew is inflatable, lightweight and only takes minutes to assemble. And with UV protection – there are no weather worries.
What a way to welcome Christmas with an inflatable Santa and Snowman Arch. Its impressive height is 2.4m tall and it is designed with a built-in air blower that brings Santa, snowman, Christmas tree and penguin to life.

The beauty of this cone-shaped illuminated Christmas tree may just ensure its position as the centrepiece of your decorative design. The tree is wrapped around with 264pcs of LED light and has eight different lighting effects. The good news continues with the solar lights powered by the sun during the day and they turn on automatically at night. The tree stands tall and proud at 2.1m in height.
Gentle and glowing this 3.6m tall tree shines with the soothing spirit of Christmas. It's suitable for both indoor and outdoor use and is easy to set up with no tools required, the tree also includes an extra-long 10m cable for a hassle-free installation.
This is one stunner of a decoration piece the Jingle Jollys LED Spinner Light features strings of super-bright energy-saving LED lights, and you can cycle through six flashing effects. The rope light is UV-resistant and you can place the spinner indoors in your living room, or outdoors on your front lawn for all your neighbours to appreciate.
Surprise the family with something different this Christmas. This laser light projector uses ultra-bright LED bulbs and illuminates in various lighting modes that move, flash and shine in pre-set sequences. This is something a little different to define your festive style.
This Christmas you can do one of two things, you can sit there and wait to look at the neighbour's display or you take the reindeer by the antlers and make the Christmas spirit sparkle in your front yard. This great range of decorations couldn't make it easier for you to make magic this Christmas.