A bonus is that Boutique Botanicals is an Aussie skincare and wellness company based in Brisbane. All the products are made here in small batches to ensure freshness, and they only use natural ingredients with low preservatives and emulsifiers.
Here's an overview of the two products I trialled, which are available on Starts at 60's Marketplace, here. Both are designed for all skin types, which is handy because my skin can't decide if it's oily, dry or breakout-prone!
This hand-sized pump pack contains 50ml of golden-coloured serum, which I expect to last me for two or more months (using two pumps of product twice a day). Slightly gummy at first, the serum is quickly absorbed into the skin and offers a pleasantly light aroma.
I pumped it into my palm and applied it with my fingertips over my face and neck, including my eyes. I was a little hesitant to put it around my eyes at first, as other products sometimes irritate me, but this one was fine.
The serum is designed to hydrate, tone and revitalise the skin using hyaluronic acid, a natural substance that encourages skin cell renewal. It plumps up the skin, which has the effect of minimising wrinkles. Hydration isn't the only benefit of hyaluronic acid. It also has antioxidant properties that protect your skin from the environment, sun exposure and harsh chemicals. Nothing wrong with that!
Marine collagen is included to promote collagen production, essential for a younger-looking complexion. There's also a combination of essential oils and herbal extracts designed to hydrate, tone and revitalise.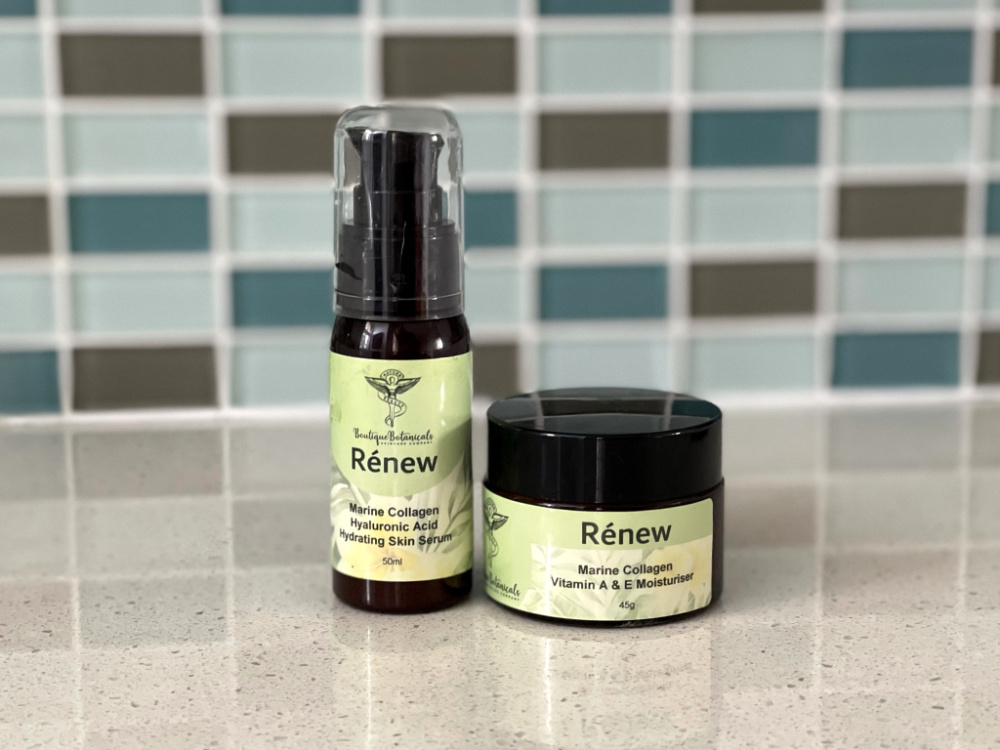 After the serum has dried (you have enough time to brush your teeth), it's time to smooth on some moisturiser. The Renew Marine Collagen Vitamin A & E Moisturiser comes in a palm-sized glass container with a screw-top lid. The blend is light and creamy and spreads easily across the skin where it is quickly absorbed. It has a soft fragrance with a hint of the sea, similar to one of my favourite perfumes, Issey Miyake L'eau D'issey.
I applied two fingertips of moisturiser to my face after the serum has dried, and followed this with make-up during the day. At night, I repeated the process on clean skin, usually just before bedtime.
Along with vitamins A and E, this moisturiser includes nourishing natural essential oils and the magic of marine collagen to help your skin retain water for a younger, healthy-looking complexion.
Unlike some other moisturisers I have used, this one doesn't feel heavy on my face during the day. However, if I forget to use it, I certainly notice the difference – and not in a good way.
The verdict
Boutique Botanical's Renew Skin Serum and Moisturiser promise a lot, but do they deliver? They sure do, and at an attractive price point too. These products feel great on my skin and are now firmly part of my daily beauty routine.
TIP: Don't forget your neck and décolletage regions! And you can use any leftover product on the back of your hands, to keep the skin there in tip-top condition too.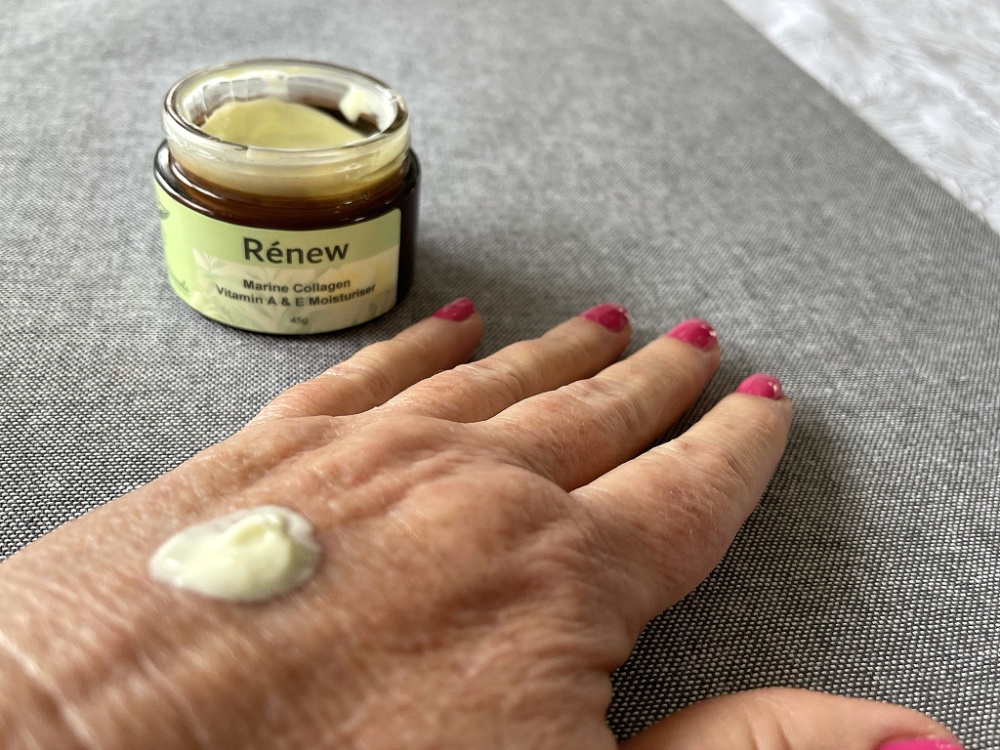 You can find Boutique Botanical's marine collagen range on the Starts at 60 Marketplace by clicking here.
Frequently Asked Questions
1. Where does marine collagen come from?
Marine collagen is extracted from the skin of oily saltwater fish, including salmon and cod. It's a more expensive form of collagen, but it's more compatible with our skin than bovine collagen.
2. How does marine collagen work?
Using marine collagen regularly on your face can be an effective anti-ageing treatment, as it helps to boost the skin's collagen and moisture levels, which drop off as we age – leading to fine lines and wrinkles.
3. What are the results of using marine collagen?
By boosting the skin's own collagen, marine collagen increases suppleness and hydration, improves texture and slows down skin ageing. Used around the eyes, it can also help reduce puffiness.
IMPORTANT INFO We write about products and services we think you might like and may receive payment if you click on the links in this article or go on to make a purchase.