You are happier and healthier when you walk the dog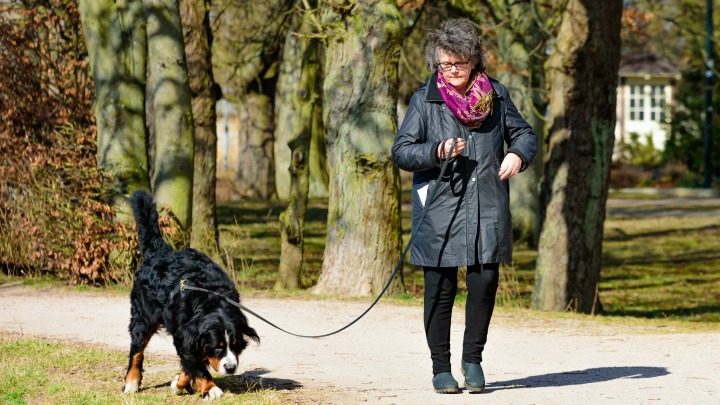 Do you have a dog? If not, you might want to give it some serious consideration because not only do dogs provide wonderful companionship it's now been proven that people who own them are happier and healthier than those people who don't.
Why?
It's all because you have to take your dog for a walk.
Walking, the most common form of physical activity for people aged 60 and older, is really very good for you. There are countless health benefits, including lowering your risk of heart disease, improving leg strength and increasing your endurance, to encourage you to tie your laces and put one foot in front of the other, even if only for 15 minutes.
Researchers at Miami University and the University of Missouri in the United States looked at data from the Health and Retirement Study. This study is conducted every two years and includes approximately 20,000 people over the age of 50. The researchers found that those people who walked their dog had lower body mass indexes, fewer limitations in daily activities, fewer chronic conditions and visited the doctor a lot less than those who didn't have a dog to walk. The study also found that the exercise they were getting was more vigorous and more often than others in their age group.
Ad. Article continues below.
"Dog walking appears to be the mechanism by which dog ownership promotes health" the study says. Although it also acknowledged that it's unclear if dog walking actually causes better health.
Rebecca Johnson, a professor at MU's College of Veterinary Medicine says the study provides evidence for the association between dog walking and physical health.
"Our results showed that dog ownership and walking were related to increases in physical health among older adults," Johnson says. "These results can provide the basis for medical professionals to recommend pet ownership for older adults and can be translated into reduced health care expenditures for the aging population."
Additional benefits from this study included a higher degree of pet bonding developed as a result of walking and spending time with the pet and increased social interaction between pet owners and others.
Other research has shown that dogs can ward off depression, can reduce your risk of developing eczema, and may be able to sniff out cancer before symptoms develop.
Ad. Article continues below.
Of course this news doesn't mean you should rush out and get yourself a puppy.
You might like to check with your local animal shelter for a volunteer program that allows you to walk the dogs that come through their doors. Consider that not only would such an activity be doing you and your health a favour, you'd also be enriching the life of the pooch at the end of your lead. You could also engage with your neighbours in case they have a dog that needs walking, which would not only be really helpful but would also build the relationships in your local area.
Do you like to walk the dog? Has it made a difference to your health and wellbeing? Would you recommend dog ownership?