Yoga 101: all you need to know to get started in your 60s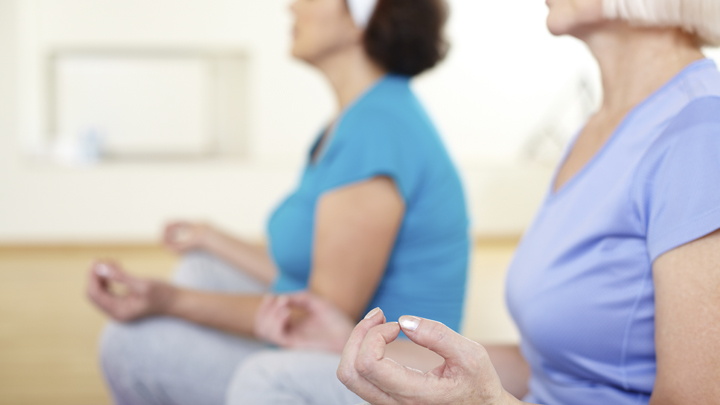 You see it everywhere – at your local shopping centre, via ads, on the TV, at the gym…it's hard to escape the world of yoga. But this relaxing form of exercise is popular for a reason: it's easy, fun and great for your health. As we get older, the need for exercise doesn't lessen, we actually need to do it more to keep us active and healthy for longer. Yoga is gentle on your body and is a great stress reliever too.
Benefits of yoga
Increased mobility, energy and relaxation
Increased flexibility, strength and breathing capacity
Arthritic pain alleviated
Improved posture
Feeling more calm and peaceful
So if you want to try yoga, where do you start? First, you'll need some equipment.
Ad. Article continues below.
Usual yoga outfit:
loose fitting top or singlet
stretchy or loose pants
sports bra or crop top (for women)
tied up, pulled back hair
Also, bring along a towel, a big water bottle and a change of clothes.
If you are going to try yoga at your local studio, they usually have their own mats, bolsters and pillows, however ring ahead or check their website just in case.
There are plenty of different types of yoga, but which one should you try?
Ad. Article continues below.
Bikram
Also called hot yoga, the room is heated to 38 degrees and the idea is to sweat! You move through 26 poses that can be difficult but will get easier with time. Great for all ages and fitness levels.
Hatha
Slow and gentle movements. A class focuses on different poses each time, but they are easy and relaxing.
Yin
Ad. Article continues below.
The purpose is to meditate and clear one's mind and be at one with their breath whilst holding a pose.
Vinyasa flow
Also called Vinyasa flow or just flow, you'll definitely be moving and flowing from one pose to the next.
Restorative
Seeks to achieve physical, mental and emotional relaxation with the aid of props.
Ad. Article continues below.
All about focus
Before you begin a class, put yourself in the right mindset. It can be easy to be distracted or to giggle or roll your eyes at what the instructor is saying. You may get frustrated if you can't do a pose but just remember: the instructor was once where you were and you will get better.
Let go of any insecurities you have and remind yourself that you will get so many positives from the classes, both mentally and physical.
Ad. Article continues below.
When you can't do the pose
Yoga poses can be difficult if you have a back problem or other ailments, but yoga teachers are always happy to assist and modify the stretch or pose so it can suit you. If you feel you aren't able to do a pose, simply sit cross-legged on your mat and wait until the instructor can come to help you out.
Practice basic yoga poses at home
There are thousands of YouTube videos that show you how to practice yoga in your own home with ease before you feel ready to go to a proper class. Here are a few:
Ad. Article continues below.
Have you tired yoga? If so, what do you like about it? And if not, would you try it? Tell us below.