A woman suffering from an intolerable migraine for more than 12 hours resorted to a kitchen clip from a chip bag to apply acupressure in the same way more professional pr0ducts do, and found her migraine eased in just 20 minutes. A remarkable recovery was made in a very short period of time, drawing light for sufferers.
Elizabeth Hayes, from Indiana, said her migraine had become unbearable in a Facebook post before explaining how she had exhausted all her other solutions.  She then undertook a web search and found a product called Acullief which she was able to imitate at home with her chip bag clip.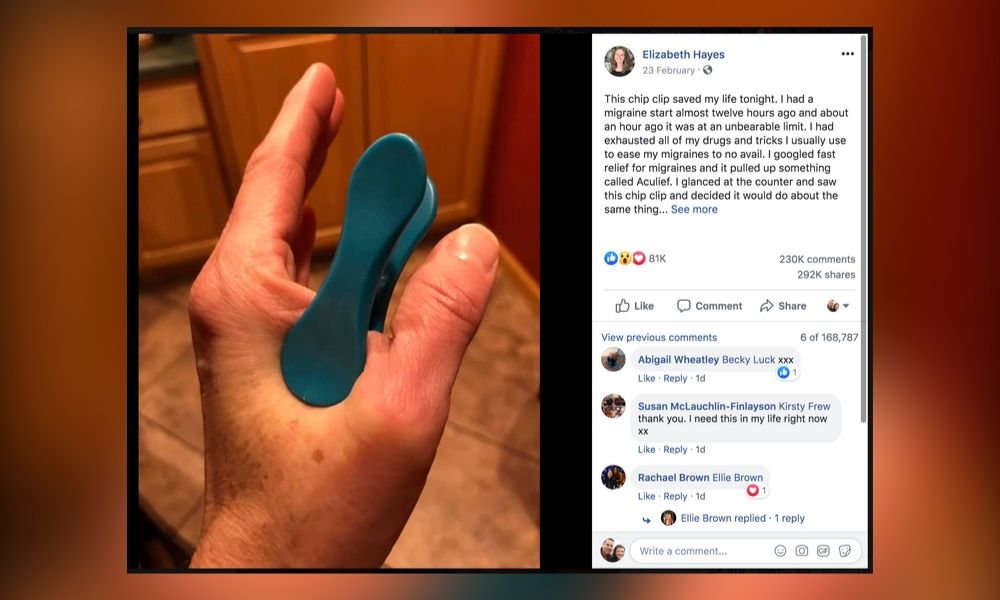 "This chip clip saved my life tonight. I had a migraine start almost twelve hours ago and about an hour ago it was at an unbearable limit. I had exhausted all of my drugs and tricks I usually use to ease my migraines to no avail. I googled fast relief for migraines and it pulled up something called Aculief. I glanced at the counter and saw this chip clip and decided it would do about the same thing. Within one minute I had some relief, and within twenty my pain was reduced by half!! I decided to order the real thing off Amazon. Just wanted to share this with everyone, as I know many of you suffer from migraines also."
About Migraines
Migraine sufferers can be quite anxious about their condition, and for good cause. The neurological condition is characterised by debilitating and intense headaches, and may be accompanied by nausea, vomiting, numbness or tingling.  It can also cause sensitivity to light and or sound.  Migraines can begin in childhood or become a part of life later, in adulthood.  Women are more likely to suffer them than men and family history is the most common risk factor.
IMPORTANT LEGAL INFO This article is of a general nature and FYI only, because it doesn't take into account your personal health requirements or existing medical conditions. That means it's not personalised health advice and shouldn't be relied upon as if it is. Before making a health-related decision, you should work out if the info is appropriate for your situation and get professional medical advice.