Why thinning hair isn't 'just part of getting old'
Sponsored Content
Health
2 years ago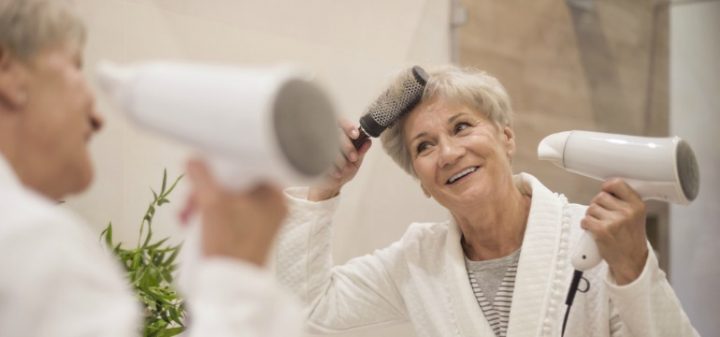 Next time you run a brush through your hair and feel it thinning, don't just assume it's 'part of getting old'.
For most women, thinning hair seems to be part of the inevitability of ageing just as much as going grey can be.
But, that's not the case.
Instead of accepting thin hair as your fate, working out why your hair is thinning and taking action can stop and even reverse the effects of thinning hair.
Why is my hair thinning?
To reverse the effects of thinning hair and stop it from continuing, it's important to understand what could be causing your hair to thin.
The first thing to understand is that your thinning hair may not be just an ageing issue.
According to the American Academy of Dermatology, 40% of women have noticeable hair loss by the age of 40.
While many are told this is because of ageing, it's argued that such a diagnosis isn't helpful in restoring your hair's health and thickness.
What exactly is causing your hair to thin?
It could have something to do with a natural protein known as FGF5.
This protein regulates the hair cycle, encouraging hair loss so it can grow back anew.
If you have too much accumulate on your scalp, it will speed up your hair loss and encourage hair thinning.
The accumulation of FGF5 can happen for a number of reasons.
According to Health.com, there are numerous reasons why your hair could be thinning including:
Physical and emotional stress
Too much Vitamin A
Lack of protein
Anemia
Underactive thyroid
Vitamin B deficiency
Lupus
Dramatic weight loss
How can I stop my hair thinning? Will my hair grow back?
We're all unique and there are different ways to treat different cases of thinning hair.
Luckily, for the majority of us there are effective and scientifically-verified ways to turn your thinning hair around.
Studies have shown that suppressing the FGF5 protein can reduce your hair loss and give you a fuller head of hair.
Read the story that one community member kindly shared with us.
A special offer for you
To encourage readers to be proactive in fighting hair loss, Starts at 60 has partnered with évolis®, a safe, ethical hair treatment that uses natural botanical extracts shown to inhibit FGF5.
evolis®, available to both women and men, is supported by thorough clinical studies and strong first-hand testimonials. And it's a timely reminder to us all: thinning hair is not a losing battle.
évolis® is offering 20 per cent off its range of hair growth products to get readers started on a journey to better hair. Simply visit the évolis® online store, select your products and enter the discount code "STARTS60" at checkout and to receive your discount.
Click here to learn more about évolis®, and tell us below: have you had trouble with thinning hair? How have you worked around it? And have you attempted to fight it?
This article is sponsored by évolis®. It was written as we feel it delivers valuable insights into a subject important to the Starts at 60 community. For more information, please visit the évolis® website.