Why is no one talking about older men's suicide?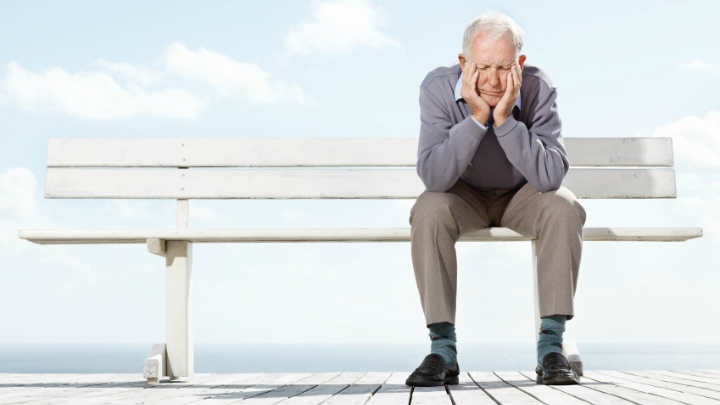 One autumn morning, Margaret left home to do her weekly stint with Meals on Wheels. She'd spent years looking after her husband, who suffered from a debilitating illness that made it painful to move, but she never missed this welcome outing.
In the few hours she was gone, her husband had "taken care of things" in the only way he felt he could. He didn't want her to live like this any more; he wanted her to have a life.
So he ended his.
Suicide is often viewed as the scourge of youth, unsurprisingly, seeing as it is the leading cause of death for young men. But a lesser-known fact is that the risk of suicide among older men is just as high – and it gets higher as they age.
By the time a man reaches 85, he is three times more likely to die by his own hand than any other age group. And, according to the World Health Organisation, this is a worldwide phenomenon.
Ad. Article continues below.
David Burke, director of old-age psychiatry at St Vincent's Hospital in Sydney, says the main reason for suicide attempts in elderly men is depression and this can be triggered by many things, including the loss of a spouse, or the deaths of family and friends.
"It has to do with people retiring and not finding a new level of functioning in the community," he told the ABC. "It has to do with issues like social isolation and it's also often related in old age to physical illness. People with acute and with chronic physical illnesses can often become depressed in association with that".
So why is no one talking about this?
Brian Draper, Professor of Psychiatry at UNSW Australia, hazards a guess: "Perhaps some believe that older suicides are 'rational' – akin to euthanasia in a society in which euthanasia has no legal standing. Maybe they feel the issue is best left undisturbed rather than stirring up the inevitable ethical debates that would ensue".
In terms of prevention, the strategies are the same for all three at-risk groups: young, middle age and elderly men. Recognising the signs, diagnosing the underlying mental illness – usually depression – and demonstrating an alternative to death.
Ad. Article continues below.
But Professor Draper says the outcome might be the same across the age ranges, but the journeys individuals of different ages take to get there are quite different.
"If we are to prevent suicide, we must understand the nuances of these journeys. There are age-related reasons for mental disorders. In old age, common reasons include pain and discomfort associated with physical illnesses, loss of independence, social isolation and loneliness, and a diminishing circle of family and friends.
"These are often issues that need to be addressed to alleviate suffering and reduce suicide risk," write Professor Draper in The Conversation.
Most men, of course, are famously inadequate at analysing and talking about their feelings. This, along with the innate need to be "useful" can lead to introspection and retreat.
When men feel bad, they tend to withdraw from the people around them, making it even harder to spot the warning signs. The spiral of depression can be quiet, like a child drowning and if it doesn't happen before your eyes, you might not see it until it's too late.
Ad. Article continues below.
Why do you think no one is talking about the fact older males are three times more likely to commit suicide than their younger counterparts? Do you have any advice for readers who are worried about a loved one? 
For 24-hour help, phone Beyond Blue on 1300 22 4636; or Men's Line on 1300 78 99 78.