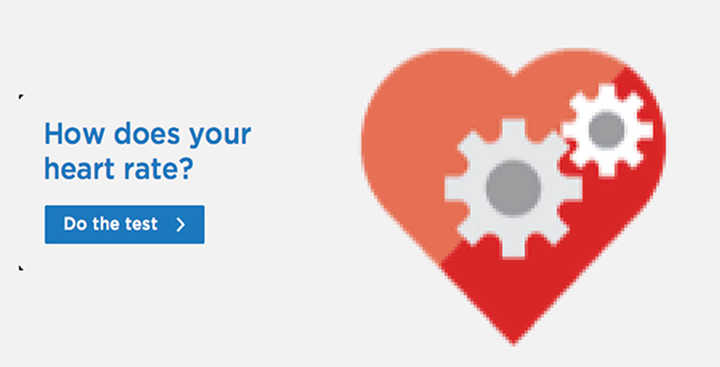 Do you know how healthy your heart is?
Well, today you can take the Heart Age Check and find out how your 'heart age' matches up to your calendar age. The 'heart age' check is quick and easy to do, and it can be done on your computer or mobile device.
It's an online tool that asks you some key health questions like your blood pressure, cholesterol level, about your lifestyle, work type, and other risk factors to estimate your 'heart age' which you can compare to your actual age.
On average, Australians have a heart age up to three years older than they actually are. If your 'heart age' is older than your real age, it might be worth a trip to the doctor for a checkup and if necessary, considering what steps you can take to help improve your heart health and in turn your 'heart age'.
Take the test now, then come back to see what it means.
Is your 'heart age' older than your real age?
If your 'heart age' estimate is a little older than your real age on the heart age calculator, take a look at your lifestyle and see if there are any changes you can make to improve your heart health.
Some steps you might consider are:
1) Quit smoking if you are a smoker.
2) Visit your GP and get your cholesterol and your blood pressure checked.
3) Achieve and maintain a healthy weight, and aim to reduce your waist measurement. The ideal waist measurement for women is 80cm and for men 94cm.
Is your 'heart age much older than your real age?
If your heart age is a lot older than your actual age it should be a strong call to action for you to seek your doctor's advice.
Go and talk to your doctor about your risk factors and ask them for an action plan.
Make lifestyle changes such as eating a healthy balanced diet, quitting smoking, and managing your weight.
What numbers should you know for good heart health?
For good heart health, everyone should know these important numbers:
Total cholesterol
Blood pressure
Your weight and waist measurement.
When was the last time you checked yours?
This post is proudly supported by BUPA's Blue Room.  Click here to take the Heart Age Test. And visit The Blue Room for more healthy tips.