What every woman over 60 needs to know about ovarian cancer
Sponsored Content
Cancer
4 months ago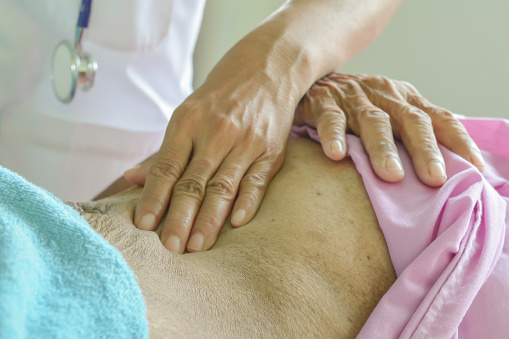 It's the diagnosis no woman wants to hear, but unfortunately thousands of women across Australia hear four devastating words every year: You have ovarian cancer.
Ovarian cancer is the sixth-leading cause of death for Aussie women, with 60 per cent of those diagnosed over the age of 60. The disease is often referred to as a silent killer because symptoms can be difficult to detect, often going unnoticed until the cancer reaches a later stage.
Jim Coward, medical oncologist at Icon and an associate professor of medicine at the University of Queensland, explains that many patients dismiss warning signs as symptoms of less-serious health concerns.
"It's very difficult to give definite symptoms for ovarian cancer," he says. "A lot of the symptoms that may be signs of ovarian cancer are ignored because they're associated with other innocent things."
Some of the most common symptoms include, bloating, changes in bowel habits, feeling full after eating small amounts of food, abdominal discomfort and weight loss.
Esther Clemens from Sefton, who was diagnosed with ovarian cancer last year and treated at Icon Revesby, New South Wales, said she initially didn't believe doctors when they broke the news to her. She had never been sick before and health professionals shocked her when they picked up the cancer after she was admitted to hospital to remove a build-up of fluid on her lungs.
"It wasn't until I'd seen an ultrasound that it all sunk in. He put the ultrasound up on the wall and I said, 'what's that? What's that big thing?' And he said, 'that's your tumour'.
Ovarian cancer presents in different ways and in cases like Esther's there may not be any noticeable symptoms. The best way to detect ovarian cancer and increase chances of survival is through early detection and paying attention to changes in your body that persist. As with most types of cancer, doctors have a series of standard tests to help detect the disease in its early stages. These commonly include abdominal ultrasounds, transvaginal ultrasounds and blood tests.
If you're one of the 1,500 women diagnosed with ovarian cancer each year, your doctor will likely suggest surgery and/or chemotherapy as your best treatment options.
Coward says surgery followed by chemotherapy is the ideal option in many cases, especially if doctors are able to remove the bulk of the cancer during the operation.
"The surgeon's ability to remove all of the disease is vital," he said. "If they can remove all of the tumour, that's absolutely fantastic and thereafter, patients would be eligible for chemotherapy, which is to mop up any microscopic disease that isn't seen on a scan."
In cases where all of the cancer can't initially be removed by surgery, chemotherapy is often the first option for a patient.
"Sometimes when the tumour is quite bulky and is not operable a patient will have three months' worth of chemotherapy," the doctor explains.
"A scan would then determine how well a patient is responding and whether they are potential candidates for an operation … If they are a candidate for an operation, the patient would then hopefully get all the disease removed and finish with three additional months of chemotherapy."
Esther had both chemotherapy and robotic surgery. "I was getting a big treatment one week, which was taking about five hours, and the next week I was getting two little ones," she explains. "I worked out that the weeks I got the two little ones, I did all my jobs. The week I got the big treatment, I took it easy and did little things."
She adds that she sailed through the treatments for the most part, but would usually feel weary towards the end of the week of the big treatments. She lost her hair but didn't feel nauseous.
"The only thing that's happened to me is I lost my hair. I got it shaved off because I was sick of it falling out," she says. "I lost my tastebuds. I got pins and needles in my big toes and that's it."
She also had robotic surgery in November and continued with chemotherapy without any hiccups. Esther is currently on low maintenance chemo, which she receives every three weeks.
Aside from the physical burden cancer treatment places on patients, it's often the emotional toll that can be the most difficult to manage. For many women, it's not just a matter of popping in and out of the hospital between surgeries and chemo sessions.
Families still need to be taken care of, households still need to be managed and work and social commitments met. For those living outside of the city, the burden can be even worse. Many women find themselves having to travel to major treatment centres or stay for prolonged periods away from their loved ones and home.
Thankfully, more local treatment centres are becoming available every year, such as those run by Icon, which offer treatment and care solutions closer to home.
For Esther, her closest Icon centre was just a 20-minute drive away.
"I came out of hospital and the next Wednesday I went over for an introduction with the team [at Icon], where they talked about the treatment and everything," she explains.
After losing her husband nine years ago and with most of her family in her home country of Scotland, the staff at Icon became a great support network for her. Esther currently lives alone with her pet bird, although her close friends and nephew visit as often as they can.
As well as standard treatments, Coward encourages women who are diagnosed with ovarian cancer to ask if they are eligible for available trials.
"Clinical trials are playing a vital role in increasing survival chances for women with ovarian cancer. A large number of my patients at Icon are on trials for various stages of ovarian cancer," he said. "You can never pre-empt outcomes, but we are seeing positive steps in the right direction."
Icon runs an extensive trials program, but as with most cancers it important to listen to changes in your body as early detection is the greatest chance of eradicating the disease.
More than 80 per cent of patients live longer than five years if treated in the early stages, compared to the 30 per cent of women who survive when the cancer is detected at a later stage.
Coward said it's vital for women to listen to their bodies.
"Don't ignore changes in your body or dismiss them. If you feel the changes are persistent it's important to go to your GP and get tested because the earlier we can diagnose, the earlier we can provide some curative intervention," he says. "It's also important because we ultimately want to give you the best chance at survival."
As well as early diagnosis, Esther recommends a fighting attitude.
"They told me the cancer was aggressive and I said, 'well we'll be very aggressive'," she says. "You just have to be positive. You just have to beat it. You can't let it beat you."

At Icon Group, cancer care is more than just words - it is a belief in a personal approach that matches the needs of our patients and their loved ones in the toughest of times. As Australia's largest dedicated cancer care provider we understand the importance of finding the best team and technology to treat cancer. Find out more about how we walk our cancer patients through this stage of their lives with compassion, knowledge and hope.