Up Until Now is Petrea King's inspirational story of survival
The inspirational true story of an amazing Australian woman who has devoted her life to helping people experiencing life-threatening illnesses and devastating mental distress.
Ad. Article continues below.
Petrea King is at the forefront of wellness education and is a frequent lecturer at medical and other conferences. Petrea sees crisis as a catalyst for personal growth and understanding and as an opportunity for healing and peace. She is a valued speaker, lecturer and facilitator of workshops.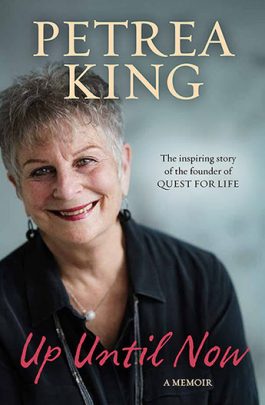 As a child Petrea King was dogged by health issues, spending months in hospital over many years. After leaving school, her desire to help others impelled her to become a nurse, then later to qualify as a naturopath, herbalist, homoeopath, yoga instructor and meditation teacher. 
In her early thirties, Petrea was diagnosed with acute myeloid leukaemia and given little chance of surviving. She defied her dire prognosis, and believes meditation and coming to terms with past traumas, including the suicide of her brother Brenden, were key to her recovery. 
Motivated by her own experiences, Petrea founded the Quest for Life Foundation to support people suffering devastating physical and mental illnesses. Up Until Now is her inspirational tale of how she overcame her own challenges to dedicate her life to others.
"The wisdom Petrea imparts, and her compassion and sensitivity, have helped hundreds of thousands of people, providing them with hope in troubled times." Tony Delroy
Books at 60 is proudly supported by Dymocks.