Think you can't exercise? This is just what you need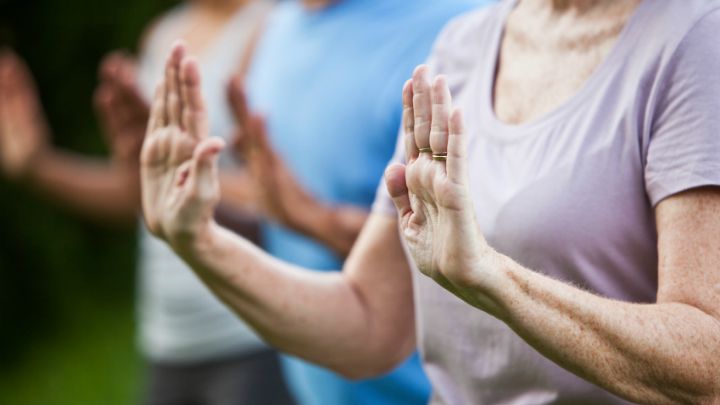 We all know exercise improves our health, longevity and quality of life, but for so many of the SaS community living with chronic health problems or physical limitations, exercise can seem out of  reach.
But there is one form of exercise everyone can do – and I mean everyone.
I first took up tai chi when I was pregnant, many moons ago, to ease the pain of sciatica. Although I felt like a dill waving her arms around at first, after just one class, I noticed a difference. A few months later, enormously pregnant, I was squatting right down into crouching snake pose, all pain forgotten.
My tai chi instructor has students ranging from 20 to 90. Their health issues range from former drug addiction to cerebral palsy, we all practise together. Sometimes, one of the older students brings a chair.
The Chinese have known it for thousands of years, but of course science takes a little longer to catch up.
Ad. Article continues below.
A new study by the University of British Columbia and the BC Lung Association has confirmed that tai chi, the Chinese martial art sometimes known as "moving meditation", improves physical capacity for certain common long-term health conditions in older adults.
The researchers studied people with breast cancer, heart failure, osteoarthritis and chronic obstructive pulmonary disease (COPD) who practised tai chi two or three times a week for 12 weeks. Participants were aged between 50 and 70.
The results showed that Tai Chi was associated with definite improvement in physical capacity and muscle strength in most or all four long term conditions.
This included improvements in the six-minute walking test; muscle strength, as measured by bending and stretching the knees; the time it takes to get up and move  known as the TUG test; and quality of life.
These improvements were not at the expense of worsening pain or breathlessness, the findings show.
Ad. Article continues below.
Tai Chi was also associated with an improvement in the symptoms of pain and stiffness in osteoarthritis and in breathlessness in COPD. And it was associated with improved sit to stand times among patients with osteoarthritis.
The researchers concluded that tai chi, which consists of slow, gentle, flowing movements that aim to boost muscle power, balance, and posture, and includes mindfulness, relaxation, and breath control, should be considered as a complementary therapy for some long-term conditions including those studied.
Have you ever tried tai chi? Would you give it a go?